Toronto Blue Jays ace Francisco Liriano removed from ALDS roster with concussion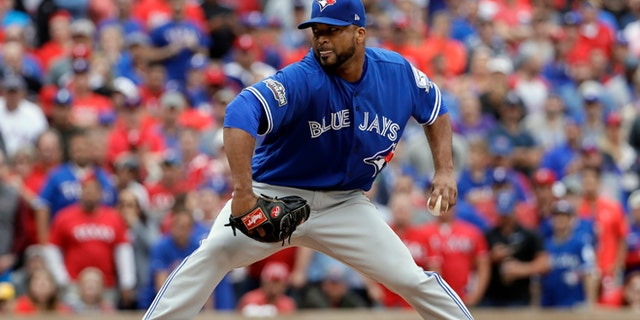 NEWYou can now listen to Fox News articles!
TORONTO (AP) – Blue Jays left-hander Francisco Liriano was removed from the AL Division Series roster Saturday after he sustained a concussion in Toronto's Game 2 win over Texas.
Right-hander Danny Barnes will replace Liriano, who left in the eighth inning Friday after being hit in the back of the head by Carlos Gomez's line drive.
Liriano is not eligible to return for seven days.
The Blue Jays lead the series 2-0. Game 3 is Sunday at Toronto.
Head athletic trainer George Poulis said Liriano felt good after tests Saturday.
"We're going to examine him each day and just go from there," Poulis said.
Players who sustain a concussion must be cleared by Major League Baseball before returning.
Liriano left after being struck by the ball, which ricocheted into right field for an RBI single. He was replaced by Roberto Osuna, who got the final five outs as Toronto won 5-3.
Liriano and Gomez were teammates in Minnesota and remain good friends. Gomez said he spoke to Liriano on the phone Friday night and was relieved to hear his friend was not more seriously hurt.
"I slept better knowing he didn't have any problems," Gomez said, adding that he and Liriano had discussed going for dinner together on Saturday night.
So, did Gomez plan on picking up the check after nailing his pal in the head?
"We're both rich, so it doesn't matter," he joked.
Liriano left the ballpark Friday on a stretcher and, for precautionary reasons, his neck immobilized. He was taken by ambulance to a hospital for tests, then was cleared to fly home with his teammates, who waited an hour on the tarmac for him to join them.
"It was one of the few times everybody was happy to wait before taking off," Blue Jays infielder Darwin Barney said. "Usually you want to get out of there as fast as you can. When we found out he was coming, we were all happy to wait. He's a competitor. He took that ball of the head and didn't even flinch. Obviously it might have rattled him a little bit but, man, he kind of showed what we're all about out there."
Barney said he had not watched a replay of the incident, which saw Liriano struck by a ball measured at 102 mph.
"It's not something you want to go look at," Barney said. "I'm just glad he's fine, glad he got on the plane."
Rangers manager Jeff Banister was bench coach in Pittsburgh when Liriano pitched for the Pirates. Banister called Friday's incident extremely scary.
"At any point in time, but even now, razor-thin situation of being tragic in my opinion," Banister said.
Blue Jays second baseman Devon Travis, who was scratched from Game 2 with a sore right knee, had an MRI Saturday. He is day to day with a bone bruise but has no structural damage.