Top prospect Sean Newcomb shows off arsenal, command in dominant debut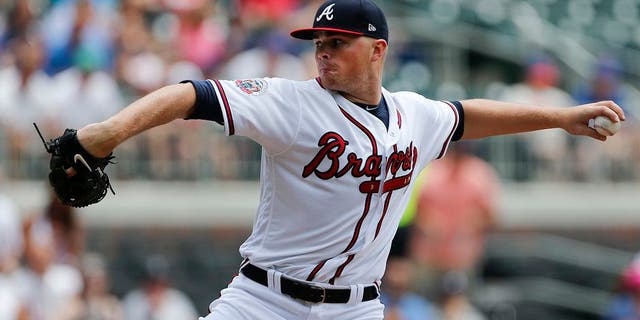 NEWYou can now listen to Fox News articles!
Sean Newcombs long-chastised location concerns arrived in the second inning of his first big-league start. The twist: The 6-foot-5 left-handers errant throw was directed 180 degrees away from home plate, a mental lapse on a potential double-play ball that missed Brandon Phillips glove and ended up in center field.
That throwing error, which led directly to New Yorks lone run registered with the Atlanta Braves prized pitching prospect on the mound, accounted for the totality of Newcombs control issues in his MLB debut. Everything thrown toward the plate, on the other hand, exhibited above-averageaccuracy and bordered on overpowering.
Newcomb ended his first afternoon at SunTrust Park in the seventh inning after 96 pitches, offsetting six baserunners (one intentional) with seven strikeouts to refuse the Mets a single earned run. Only one of his two walks was unintentional. He left the game trailing 1-0 thanks to that second-inning mistake Atlanta'sNL East rivals capitalized on, but for the organizations most-anticipated debut since Dansby Swansons call-up last August Newcomb exceeded expectations.
And he addressed the most pressing concern regarding his sky-high ceiling his ability to consistently throw strikes by attacking Mets hitters from the first pitch.
It was satisfying to watch. He was outstanding, Braves manager Brian Snitker said. On the attack and threw a lot of strikes. I dont know, that might have been his best outing as a pro. I dont know. Maybe we had him in the wrong league.
Dating back to his days in the Angels farm system, the former first-round pick and Atlantas crown jewel in the Andrelton Simmons trade walked at least 11.8 percent of batters at every stop after rookie ball. At Double-A Mississippi last season, equipped with an arsenal capable of rendering minor-league bats virtually useless at times, 40 percent of Newcombs pitches landed outside the strike zone. That rate improved at Triple-A Gwinnett prior to his promotion, but walks (understandably) remain the core argument against the southpaw drawing nonstop Jon Lester comparisons.
In this context, Newcombs 73 percent strike rateagainst the Mets proved downright devastating and set the stage for how good he can be moving forward when he's locked in mechanically.
The former University of Hartford standout peppered opposing batters with 70 fastballs. He largely stayed away against right-handed batters and hovered on the edges of the zone against lefties, watching his velocity fluctuate between 91-to-94 miles per hour even as he approached the century mark with his pitch count. Nearly half of his hyped curveballsdrewswinging or called strikes.
Newcomb left the game to a deserved standing ovation, and now the attention shifts to the Braves front office and its short-term plans for the rotation.
Newcomb's start arrivedon the front end of a doubleheader in a spot opened by struggling veteran Bartolo Colon's oblique strain. For a franchise in desperate need of improvedstarting pitching production, the 23-year-old should provide an immediate upgrade serving as the first wave of Atlanta's upcomingyouth movement in its new ballpark if given the opportunity. Sending him back to Gwinnett, particularly following his impressive showing, would be a curious move for John Coppolella & Co. If Atlanta simply wanted a spot start, there were myriad options.
Instead, tabbing Newcomb as Saturday's Game 1 starterhinted at permanence.
The Braves front office can still harbor motivation to resurrect Colon's uncharacteristically horrible 2017 season, if only to recoup minimal trade value this summer, but Newcomb's "The Future Is Now" display underscored that it's likely too late to turn hisrotation spot back over to an underperforming 44-year-old arm. (Snitker was noncommittal to the pending rotation decision afterthe game, though Newcomb is expected, at the very least, to start in sixdays against the Marlins before Colon's DL stint ends.)
Sean Newcomb proved he's capable of bafflinga major-league offense when he'sattacking the strike zone. He's earned the right to attempt to replicate that consistency for another 100-plus innings in a big-league uniform this season.
USA TODAY Sports/Courtesy Rome Braves