Tokyo to host 2020 Olympic games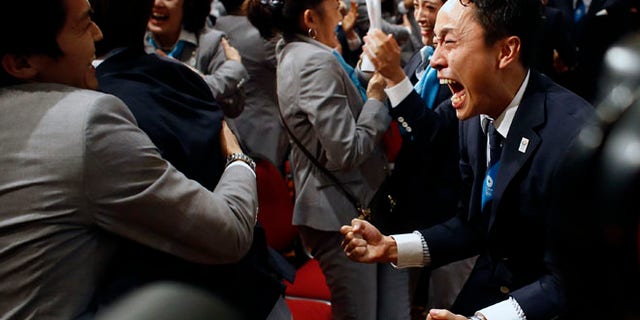 TOKYO – Thousands of Tokyo residents cheered in triumph early Sunday after winning the race to host the 2020 Olympics, beating out rivals Istanbul and Madrid despite concerns about a nuclear plant leaking radioactive water.
Long considered a slight favorite, Japan's capital defeated Istanbul in the final round of voting at the International Olympic Committee meeting in Buenos Aires. Madrid was eliminated in the first round.
Even though it was 5 a.m., a gathering of 1,200 dignitaries and Olympic athletes crammed into a convention hall in downtown Tokyo to celebrate the news. Cheers of "Banzai" filled the hall when the announcement was made that Tokyo had won.
"This is a credit to the efforts of the entire nation," said bid ambassador Saori Yoshida, a three-time gold medalist in women's wrestling. "The chance to see the highest level of sport live is a great chance for everyone and as an Olympic athlete I'm thrilled with the result."
Tokyo had been on the defensive in the final days of the campaign because of mounting concerns over the leak of radioactive water from the tsunami-crippled Fukushima nuclear plant.
In the final presentation before the vote, Prime Minister Shinzo Abe gave the IOC assurances the Fukushima leak wasn't a threat to Tokyo and took personal responsibility for keeping the games safe.
Thousands of residents celebrated at Komazawa Olympic Stadium, a facility that staged soccer matches when Tokyo last hosted the Olympics in 1964. Across town in the Shibuya entertainment district, late-night revelers marked the occasion with cheers of "Nippon, Nippon."
Tokyo's bid to host the 2016 Games was hampered by lukewarm public support, but that wasn't a problem this time. Benefiting in part from Japan's strong showing at the London Olympics, Tokyo had a 70 percent approval rating.
"As a mother, I am thrilled that this will give the youth of Japan the chance to experience the thrill and the excitement of the Olympics," said Wakako Tsuchida, who won the gold medal in the women's 5,000 meters at the 2004 Athens Olympics.