TJ Dillashaw promises he's not betraying Team Alpha Male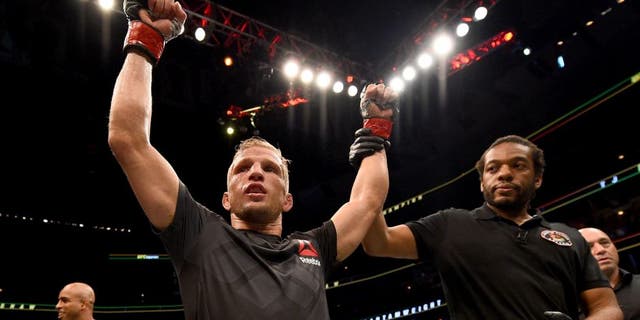 NEWYou can now listen to Fox News articles!
Bantamweight champion TJ Dillashaw is leaving Team Alpha Male to join Elevation Fight Team in Colorado, but he wants to make it clear that he's not betraying the fighters he's worked with since he first entered the sport six years ago.
Dillashaw told his teammates as of Monday that he would be moving to Colorado full time to begin working with Elevation and coaches such as Leister Bowling, former UFC fighter Eliot Marshall and others, who are building on an already established team that works with names such as Neil Magny, Brandon Thatch and Cat Zingano.
According to the current UFC bantamweight champ, the opportunity to work in Colorado and get paid to do it was too enticing to pass up, and he challenges any other fighter to deny that making money while training is ultimately a goal for most athletes.
"Elevation Fight team came to me and now they want to pay me some good money to train with them. They're offering to pay me to train instead of me paying to train, which this sport is growing so much that's the way that I feel it should be," Dillashaw said on Tuesday night during the Stud Show radio run by Team Alpha Male fighter and coach Justin Buchholz.
"For the last six years I've been with Team Alpha Male and I wouldn't trade that in for the world. It's got me to where I'm at, it's helped me out, it's taught me the person that I am, I've learned so much here. The experience I've had here is unreal but when something like this comes at you, you can't turn it down."
Dillashaw believes part of the reason his move is receiving so much negative attention stems from the altercation that's been publicized from his time on "The Ultimate Fighter" this season when he encountered interim featherweight champion Conor McGregor.
McGregor teed off on fellow coach Urijah Faber telling him that Dillashaw was a "snake in the grass" and that he would eventually betray him and the team.
"He took over your s**t," McGregor said. "He came in, you brought him from high school, you brought him into your game. He's not your boy. There's no boys in this. He's not your boy. I don't mind him, but I sense disloyalty. I sense a snake and I'm going to say that when I see it."
Dillashaw says McGregor's comments only added fuel to the fire publicly, but behind the scenes the there was never any bad blood with the team even upon his exit outside of a couple of guys who were unhappy with his decision.
"It doesn't help that this whole Conor McGregor thing is going on during 'The Ultimate Fighter'. It's actually perfect timing," Dillashaw said. "Maybe he's able to read the future."
It's building a mountain out of a mole hill according to Dillashaw, who believes it's just people's insatiable need for drama that are blowing this entire situation out of proportion.
"Why is it this big, out of proportion f**king bulls**t. Like, I'm doing my training camp out in Colorado. I have a f**king house in Sacramento, I'm from this area, I live here, I have family here. It's just a bunch of bulls**t that's being blown out of proportion," Dillashaw said. "I'm going to train at the Elevation Fight Team, which is in the Muscle Pharm gym and they are making it very easy for me to train out there. It's just f**king really good."
Dillashaw knows this is the best decision for his career both in terms of training and the financial support he's going to receive going forward.
He knows in his heart that almost every fighter out there would have done the same thing so he's excited for the future and building for his next title defense in Colorado.
"People can speak their mind," Dillashaw said. "I'm used to it, I've been in the limelight of fighting now and you get used to people talking s**t. The bigger name you become, the more people talk s**t about you. I understand. I'm telling you right now with the opportunity that's been given to me, you would not pass it up.
"This is too good. The coaches out there are amazing as well. I'm not saying we don't have great coaches here, all I'm saying is they have top of the line coaches out there, top of the line facility and I'm getting paid to be out there. It's like I can't pass that up. I really can't."