Timonen says Flyers "were brutal" in Game 1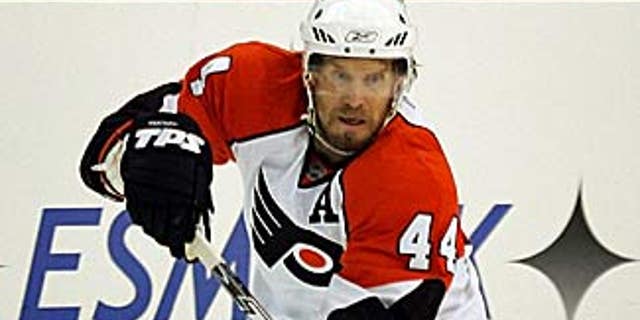 PHILADELPHIA - After playing a part in the worst defensive effort in the opening game of a playoff series in team history, Flyers defenseman Kimmo Timonen wasn't at all in a good mood.
In fact, Timonen felt his team's defensive meltdown in a 7-3 loss to the Boston Bruins on Saturday in Game 1 at Wells Fargo Center might have been a direct result of the club still reveling in their previous seven-game series victory over the Buffalo Sabres. The seven goals were the most allowing by a Flyers team in the opener of a playoff series.
Timonen, who logged a team-high 23:20 of ice time and blocked three of the team's 25 shots for the game, admitted the setback was the worst he's been a part of in some time.
While the Flyers did manage to thwart all five power-play attempts by the Bruins, who are now 0-for-26 in the playoffs, Boston forwards basically had their way in the Flyers' end. They shot at every opportunity and crashed the crease whenever possible.
They forced Flyers coach Peter Laviolette to make an in-game fourth change for the fourth time in these playoffs – Sergei Bobrovsky came in with 2:46 left in the second period after Brian Boucher had yielded five goals on 23 shots, leaving his team on the short end of a 5-1 deficit.
Timonen discussed the disappointing loss with reporters after the game.
Q: Kimmo, what happened out there?
A: "You guys saw it. It was a bad game from us on every level … emotionally and skating-wise. Nothing seemed to work for us tonight. It had nothing to do with the goaltending either, it was all about us."
Q: It seemed as though once the puck got behind your defense, that's when the trouble started?
A: We know the system they play. They shoot a lot of pucks and go to the net and we knew what they were going to try and do and they did that. But it wasn't like they did anything special or did something so much better. It was about us and how we played, and we were brutal tonight.
Q: How could your team be better; what needs to happen in Game 2 (on Monday)?
A: We need to skate hard to the points and not allow those pucks going through. Skating-wise, when we skate we're a good team, but when we don't, this is what happens. We'll have to work on our skating (Sunday) and make sure we come out hard, skating-wise, on Monday.
Q: It seemed Boston was able to get bodies in the crease rather easily. Your thoughts?
A: We have to play harder there (the crease). If the puck gets there, we have to make sure that we get there first. It's a full unit out there though, it's not just the D-men. Everyone was bad tonight; we weren't working together.
Q: Is there anything you can take from this loss?
A: Our skating wasn't there tonight and this is what happens. There's a lesson to be learned from (Saturday's) game. And that is it doesn't matter what happened a week ago or even yesterday. It looked like we were still enjoying the Buffalo series (victory) and that's over. There's nothing we can do about that anymore and we have to go on. (Saturday) was probably the worst game we've played in a long time. The good thing is, tomorrow is tomorrow and we'll have a good skate and Monday is a new game.
Q: Boston's top line (Milan Lucic-David Krejci-Nathan Horton) was very good. Was it tough containing them?
A: "They are good players but, again, it wasn't them. It was us."
Q: Would you expect Brian Boucher to be in net to start Game 2?
A: "Yes. I would think so."
Follow Mike Morreale on Twitter at: @mike_morreale