Timberwolves to pick No. 7 overall in 2017 NBA Draft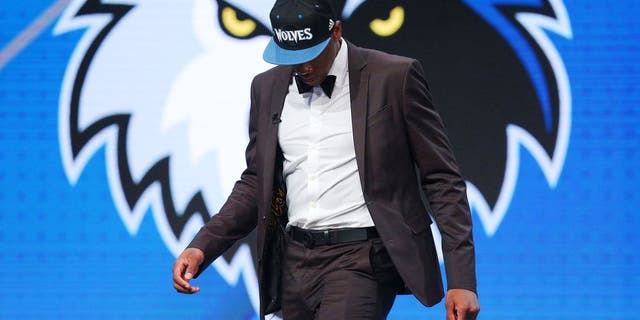 The Minnesota Timberwolves will pick seventh in this year's NBA Draft.
The NBA Draft Lottery was held Tuesday night and the Wolves did not hold their pre-draft position at sixth overall. Minnesota had a 33.09 percent chance to move down to No. 7, and a 43.95 percent chance to remain at the No. 6 spot.
Minnesota had low odds to get a top-three pick -- 5.3 percent chance for the No. 1 overall selection, 6.03 percent for No. 2 and 6.98 percent for No. 3.
This breaks a streak offive consecutive years that the Timberwolves havestayed put in the lottery.
The Wolves and New York both had 31-51 records this past season. Minnesota won a tiebreaker over the Knicks on April 18. New York dropped one spot in the lottery as well and will select eighth overall.
This was the 21st time the Wolves have been in the lottery and for the 21st consecutive time Minnesota did not garner a better selection.
(Side notes: one of those times, in 2015, the Wolves held and retained the top pick thus could not do better; in 1989 the expansion Wolves were awarded the No. 10 pick and couldn't move up or down; in 1999 the team acquired New Jersey's selection; in 2012, Minnesota's pick had been traded to New Orleans).
Minnesota moved down in the lottery on 10 previous occasions (including '99), so this year's outcome isn't something new forTimberwolves fans.
Last time Minnesota had the No. 7 pick, the Timberwolves selected Corey Brewer out of Florida back in 2007.
Minnesota does not have a second-round draft pick this year's draft.
Last year, Minnesota picked Providence point guard Kris Dunn with the No. 5 overall selection.
The Boston Celtics will select first, Los Angeles Lakers will pick second and the Philadelphia 76ers will pick third in the NBA Draft, which will be held on June 22.