Thursday Night Fantasy Football Starts and Sits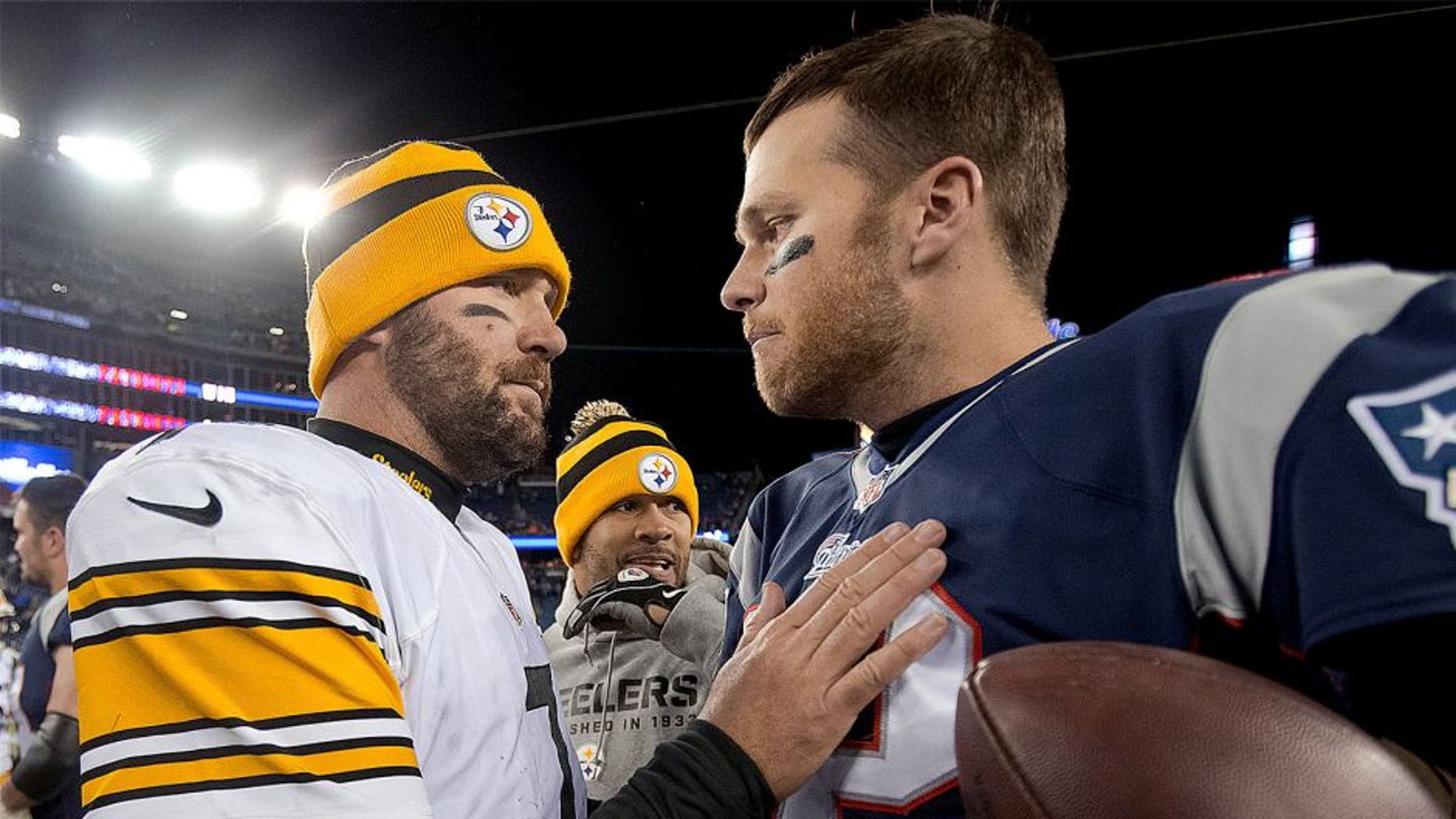 Here's a look at the starts and sits for Thursday night's kickoff game between the Pittsburgh Steelers and New England Patriots.
STARTS
QB: Ben Roethlistberger, PIT
The Steelers will be without star running back Le'Veon Bell as he serves his suspension, but how will that impact Roethlisberger in this one?
The optimist will say that, whether they want to or not, the Steelers will rely more on the passing game in order to keep pace with an explosive Patriots offense. The Patriots had a pretty stout rush defense in terms of Yards Per Carry (9th), total rushing yards (9th) and touchdowns allowed (2nd) last year, so it's easy to see the Steelers having to air it out, leading to big numbers for Ben.
But without Bell, who caught 83 balls last year, and without Martavis Bryant, the Patriots may load up on Antonio Bryant and dare the Steelers to beat them with the run.
I'm still optimistic. I have Ben ranked third overall of all quarterbacks for Week 1, primarily because this game has one of the highest projected point totals (52) and I expect the Steelers to be playing from behind, which should lead to a lot of attempts and yards. 300 yards seems like a given. Start him.
QB: Tom Brady, NE
What a nice surprise for fantasy owners who drafted early and assumed they'd be without him, right?
I have Brady ranked right behind Roethlisberger, but it's very close. Like Big Ben, Brady will also be without starting running back (Lagarrette Blount), although that doesn't swing the needle in either direction.
Brady should carve up a Pittsburgh pass defense that finished 27th in passing yards allowed and 28th in touchdowns allowed. This is a very fantasy friendly matchup, and something tells me the Patriots won't play nice and take their foot off the gas pedal if they get a big lead.
It's not all flowers and butterflies for Brady, though. Brandon LaFell is on the PUP list with a foot injury. Julian Edelman didn't play during the preseason at all and may be a little rusty as he returns from an ankle injury.
But, ya know, Brady still has that Gronkowski fella and probably has a little motivation working in his favor, if you want to take a stroll down narrative street. Get him going.
WR: Antonio Brown, PIT
No Bell and no Bryant should mean even more targets for Brown, which is a scary thought.
Brown turned 181 targets last season into a crazy 129/1698/13 campaign. The Patriots may zero in on him, but it's not like teams haven't tried to do that over the last two seasons. With Darrelle Revis back with the Jets, there's no cornerback on the Patriots roster who can hold Brown's jock.
You didn't draft Brown in the first round to sit him in Week 1 in what projects to be a shootout, right? Aside from maybe Julio Jones, he's the top receiver this week.
WR: Markus Wheaton, PIT
Ben Roethlisberger talked him up this offseason as the clear-cut No. 2 receiver, and that's what he'll be with Bryant and Bell both out. Wheaton should make a pretty substantial impact if Pittsburgh has to throw as much as expected, and if most of the coverage predictably shifts towards Brown.
Wheaton's total numbers last year didn't knock anyone over (53/644/2), but he gained Roethlisberger's trust and is entering that key third season where we often see young receivers breakout.
If Bryant wasn't around, he'd probably be getting more hype, but he's a sneaky Flex play in Week 1 given the high projected point total and absence of other targets for Big Ben to utilize. It's very likely that his scoring ceiling won't ever be higher than it is right now. If you have a player that's questionable to play and Wheaton on your bench, you might want to take the guaranteed points and get him in your lineup.
WR: Julian Edelman, NE
Is it a little scary that Edelman didn't practice all that much in training camp and didn't play in preseason? Sure. But it's also possible the Patriots were being very cautious with his ankle, especially after already losing Brandon LaFell for the start of the year.
Edelman is routinely overlooked in fantasy, mainly because he's not "sexy" with huge size and athleticism. Regardless, the dude is a receptions sponge. He caught 92 balls in 14 games last year, so you can safely assume Brady is going to be looking his way quite a bit, especially with LaFell sidelined. Against Pittsburgh's swiss cheese pass D, you'll want him in your lineup.
For DFS players, Edelman is a significantly better 50-50 game option than tournament play, just because he reaches the end zone pretty infrequently. Few receivers have a higher floor for production, however, which is why I have Edelman as my No. 14 receiver this week.
TE: Rob Gronkowski, NE
I probably don't need to convince you to get Gronkowski in your lineup. He's far and away the best tight end option every single week, regardless of matchup.
For DFS players, "Gronk or Punt" seems to be the motto to live by when selecting your tight end. He's really the only guy worth forking over the big bucks for, as nearly everyone else at the position (Martellus Bennett and Greg Olsen being the primary exclusions) is just a dart throw for a touchdown.
So, yeah, start Gronk, and dance the night away.
TE: Heath Miller
I'm much higher on Heath Miller than my esteemed FOX Sports colleagues, who all have Miller ranked as back-end TE2 while I have him 11th. That might be a little aggressive, but hopefully you understand the reasoning by now. Roethlisberger is short on weapons, and the Steelers are a sizable underdog and should be playing from behind and throwing quite a bit.
And honestly, how much do we trust the non-elite (read: Gronk) tight ends this season? Sure, I like the Tyler Eiferts and Kyle Rudolphs more than Miller in the grand scheme of things, but Roethlisberger is one of the league's best quarterbacks and Miller just keeps chugging along (66 receptions last year).
He's going to see his fair share of targets, and it wouldn't be surprising if he gets a red zone look or two given the absence of Bell and Bryant, two guys who would clearly be ahead of him for those opportunities if they were active.
But they aren't active, and Heath is. If you're willing to sacrifice a little upside for a higher floor (I'm talking to you, DFS cash game players), Heath is a viable option.
SITS
RB: DeAngelo Williams
As you can probably tell, I like just about everyone in this game. After initially ranking him as an RB2 this week, I've talked myself out of Williams.
As detailed above, New England's rushing defense was stout last year, even if losing run-plugging DT Vince Wilfork could change that a little bit. Williams would be a more exciting option if he was a better receiver out of the backfield, but he's caught over 30 passes just once in his 9-year career.
And then there's the whole 9-year career thing. Williams is 32 and is coming off a season where he averaged 3.5 yards per carry, which is less than inspiring. Dri Archer could take some passing down work in this one, and the Steelers could end up having a whole lot of those.
Williams is probably more of a borderline Flex option than a must-play, and I'd rather roll the dice with a talented receiver if given the option. I'm staying away in DFS as well, which has me leaning more towards "sit" than start for Williams.
RB: Dion Lewis/Brandon Bolden/James White
I'm not terribly interested in guessing which running back Bill Belichick will decide to ride, and in Week 1 with no byes and a presumably pretty healthy roster, you shouldn't be either. Could one of these guys go for 25 fantasy points? Yes. Do you have any idea who is most likely to do that? Probably not.
If we had to guess, which we don't, I'd probably lean towards Lewis as the most likely to produce, as he did the most with his preseason opportunity. Lewis was pretty good in spot duty in his first two years in Philadelphia, so if you're truly forced to take a flier, go that route.
But really, unless you're in a massive league (like, 24 teams) or looking to save big time cash in DFS, sit your handcuffs to Blount.