Thunder Roll Over Manu Ginobili and Spurs, San Antonio on the Brink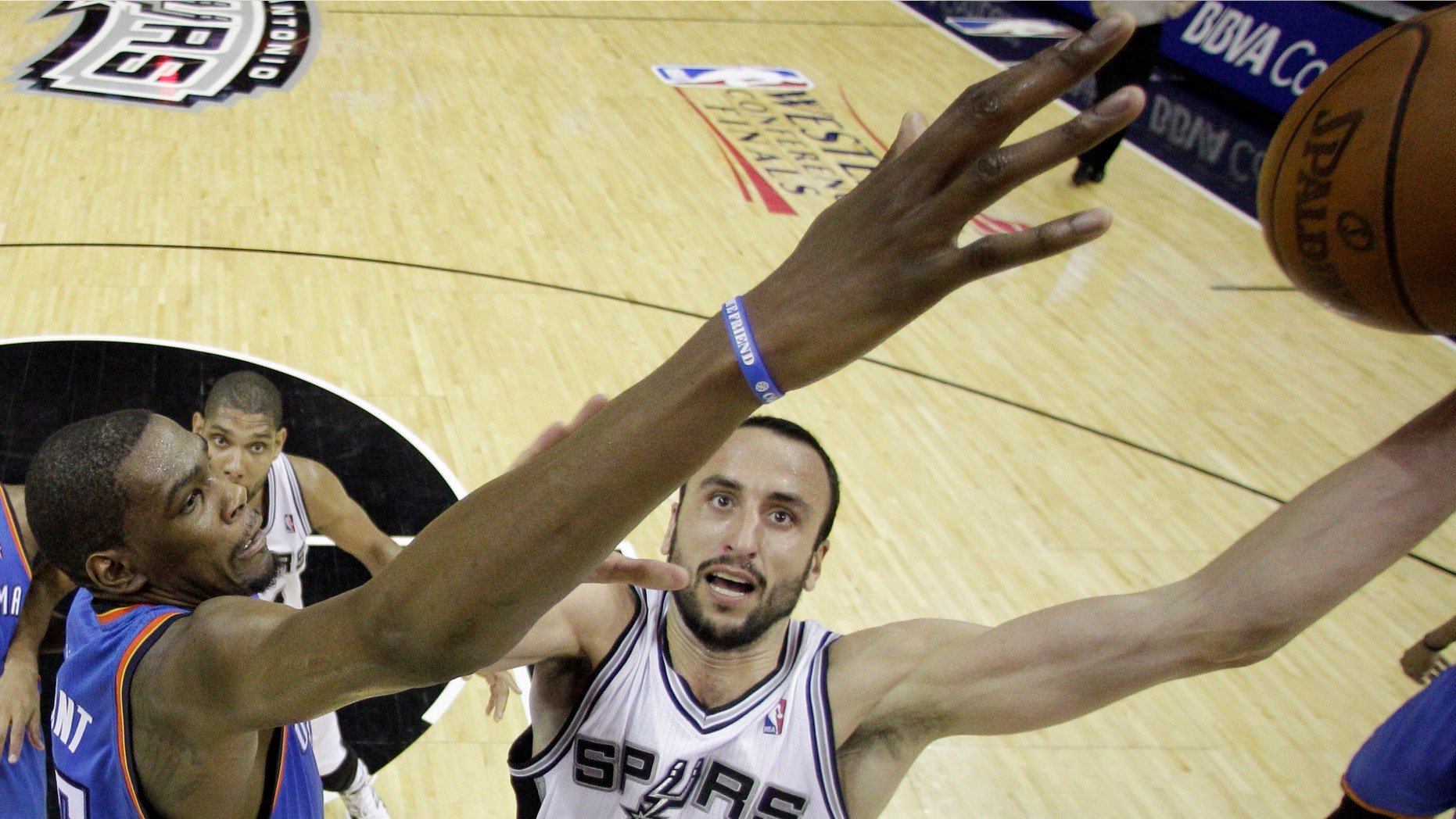 The San Antonio Spurs have a major problem and Manu Ginobili was angry.
Practically invincible a week ago, the Spurs are now on the brink of being finished after losing a third game in five days to the Oklahoma City Thunder --this time 108-103 in Game 5 of the Western Conference finals.
Spurs coach Gregg Popovich started this series demanding to see "nasty" from his players, but what the NBA coach of the year is searching for now is a way to somehow hang onto a remarkable season that is quickly slipping away.
"If we can't win on Wednesday, we're not a championship-caliber team," Popovich said. "It's as simple as that."
Before running headlong into the Thunder, the Spurs set an NBA record for the longest winning streak carried over from the regular season into the playoffs at 20 games --the fourth longest in NBA history. They were also on the verge of matching the league mark for most wins to start the postseason. The Lakers won 11 straight to start the 1989 and 2001 playoffs.
But that was then. Look who's unstoppable now.
Forget that incredible San Antonio streak of 20 straight wins. That's ancient history, and the way the Thunder have taken complete command of this series, the Spurs might soon be finished themselves.
Kevin Durant scored 27 points and the Thunder are on the brink of the NBA Finals, going from an 0-2 hole to moving within a victory of a series knockout. Their first chance will be Wednesday night at home, where they haven't lost all season.
"We never thought we're supposed to wait our turn," Durant said. "Coach always emphasizes that with every opportunity that you step on the floor. It's a great opportunity to get better. To get to our dream."
The Spurs, meanwhile, are on the verge of a stunning collapse.
Ginobili scored 34 in a smashing return to the starting lineup, and the switch showed just how much Spurs coach Gregg Popovich knew his team might be in trouble. The only way the Spurs would have considered it a success is had they won, and that chance went clanging off the back of the rim with 4.9 seconds left with Ginobili missed an off-balance 3.
Ginobili then walked to the scorer's table, made a fist and hammered it down.
"It wasn't a great shot, but it wasn't a bad one," Ginobili said. "It just didn't go in."
It was the Spurs' first loss at home since April 11.
Popovich said he removed Danny Green from the starting lineup and plugged in Ginobili — who had started only seven previous times this season — to give the Spurs "an energy boost." But that didn't solve a third straight uneven game for the Spurs, particularly another languid second quarter that put them in a 14-point deficit.
"If we don't get that straight," Popovich said, "it'll be over on Wednesday."
This report is based on Associated Press reporting. 
Follow us on twitter.com/foxnewslatino
Like us at facebook.com/foxnewslatino