Three Raiders who could step up for Justin Tuck right now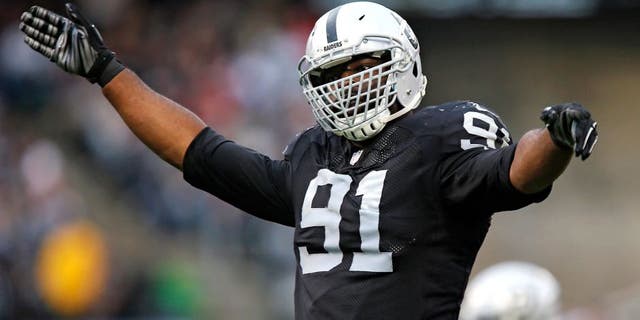 These three players could all fill in now that Justin Tuck (pectoral) is out for 2015. Brian Bahr Getty Images
Justin Tuck can't be replaced as a leader in the Raiders' locker room.
But the veteran defensive end mentored several young players -- and it's time to see if one of them can step up now that he's out with a pectoral tear.
Here are three candidates the Raiders could call on immediately this weekend:
1. LB Aldon Smith: The troubled former 49er is undoubtedly explosive with his hand in the dirt. But moving Smith from linebacker opposite Khalil Mack to Tuck's hand-in-the-ground role could discombobulate a pass rush that already lacks cohesion.
2. DL Mario Edwards Jr: Tuck took Edwards Jr. under his wing this summer for a reason; he saw the promise the second-round rookie had. The former Seminole is needed now -- not just for Tuck's pass-rushing prowess, but for his run-stopping ability too.
3. DE Denico Autry: Autry missed Oakland's Week 5 loss to the Broncos, but he's back just in time to help out. He has the size (6-foot-5, 270 pounds) and positional versatility to become a poor man's Tuck.
MORE NEWS: Want stories delivered to you? Sign up for our NFL newsletters.