This Is Lionel Messi's Time: For The Argentinian Striker, It's Now Or Never At The World Cup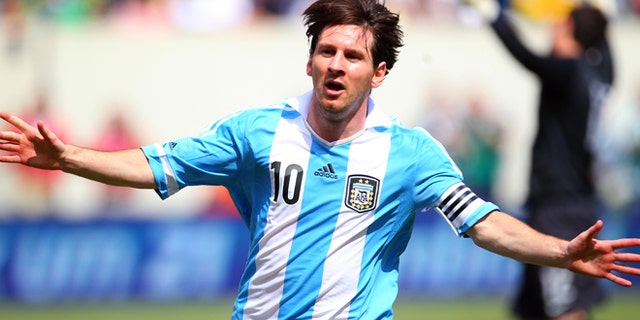 NEWYou can now listen to Fox News articles!
This is Lionel Messi's time.
Brazil 2014 is the perfect setting for him and his Argentinian teammates to win the World Cup.
Messi is in the prime of his career and Argentina is participating in the cup in South America for the first time since 1978.
For this megastar, the stars are perfectly aligned.
The team's 2-1 victory over Bosnia-Herzegovina on Sunday was full of omens that argued against each other.
On the one hand, Messi scored one of those goals that would be spectacular for any other player, but it was the sort of strike that the Barcelona has netted dozens, maybe even hundreds of times before.
On the other hand, the Albicelestes looked like they were sleepwalking for much of the match, requiring an own-goal by Bosnia-Herzegovina for the winning margin.
On the third hand, three points is three points, and in a weak group coming against the next-strongest squad, the win all but assures Argentina a pass to the Round of 16.
But let's not get ahead of ourselves.
Messi will turn 27 on June 24, the day before Argentina meets Nigeria in its final Group F match before it hopefully starts preparing for the knockout stage.
The average age for a World Cup scoring champion hovers around 25. That probably sounds rather young, but if you are going to contend at highest level, take the physical grind and get the stuffing kicked out of you for as many as seven matches within a month, you had better be in the best shape of your life.
There have been, of course, exceptions to the rule. In 1998, Davor Suker was an "old man" of 30 when he led everyone in France with six goals, helping Croatia to a surprising third-place finish.
But as each World Cup goes by, we are reminded of the necessity of cheetah-like speed for forwards wanting to make an impact.
Messi already has secured a place in soccer history as one of the best players on this planet at the club level. What he has accomplished for Barcelona has been simply astonishing. That includes winning the Ballon d'Or as best player in the world four times and three European Golden Shoe awards and being a vital part of the Spanish powerhouse that captured six La Liga crowns and three UEFA Champions League titles.
This spring, Messi reportedly became the highest paid soccer player in the world, signing a contract with Barça for $27.5 million a year. He has proven to be worth every penny of that plus the price of admission.
Whether he gains admission to the club of World Cup champions is another matter.
His first two Cups weren't much to write home about. As a 19-year-old at Germany 2006, Messi played sporadically, but became the sixth youngest player to score a goal in Cup history (not many teenagers have been known to make an impact at the Cup). In South Africa four years later, under the guidance of Diego Maradona, as crazy as coaches anywhere come, Messi did not find the net, as he expected to be more of a creator.
While South America might be a perfect Cup setting for Messi and his Argentinian mates, he is coming off an imperfect season for Barcelona. For the first time in six years, the team failed to win a trophy as Messi was hampered for much of the season by a hamstring injury.
It's an interesting twist: Messi, who has never been able to translate club glory into international success will now try to regain his club form while playing for his national team.
Upon arriving in Buenos Aires last week, Messi said he was ready to change his focus.
"Now I must think of the national team and change my chip," he told reporters. "Many times it was the reverse: I'd go to Barcelona and play well. Let's hope it's the other way round. When I join my friends at the [training] complex, it'll be another story."
If Argentina fails or if Messi doesn't play up to expectations, he will be relegated to the heap of great players who never won a Cup – a mountain of players that Holland's Johan Cruyff, Michel Platini of France and Hungary's Ferenc Puskas among many, many others.
Now, don't get me wrong, Messi is a fabulous player. Yours truly has been a fan of his for a very long time, mesmerized and entertained by the magic and feats he can perform with a ball at his feet.
If Messi and this generation of talented Argentinian players do not take the victory lap around Maracanã Stadium in Rio de Janeiro on July 13, they probably never will.
The next World Cup is in Russia in 2018. Despite his tremendous skill and vision, Messi will be 31, a number that's considered ancient for strikers at the highest levels. Besides South American teams don't fare well in Europe.
So this is, indeed, Lionel Messi's time.
And if this time you read that, it sounds more like a caution than a celebration, well, that's sort of the point.