Think fast: Joe Gibbs Racing showed off full package to open Chase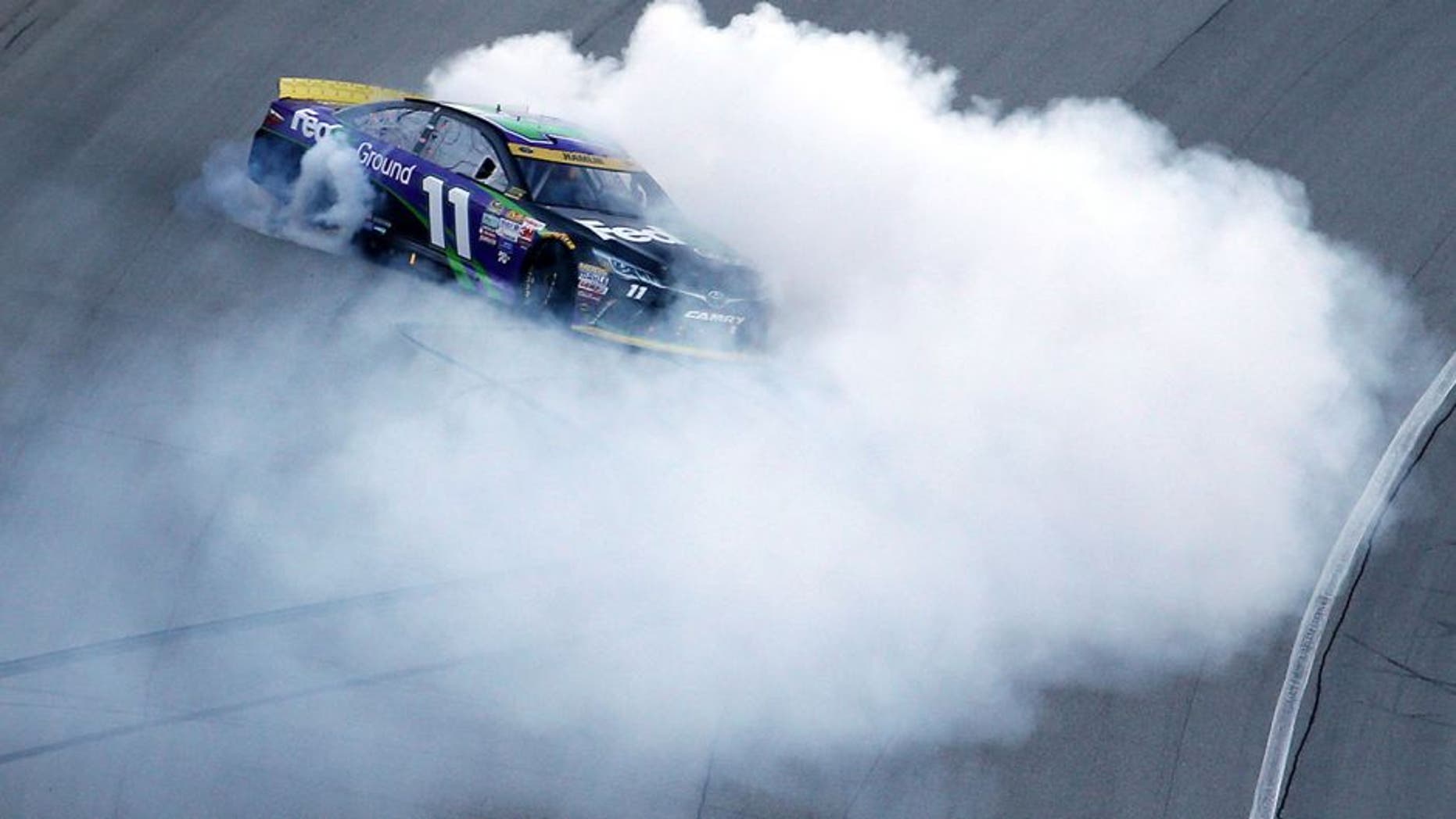 Right now in our sport when it comes to fast race cars and making fast decisions, that Joe Gibbs Racing crowd is right at the top of the list. Denny Hamlin had trouble on Lap 2 of the race Sunday at Chicagoland Speedway, but he and the team didn't panic. Crew chief Dave Rodgers and the No. 11 bunch got the car fixed, Denny was able to take advantage of the wave-around opportunity on Lap 128. Then at the end of the day, there they are in Victory Circle.
When I talk about "think fast" it's not just about the car. Yes, all four of the Joe Gibbs Racing Toyotas are bad fast right now. So that helps them overcome just about anything. Denny spins out on Lap 2 and overcomes it. Teammate Carl Edwards gets a pit road speeding penalty and he's able to overcome that.
So having a fast car is critical, but it doesn't stop there. It's also your crew chief and your crew. All four Gibbs teams have blazing fast pit crews who are cranking out 11.5- to 12-second pit stops consistently. Then the third leg of the fast triangle is they have some really brilliant crew chiefs sitting up on those pit boxes making fast decisions.
Leaving Denny out under the final caution was a fast decision that crew chief Dave Rodgers had to make. While it worked for Denny, it backfired for Jeff Gordon, who was up front but fell back to 14th. Darian Grubb, who is Carl's crew chief, helped get Edwards back up front with a chance to win as well, again overcoming that pit road penalty.
It's these fast cars, fast pit crews and lightning quick decisions made by the Gibbs crew chiefs that is leading to their domination of our sport right now. We all knew they were starting the 2015 NASCAR Sprint Cup Chase as the favorites and after the first race, they didn't disappoint. They left Chicago last night with a first, second, fifth and ninth-place finish.
Sunday marked Denny's 26th win in the Sprint Cup series. It was also Denny's second win of the year. On top of all that, Denny automatically advances to Round 2 of the Chase, so a little bit of the pressure is off these next two weeks as he continues to heal from his ACL injury. That was Joe Gibbs Racing 126th win in the NASCAR Sprint Cup series. Remarkably, that is their 12th win of the season. Now remember, they only won two all of last year.
If that wasn't enough, they have won eight of the last 10 races with all four of their drivers wining at least one of those races. The good news just keeps on coming for JGR because with all four cars finishing in the top 10 on Sunday, all four cars are also the top four in the Chase points, with Matt Kenseth leading the way, followed by Carl, Denny and Kyle. Team Penske's Joey Logano is sixth in the points and Brad Keselowski is now ninth.
The Penske guys had a pretty good day Sunday as well, which really isn't any surprise as we all expect them to be JGR's biggest threat for the championship. Logano was sixth and Keselowski was eighth. So, their 2015 Chase is off to a good start.
I was pleased to see that Hendrick Motorports seemed to have a little bit more steam under the hood Sunday. Unfortunately, they just didn't get the finishes to prove it. They didn't have a single car finish in the top 10, with Jimmie Johnson coming the closest with an 11th-place finish.
I know we had some questionable situations Sunday during the race, two in particular that included Hendrick Motorsports. When it comes to Jeff Gordon's restart, well I'm not going to say it was blatant, but it was certainly questionable. NASCAR said they reviewed it and deemed it to be legal so there would be no penalty.
Of course the other situation happened between Jimmie Johnson and Kevin Harvick. There's a handful of tracks on our circuit that have those huge tri-oval front straightaways. They have all that area down below the white line there at the start-finish line that the drivers use all the time. It's legal to use it, unlike at Daytona and Talladega where you aren't allowed to pass anyone below the yellow line that circumvents those tracks.
I'm not looking to make more rules or changes, but I've never liked going down on that apron and then jumping back up in front of someone. I just always thought that was a little dangerous. Jimmie didn't do anything wrong Sunday. He was trying to get by Kevin Harvick. While Kevin was on the track, Jimmie was below the white line and naturally when you get to Turn 1, something has to give.
Jimmie got into the left side of Kevin's car, which then led to Kevin's left rear tire being cut down. Kevin probably should have pitted or been told to pit, but didn't. Unfortunately he didn't. The tire let go and Kevin wrecked. In hindsight, I would wager crew chief Rodney Childers would tell you he probably should have pitted Kevin, but it's the pressure of the Chase that everyone is under. Unfortunately Kevin finished 42nd Sunday and is now dead last of the 16 Chase drivers in points with only nine races to go. Kevin said it best in his post-race interview -- the only way to recover to have a chance now to repeat as champion is to win.
I don't blame Kevin for being mad. He and Jimmie had a little confrontation after the race in the driver's motorcoach area. I have no problem with that. I'd be mad too. I'd be mad at Jimmie, I'd be mad at myself and I'd be mad at the situation. The good news is they had their confrontation after the race was over and didn't use race cars to express their anger.
I also want to congratulate Jeff Gordon, who tied Ricky Rudd Sunday for the most consecutive starts in NASCAR history. Jeff will naturally break the record this weekend at Loudon and become NASCAR's Iron Man, so congrats to him.
It also was a good day for Ryan Newman, who got his first top-five finish since Bristol in April. The other interesting thing that I noticed Sunday was that all 43 cars finished the race. That's only the second time that's happened this year. You have to go clear back to the third weekend in March at Auto Club Speedway to find where that happened before.
So, the 2015 NASCAR Sprint Cup Chase is off to a flying start. I still believe if you limp into the Chase, you are going to limp right back out. If you don't have a win or wins going into the Chase, it's pretty hard to make it to the next round and I think we saw that again Sunday.
So we're off to New Hampshire Motor Speedway. It will be interesting to see how clearer the championship picture changes after Sunday's race up there. We were just there in mid-July with the Joe Gibbs Racing Toyota of Kyle Busch celebrating in Victory Circle. I, for one, won't be surprised if Kyle does it again.