Thieve Avenue: Home of the Carolina Panthers secondary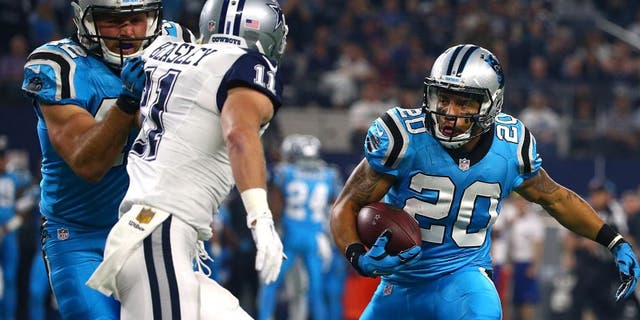 NEWYou can now listen to Fox News articles!
The Carolina Panthers have one of the best secondaries in the NFL. There's not much of a question when it comes to that topic, and the team as a whole has managed to pull down a league-leading 24 interceptions this season.
Heading into their huge playoff matchup with the Seattle Seahawks, the secondary has decided to take residence in a new home, as every player now lives on "Thieve Avenue."
Via Steve Reed of The Associated Press:
While the likes of Josh Norman, Roman Harper, Tre Boston, Kurt Coleman and Teddy Williams are a few of the names who are involved in the defensive back's new home, Harper wasn't very happy with the spelling on the sign.
Via Bill Voth of Black And Blue Review:
"If I'm the mayor, somebody's getting fired," Harper said. "It's terrible spelling."
Coleman and Boston both joked about the sign as well.
"When you win, you get money, so we were able to put our money together and get something made." said safety Kurt Coleman.
"I talked to the city already. I don't know who they sent in, must have been a young guy, fresh out of school." safety Tre Boston said.
The Panthers are hoping the whole "thievery" deal can continue on this weekend against the Seahawks and Russell Wilson in what should be a great matchup.
Jeff Smith writes about the NFL for FOX Sports. You can find him on Twitter @JSM8ith.