The Sixth Round: What we learned and what's next after UFC 205: Alvarez vs. McGregor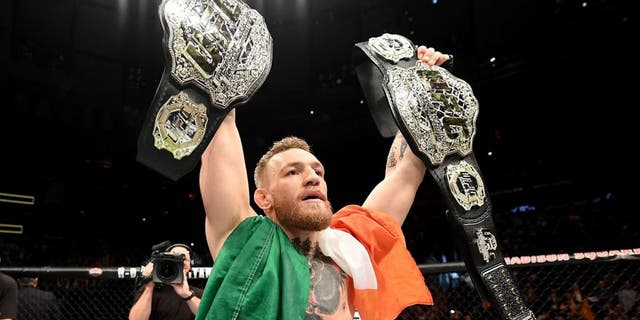 From the day he arrived in the UFC, Conor McGregor predicted that he would do things that had never been done.
No one really believed him at the time, but McGregor was steadfast in his approach that he would conquer the world, become a two-division champion while also simultaneously putting the UFC on his back at the biggest star the brand has ever known.
Consider it mission accomplished.
McGregor walked out into Madison Square Garden on Saturday night with more than 20,000 fans in attendance -- most of them seemingly behind the Irishman -- and he proceeded to dominate and decimate Eddie Alvarez, who was a 30-plus fight veteran who had only been finished by strikes one other time in his career.
After the fight was over, McGregor then made it known that before he steps back into the Octagon, he wanted to sit down with the new owners of the UFC and have a long talk about his role and place in the company. It seems McGregor wants to enjoy the same perks as celebrities like Conan O'Brien and Ben Affleck -- to become a part owner of the UFC.
It's a bold move for any fighter to make such a request, but to date no one has had as much power to ask for it until McGregor arrived on the scene.
As the UFC's all time biggest selling athlete, McGregor has more power than any fighter has ever had in mixed martial arts and he might just have the leverage to get exactly what he wants before competing again. Oh and in case there's any curiosity about McGregor's decision to ask for a stake in the UFC -- he predicted it two years ago.
With that said, let's look at the biggest takeaways from UFC 205: Alvarez vs. McGregor
-- Conor McGregor just put on his best performance to date. Sure, he knocked out Jose Aldo -- the only featherweight champion the UFC had ever known to that point -- in just 13 seconds but that was just one punch. What he did to Alvarez was nothing short of a masterpiece. The way McGregor dismantled Alvarez was akin to Anderson Silva demolishing Forrest Griffin back in 2009. At 28 years of age, McGregor still has a lot of time left in his career and it appears he's only getting better.
-- Conor McGregor could argue that he's now the No. 1 pound-for-pound fighter in the sport. As the first ever simultaneous two division champion, it's hard to deny the logic that McGregor at worst deserves to be in that conversation. Right now, my list for the top three pound-for-pound fighters are: Conor McGregor, Demetrious Johnson, Dominick Cruz.
-- UFC 205 was the Conor McGregor show. Certainly the UFC stacked the first ever New York card with three title fights and a slew of top ranked contenders and they all deserve credit for putting on incredible performances, but there's no doubt who got the lion's share of the attention. From rolling into the press conference wearing a mink coat to nearly tossing a chair at his opponent to a massive audience showing up for a fake weigh-in to the fight itself -- McGregor had all eyes on him from the moment he arrived in New York.
-- The UFC has to consider Conor McGregor's demand for an ownership stake. Call it co-promotion -- Floyd Mayweather has been doing it for years -- but to deny McGregor's request is just asking the biggest moneymaker in the company to walk out the door. Certainly it could open up a floodgate for fighters to ask for more concessions from the UFC as well, but that was already going to happen when the company sold for $4.2 billion.
-- Conor McGregor is the biggest star the UFC has ever known. UFC president Dana White says it's Ronda Rousey, but after Saturday night, there's no denying McGregor is at the top.
-- There are a lot of options for McGregor's next fight but there's only one that will break every record in UFC history. Conor McGregor vs. Nate Diaz 3 with the lightweight title on the line. Mark it down now. That's the fight that will most likely happen.
-- Judging still has a lot of problems in this sport, especially when Doug Crosby somehow scores round one a 10-8 for Tyron Woodley but then scores round four a 10-9. Doesn't make a lot of sense.
-- Yoel Romero separated himself from the pack with a knockout win over Chris Weidman and now there's no doubt he's the No. 1 contender for the middleweight title. It's unfortunate for Ronaldo "Jacare" Souza, who hoped to make a similar statement in his fight with Luke Rockhold until the former champion was forced out of their fight. Now it's all about Romero versus Michael Bisping in 2017.
-- Miesha Tate should be remembered as one of the greatest women's fighters of all time. She's one of only two women to ever hold both the UFC and Strikeforce women's bantamweight titles (Ronda Rousey is the other). Tate consistently fought the best of the best throughout her career and deserves recognition for an incredible career.
-- On Wednesday prior to the fight, Tate told me that she hoped to get into broadcasting after her career was over. Now that she's retired, someone should be calling Tate immediately to offer her a deal on TV.
-- Kelvin Gastelum once again shot himself in the foot by missing weight and this time it cost him a huge spotlight against Donald "Cowboy" Cerrone at UFC 205 and likely put an end to his career at 170 pounds. Gastelum is supremely talented, but these continued mishaps have put an asterisk next to his name forever. And now he's going to be forced to fight at middleweight if he wants to keep his job with the UFC.
-- Frankie Edgar might just have the best chin in the history of mixed martial arts. Never mind his two wars with Gray Maynard that would have taken years off of most fighter's lives, but he ate a head kick from Jeremy Stephens that would have knocked most people out cold. And yet Edgar fights back and finds a way to win yet again.
-- Khabib Nurmagomedov should be the scariest prospect to Conor McGregor's new reign as champion. Nurmagomedov ate some hard shots on the feet from Michael Johnson but once the fight hit the mat, it was an absolute mismatch. Nurmagomedov reminds me of a prime Fedor Emelianenko -- a relentless pace on the mat with devastating power in every shot he throws. With his wrestling pedigree, Nurmagomedov could certainly ground McGregor and do the same thing to him that he did to Johnson.
-- Vicente Luque is a name to watch in 2017. He's now won four straight fights -- all by knockout or submission.
-- New York's gain may be Las Vegas' loss. The atmosphere inside Madison Square Garden was electric on Saturday night and the entire town was at a fevered pitch when the UFC finally arrived. With MSG and the Barclays Center in Brooklyn now both viable landing spots for the promotion, Las Vegas may take a hit when it comes to the biggest cards landing there from now on. Don't forget, the new UFC owners WME-IMG have offices in Los Angeles and New York. Las Vegas may not be as much of a priority to them as it was to the Fertitta brothers. It also doesn't help Las Vegas that McGregor has declared the city of his list of places to fight after he was fined a ridiculous amount of money for his press conference melee with Nate Diaz back in August.