'The Simpsons' welcome Jeff Gordon, Dale Earnhardt Jr. to latest Daytona Day adventure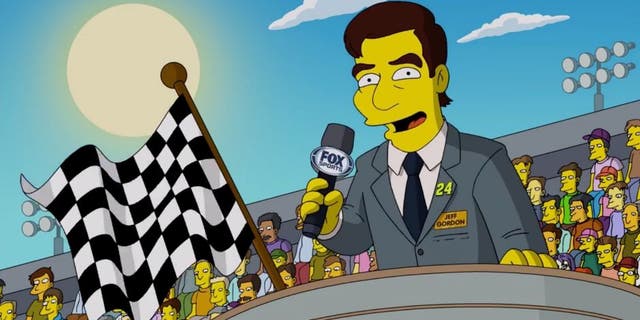 NEWYou can now listen to Fox News articles!
FOX Sports welcomes back Homer, Marge, Bart, Lisa, Maggie and the rest of the gang from Springfield -- and, this time, The Simpsons are bringing along some of their NASCAR pals.
Four-time NASCAR champion and FOX NASCAR analyst Jeff Gordon joins NASCAR's most popular driver, Dale Earnhardt Jr., as part of an animated promo for "Daytona Day," the expanded, second-year marketing initiative in support of the 59th running of the Daytona 500 on FOX on Sunday, Feb. 26 (2:00 p.m. ET).
"It was really cool … it's such a popular show," Gordon said. "Whether they are making fun of you or not, it's just an honor to be a part of it."
Viewers of Sunday's Super Bowl LI on FOX got a sneak peek of the Daytona Day promo with Gordon and Earnhardt, now scheduled to air in episodes of The Simpsons on Feb. 12 and Feb. 19.
The Simpsons airs Sundays (8:00-8:30 p.m. ET/PT) on FOX.
Now, in its second year, the Daytona Day campaign, which now includes support from NASCAR, Daytona International Speedway and multiple consumer marketing partners, continues to recognize and celebrates the parties and social gatherings happening around the country on the day of the Daytona 500.
"It's an honor for all of us at FOX Sports to be able to tap into such a definitive and recognizable piece of pop culture to support our Daytona Day efforts," said Robert Gottlieb, FOX Sports EVP of Marketing. "Having the creative firepower of Gracie Films helping to build Daytona Day is a true thrill."
"The Simpsons promo was a successful cornerstone of last year's Daytona Day campaign, and NASCAR is honored to work with FOX on the initiative again this year," said Jill Gregory, NASCAR senior vice president and chief marketing officer. "As a past Daytona 500 champion making his return to racing, it's only fitting that Dale Earnhardt Jr. join The Simpsons to build anticipation for the Great American Race."
Homer Simpson added: "Which way is the barbecue pit?"
For more information on the FOX Sports Daytona 500/Daytona Day efforts, please visit FOX Sports Press Pass.