The <i>Other</i> Football: It takes the shirt off your back to get an MLS shirt on your back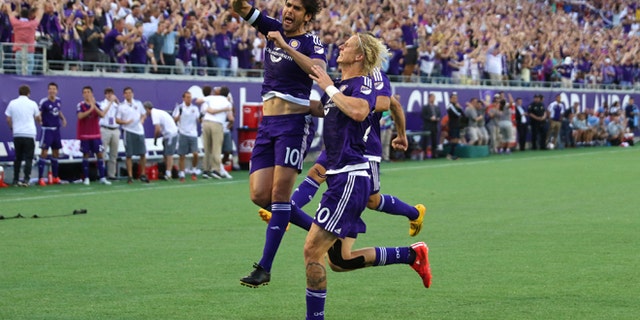 NEWYou can now listen to Fox News articles!
You'd think that selling replica team shirts at reasonable prices would be a smart way for Major League Soccer to promote its brand.
Instead, MLS team shirts are being offered at near extortionist prices.
On what seems to be an LA Galaxy affiliated website, the new adult home long-sleeve shirt for Steven Gerrard, the former Liverpool and England star who will join the MLS champions this season, is going for a whopping $204.00.
The short-sleeved jersey for the expansion team, Orlando City SC, with Kaká emblazoned the back goes for $114.95 on the league's website.
Solidly in between is the $149.95 they're charging for an adult-size shirt with the name of the forward for the league's other new team, NYC FC, Spanish World Cup-winner David Villa, on it.
A kid's jersey with any of those star's names on it goes for a still substantial $94.95. And remember that shorts and socks are not included and will cost you more.
Adidas is the exclusive kit supplier for all of MLS, and, to make things even more expensive, several teams have new shirts this season.
No comment from Adidas, while MLS, perhaps busy with the opening of its new season after successfully averting a player strike, emailed me to say, "We are going to politely decline" to comment.
Three questions for Sam Snow
US Youth Soccer says there are more than three million registered soccer players in the nation. That's up some 200,000 from 2013. One of the men tasked with pushing its popularity is Sam Snow, the organization's coaching director.
Courtesy of Sam Snow
What is the state of youth soccer? "Youth soccer in the U.S. today is doing well with millions of participants," Snow said. "However, soccer - just like all other youth sports - is over-organized and adult-oriented. We should take a step back and give the game over to the kids more than we do now. We also need to continue to grow soccer in communities where it doesn't yet exist. In America there should be at least 10 million youth soccer players.
How do you attract those players? "We need to grow the game with greater access to the sport in schools and low-income settings. I would encourage folks to look at Project Play through the Aspen Institute as a wonderful model to grow youth sports in the nation."
Any advice for young players? "Have fun playing soccer, that's the most important thing of all," he said. "I would advise youngsters to go out and play on your own whenever you can. Play at home, at the schoolyard, a public park - anywhere that you are allowed by your parents to get outside and play. Kids should play a lot without the adults around. Let the game of soccer become your game, not just one that you do when the coaches and parents are around."
Video of the week
Jonás Gutiérrez of Newcastle United gave soccer fans of all stripes something to cheer about. The Argentinian hadn't played in a top flight game in 17 months having undergone surgery and chemo treatment for testicular cancer. His emotional return will long be remembered.