The <i>Other</i> Football: A soccer minnow hopes to leave its mark at Euro 2016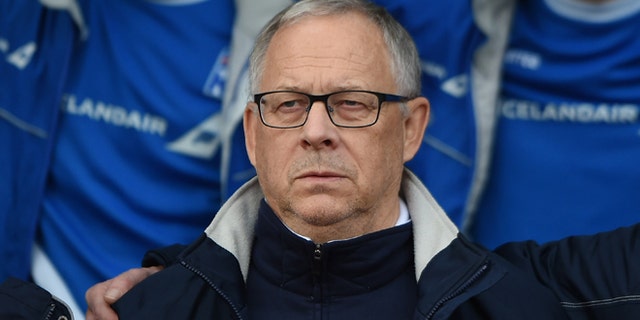 NEWYou can now listen to Fox News articles!
Euro 2016 is coming this summer. The showpiece tournament happens every 4 years, straddling halfway between World Cups.
While all the smart money this time around will be on the likes of powerhouses like Germany and Spain, a country with very little soccer history is also attracting a fair amount of attention: Iceland.
For perspective, Iceland is a nation about the size of Kentucky but with a population of only 320,000 – or about 4 million fewer people than that U.S. state.
Previously, the smallest nation to qualify for a European Championship tournament was Slovenia – which had about 2 million people when it qualified for Euro 2000.
Iceland's national stadium has a capacity of 15,000. The national stadium of France, the host of Euro 2016, holds 80,000.
So how does a tiny island nation qualify? By knocking off a perennial world power along the way. Iceland beat a Dutch team that got 3rd place at the last World Cup and were the runners-up 4 years before that twice during qualifying.
In 10 games, Iceland won six and tied twice, conceding only six goals.
For some insight, Fox Latino spoke with Ómar Smárason, Head of Marketing and Media at the Football Association of Iceland.
He said, "We can firmly point to three factors in an attempt to explain the recent success of the Icelandic men´s national team. First-class training facilities, a high level of coaching education and a good generation of players."
Smárason added, "Since year 2000 football infrastructure in Iceland has taken giant leaps, and the facilities Icelandic football players, young and old, can now train and compete in are top class all year around. Football halls, either with full-size or half-size pitches, give shelter from the winter weather when necessary. Artificial pitches … with undersoil heating and floodlights, mean the days of the frozen gravel pitches" are a thing of the past.
"The benefits of having top-class facilities can only be fully exploited if you have the knowledge to get the most out of them," Smárason told FNL.
In 2003 no Icelandic coach had qualified for a UEFA B or A level coaching license. Today, Iceland has 639 coaches with a UEFA B license, 19 coaches with UEFA A license or more and 13 coaches with UEFA Pro license.
This current "golden generation" of players on Iceland's national team could well be a direct result of this improvement. "A major part of the group of players in the current national team was around the age of 10 when it all started, 15 years ago. There must be a link," said Smárason.
Icelandic fans also deserve a bit of the credit for the team's success. Smárason told FNL, "Icelanders have always been football crazy, and there is enormous interest in the team these days."
Consider that 3,000 fans made the trip to the Netherlands for Iceland's crucial 1-0 away win against Holland. That's around 1 percent of the country's population. That's the equivalent of around 3.2 million U.S. fans traveling to a national team match in Mexico City.
"The support we have been given, both home and away, has been fantastic," Lars Lagerback, the national team's head coach, said after the victory against Holland. "Even I got goosebumps when I heard them sing the national anthem [in the stands]."
But just qualifying for Euro 2016 is not enough.
Smárason said, "The coaches have clearly stated … that the team will not go to France as tourists and will do everything possible to progress from the group. "
Forget the "Barcelona Model" of developing club soccer stars, maybe the Icelandic model will become the new go-to system.
"A number of national and regional football associations all over Europe have contacted [us]," Smárason said. "Some have visited Iceland. We have no secrets in this regard."
The draw for the Euro 2016 takes place Dec. 12. Make sure you get your Iceland jersey now before it sells out.
Video of the week
For all of us who try to make moves like Ronaldo and fail, there's this to give us hope.
From the wires
The embattled president of the Brazilian soccer confederation is under investigation for marketing deals with a major carmaker.
The office of former Barcelona star Romario, now a federal senator, confirmed the contract probe involving Marco Polo del Nero on Monday. It is part of an ongoing senate investigation looking into how the sport is run by the Brazilian soccer body.
The investigation involves contracts negotiated with more than 20 state federations when Del Nero was vice president of the national federation.
Senators want to know if awarding those contracts influenced votes from state federations for Del Nero to become president, succeeding Jose Maria Marin.
Sergio Gomes, who signed the contracts as a representative of the automaker Chevrolet, continues to work for Del Nero.
A call to Gomes on Monday from the Associated Press went unanswered.
Chevrolet replaced Volkswagen as the national team sponsor after Del Nero took over the presidency this year.
The newspaper Estado de S. Paulo first reported the investigation into the contracts. Documents it published showed large, lucrative deals were awarded to even small, relatively unimportant state federations.
Del Nero has come under increasing scrutiny and was forced to resign last week from the FIFA executive committee, though he kept his job as president at home.
Del Nero was not indicted in the FIFA corruption scandal, in which Swiss and American authorities six months ago arrested top football officials in a deepening corruption probe.
Brazil has no extradition treaty with the United States, so Del Nero is safer in Brazil than if he travels outside the South American country.
The Associated Press contributed to this report.