The Jets appear content to ride Ryan Fitzpatrick to the bottom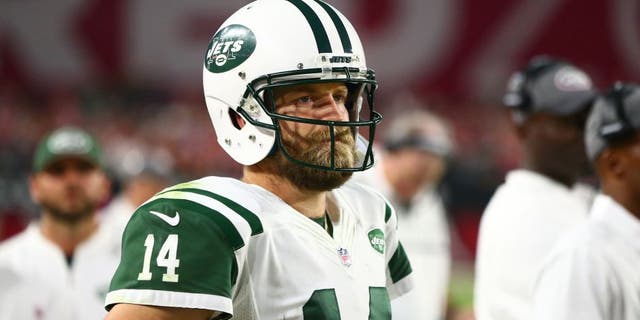 Ryan Fitzpatrick's season has been disastrous, but Monday night, there was a glimmer of hope for Jets fans.
No, the Jets quarterback didn't have a good game -- far from it, in fact -- but he did find himself on the bench in the fourth quarter of the Arizona Cardinals' 28-3 win.
You could hear the Jets fans rejoice, no matter how far away you were from New York. After weeks of antagonizing play, Jets coach Todd Bowles finally did the prudent thing and played backup quarterback Geno Smith.
The Jets' season is going nowhere -- they're 1-5 on the season -- Fitzpatrick has played himself out of a job, and Monday marked the first day that Smith was going to get his second shot at being the Jets' No. 1.
Or not.
Smith didn't play well, but even if he had, it wouldn't have mattered to Bowles: he just wanted to get Smith some snaps in case of an injury -- he announced Monday night that Fitzpatrick will start the Jets' Week 7 game against the Ravens.
Apparently, Bowles doesn't understand that his job is on the line -- that the Jets' fanbase is so disillusioned with him that the calls for him to be fired are already reaching a fever pitch.
Apparently, Bowles doesn't know that the easiest way to create plausible deniability when you're a coach under fire is to make a quarterback change, or two.
Apparently, Bowles doesn't care that Fitzpatrick leads the NFL in turnovers with his 11 (he's fumbled five times this season, but he's yet to lose one, keeping his margin over Jameis Winston in the NFL's worst stat to lead at one) or that he's thrown zero second-half touchdowns to 10 second-half interceptions.
Apparently, Bowles wants to punt this decision too.
Bowles is a well-respected defensive mind, and Fitzpatrick isn't the sole reason the Jets are in the basement of the AFC East, but his handling of his team's quarterback situation is going to disqualify him from holding a head coaching job in the near future. (He'll have to go back to being a Major in the Baltimore Police Department...)
Anyone with two eyes can see that Fitzpatrick is drowning out on the field -- a victim of a terrible offensive line and arm hubris. Is Smith the answer to the Jets' problems? No, but that's the roster Bowles has been handed. He needs to extinguish all possibilities to prove that it's not his coaching that's to blame for this debacle of a campaign.
Who knows, should Bowles reach clarity in this situation, he might even have to use Christian Hackenberg, the inexplicable second-round pick the Jets are trying to pass off as the team's quarterback of the future.
There's no better way to prove that he is blameless in this hopeless situation than playing the kid.
No matter what it is, Bowles has to do something -- the status quo is, at this point, is career suicide.
Alas, for the moment, Bowles and the Jets seem content to ride Fitzpatrick to the bottom.