The Hitlist: The top five moments of UFC 191: Johnson vs. Dodson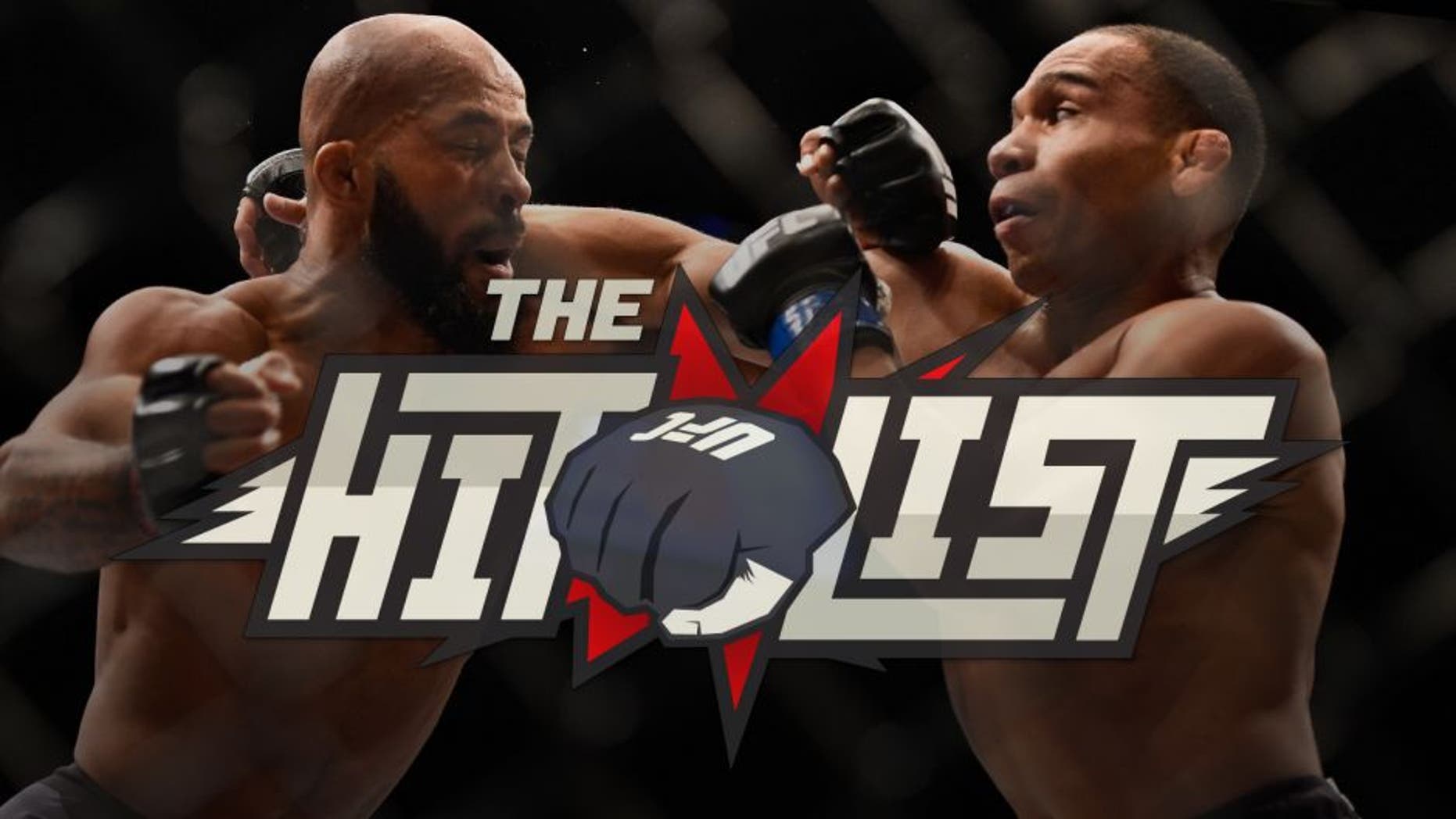 UFC 191 had a great title fight at the top of the bill, but many fights on the undercard ended up impressing, as well. From champion Demetrious Johnson approaching title-defense history in thrilling fashion, to Raquel Pennington proving that she's better than her record, and many fighters fighting with both skill and aggression, check out our five favorite moments of the night, below.
Then, let us know yours on Facebook and Twitter!
Demetrious Johnson cuts loose
As usual, Demetrious Johnson was superb, Saturday night in the UFC 191 main event. The UFC flyweight champion didn't just successfully defend his flyweight world championship, as we are becoming accustomed to him doing, he also cut loose and dominated a man who nearly knocked him out two-and-a-half years ago.
John Dodson was still the same dangerous challenger he was in 2013, when he managed to knock down Johnson three times in the opening two rounds. The Albuquerque fighter was speedy, showed great offensive and defensive wrestling, and fired off big strikes, per usual.
Johnson, however, was much improved from where he was in their first fight, and so was able to put away all doubt regarding who was the better fighter. From the first minute to the last, Johnson never seemed to stop moving --€" feinting, changing levels, landing repeated huge lead right punches, slamming Dodson and winning scrambles.
The true beauty of Johnson's fight abilities is not even in his perpetual motion, however; that lies in his well-roundedness.
It was because he is so confident in every position in a fight that he was able to fight fearlessly and with almost reckless abandon. Johnson may be the closest thing to an action movie fighting star that the UFC has in that he attempts and connects with some of the most absurdly creative and risky moves.
Against Dodson, he was unafraid of being put on his back so had no issue letting go of dozens of kicks, or throwing flying knees, or even an Ong Bak-style flying double downward elbow strike with his back against the cage. No top fighter is able to dominant opponents with such a liberal attack as "Mighty Mouse," and it makes him a wonder to watch.
Raquel Pennington fighting through the odds
Jessica Andrade had the look, record, and style to be the favorite Saturday night against Raquel Pennington. Furthermore, the Brazilian also already owned a split decision win over "Rocky" from 2014.
The TUF veteran once more showed that she's much better than her official record might indicate, however, and she won by submission with just two ticks left in the second round. In the past, against the likes of Andrade, and Holly Holm, Pennington had shown that she was tough enough to hang with top talent and make fights close.
Now, she's begun to prove that she can put them away. The 27 year-old gets better and more savvy with each fight, and she very well may be able to continue to find success on her self-described "revenge tour."
Pennington's hands, footwork, conditioning, defensive grappling off her back and offensive grappling from on top are good enough to get and keep her in the top 10 to five of the bantamweight division. She refuses to be stifled or put away in positions that she used to be, namely pressed against the cage or put on her back, and so Pennington has put the division on notice that she's not to be overlooked.
Trator vs. Collard
UFC 191 was filled with fights made excellent by great efforts put forth by smart but aggressive fighters, from top to bottom. Clay Collard and Tiago Trator lit up the Octagon during their lightweight preliminary bout.
Collard was disappointed that he didn't get the decision nod, and he certainly had a good argument for having earned it, but both he and Trator had superb moments of offense, both on their feet with strikes, and on the ground with submission attempts.
In the end, Trator clearly came closest to finishing the fight, as Collard was repeatedly effectively saved by a round bell while in submission trouble. The Brazilian also made good adjustments on the feet to mount his own striking offense, late in the fight.
Neither man backed down or slowed down, at any point, however, and both raised their respective stocks and deserve to hold their heads high.
Ross Pearson's patience, and John Lineker's power
Most of us probably expected Ross Pearson vs. Paul Felder, and Francisco Rivera vs. John Lineker to be evenly matched, excellent fights, but Pearson and Lineker each proved to have some surprises in store. Ross Pearson has become more well-rounded in his skills, over the years, but he's usually kept to his brawling tendencies.
In his close and exciting fight against Felder, however, Pearson showed a tactical patience that allowed him to really shine. However you scored the fight, you have to admit that the Brit's newfound patience allowed him to showcase more of his technique.
Neither Rivera nor Lineker chose that path in their furious two-minute fistic war, but it was a bit shocking to see how well the Brazilian's punching power carried over to the bantamweight division. Lineker was a top flyweight title contender, but his repeated failures to make weight prompted the UFC to book him at bantamweight.
Despite being much smaller than Rivera, Lineker was able to surprise "Cisco" with his power. "I don't think he was intimidated by me, because I was moving up in weight," Lineker said, later.
Whether that was true initially, Rivera, and the rest of the bantamweight division, most certainly respect the smaller man's punching power now, however.
Frank Mir's smart fighting, and Andrei Arlovski's surprising ground defense
Fans had waited for Frank Mir and Andrei Arlovski to fight one another. Perhaps many of them were surprised at the uneven pace of the heavyweight fight once it finally happened, at UFC 191.
Truthfully, we should not have been. Both men are aging, and both were fighting on far too short notice with little-to-no time to recover from their previous fights and camps.
Arlovski won one of the most violent one-round heavyweight fights in history, in late May, and Mir had previously fought in July. If you want spry, superbly conditioned performances from older big men, at least give them both more than the month or so they have to prepare, and give Arlovski some time to heal from the concussions he must have suffered in May against Travis Browne.
In any case, there were positive surprises in this fight, as well. In his prior two bouts, Mir had fought very aggressively but against Arlovski, he was selective with his shots, and looked to either clinch or counter, or both.
That departure for Mir was a smart move for the Brazilian jiu jitsu black belt because it sought to mitigate the risk of fighting in his opponent's strong area (on the feet, in free striking range), and instead bring it to the close quarters or the mat, where he was better. Though Mir lost a controversial decision to Arlovski, his strategy mostly worked.
The first round was close, but this writer personally saw him land the more numerous clean shots, even though he threw less. He took Arlovski down in the second and landed hard elbows, before the referee gave an assist to the striker and stood them up.
In the third round, Mir dropped Arlovski with a punch and threatened with a choke, briefly. You only have to look at Mir's bloodied face, afterwards, to realize that he was smart not to want to stand at length with Arlovski for very long.
The judges didn't see it his way, but Mir fought the right fight, Saturday. I didn't score the bout for Arlovski, but he should certainly be proud of his effort, as well.
He worked hard to be the more active striker on the feet, and to get free when he was pressed against the cage. But what truly surprised me was how well he defended himself and got back to his feet in the third round, after getting dropped.
If it was surprising that Arlovski managed to not get hurt too badly have his guard passed very quickly in the second round after being taken down, it was downright shocking that he didn't get choked or caught with a Kimura shoulder lock by Mir in the third.
Many fighters before him had gotten choked our or had their limbs snapped once Mir had gotten them to the ground, and it appeared as though Arlovski was on his way down that path after being dropped by a punch in the final round.
However, the warrior out of Belarus got to his side, then to his knees, and eventually feet, while nicely hand-fighting Mir's choke attempt, and escaped. He did all of this while no-doubt dazed from the punch he'd just absorbed.
That surprisingly technical sequence allowed Arlovski the opportunity to finish off the round and fight strong, with good punches on the feet, and it also was no accident. As it turns out, Arlovski's coach Dino Costeas spent a lot of time with the fighter working on front-headlock and front choke positions, leading up to the bout.
However you scored this fight, you've got to appreciate Mir's conservative strategy against a dangerous striker, as well as Arlovski's deft ground defense against the submission master.