The highs, lows of a NASCAR season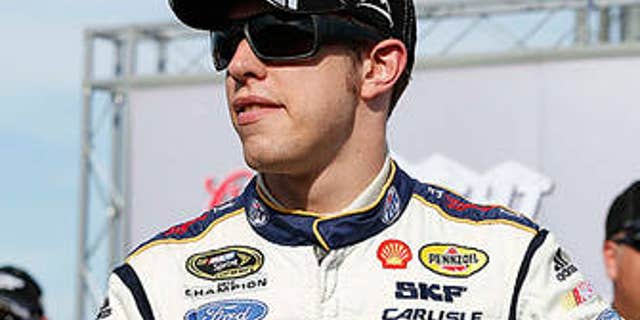 NEWYou can now listen to Fox News articles!
A season in NASCAR is nothing if not an emotional roller coaster. No driver goes through an entire season in the NASCAR Sprint Cup Series without going through peaks and valleys. One minute you are on the top of the world covered in champagne in Victory Lane thinking you are bulletproof. A week later you can blow a tire, hit the wall, destroy your car and sit in your hauler wondering if you will ever win a race again.
The fascinating part to me is how the highs never equaled the depth of the lows. It's why, like we saw Saturday night at Atlanta, so much emotion. It's not just because of one race. It's been building since Daytona. You can get so irritated, frustrated and desperate that the tension along with the panic plus the anxiety continues to build. Drivers don't come with a pressure-release valve.
Look at poor Denny Hamlin. What an absolute nightmare 2013 has been. You have to go clear back to March when he was injured. His season went south then and he still hasn't had a bright spot. Did it get any better Sunday night at Atlanta? Nope. That's the problem because Denny is getting no relief.
It's not like after he recovered from his injury he won a race or two to try and salvage his season. Sure, there are still 11 races to go and he might but I, unfortunately, am not holding my breath.
Our defending champion, Brad Keselowski, is another shining example. In the offseason, Penske Racing changed manufacturers from Dodge to Ford. He got a new teammate in Joey Logano. He got himself in trouble with NASCAR by things he said in the media. The team got in trouble in inspection in Texas. On top of all this, Brad has the duties and requirements of the champion. There are appearances and media obligations that are required of the champion.
Normally, it's the distractions away from the track and not necessarily issues on the track that do the most harm. Brad had one of the cars to beat Sunday night. He also benefited from being one of the drivers who participated in the tire test there. I know for me, when I got to do a tire test, it always helped me when we came back to that track to race.
Brad needed to win that race to keep his hopes alive to at least be able to try and defend his crown. The young man led 31 laps. However, it wasn't to be, as the almost unthinkable happens - his Roush-Yates motor let go. He finishes 35th in the race. He falls four more spots in the points to 15th with only one more race to go and three guys ahead of him outside the top 10 with a win.
There was his teammate, Joey Logano, who obviously is on the same engine program and he has no problems whatsoever. Joey led 78 laps in his Ford and finished second. That helped move Joey up two spots to eighth in the points, and Joey does have a win.
That just shows you when things go south, they go south in a hurry and there just seems no way to turn things around. That's where you start peaking the Frustration Meter. Like Jeff Gordon was saying, if you were pissed off racing at Atlanta, then you REALLY are going to be pissed off come Saturday night at Richmond.
There are so many scenarios going into Richmond for some of these drivers just inside and just outside the Chase, that it will drive them crazy. The ones that really suck are the ones out of your control. These are the ones where you have to hope a driver has problems while you run the perfect race just to be able to limp into the Chase.
We're at that point of the long, hard season where one more case of something bad happening will send you into a meltdown. You will take it out on your team, you take it out on everyone around you and, more importantly, you take it out on the competition.
Richmond will actually be a relief for some. For those drivers sitting on the bubble and don't make the Chase field, the pressure is off them to a certain extent. They know they aren't racing for the championship, so they can concentrate on simply winning a race or two and working to build momentum for 2014. On certain levels it takes a lot of pressure off you once you know for sure you aren't going to be in the Chase. So Richmond will be a relief for some and just the beginning for 12 others.
One thing I did notice from the Atlanta race was the role the new Goodyear tire played in the restarts. That new tire has a harder inside shoulder. The cars have a lot of camber, which means the top of the tire is leaning in and you are riding that inside edge. You marry that up with 850 horsepower when you put the hammer down, and I think we saw a lot of guys spinning the tires on the restart because of that harder edge.
You have to be impressed with how Kyle Busch, crew chief Dave Rogers and the entire No. 18 team worked on that car all night and got Kyle into a position to win. That gave Kyle his fourth win of the season. How can you not be impressed by his brother's performance, as well? Kurt started 32nd and raced his way to a fourth-place finish. It also moved Kurt to 10th in the points, and he has to stay in the top 10 or win the Richmond race to make the Chase.
Ryan Newman had another really great run. He moved up a spot to 14th in the points. He is vying for that second wild card spot which is held by the guy just ahead of him, Martin Truex Jr. Both guys have won a race this year and Martin is holding off Kurt by only five points. Just watching the tension and drama play out Saturday night between those two drivers alone will be exciting.
So when the checkered flag waves Saturday night, the 2013 NASCAR Sprint Cup Chase field is set. I think clearly the three favorites going into the Chase have to be Jimmie Johnson, Matt Kenseth and Kyle Busch. Among them they have won 13 of the 25 races so far this season.
Both Matt's and Kyle's teams, ironically teammates, as well, seem to be peaking at the right time. You can't say that about Jimmie, however. We know Jimmie knows how to win the Chase. He's done it five times already in his short career, but they seem to be struggling of late.
Naturally, they are also taking comfort in remembering 2011 when Tony Stewart limped into the Chase and then proceeded to win five of the 10 events plus the championship. That's how you win a Chase these days.
You have to win races. Being consistent just simply doesn't get the job done. Go ask Carl Edwards about his 2011 Chase performance, if you don't believe me. Jimmie, Matt and Kyle have won the most races this season, so there is no reason to think they won't do the same once the Chase starts. So that's my Chase prediction and, unfortunately, for some of these guys who will make the Chase, it's also their predicament.