The Final Four: DW examines the Championship 4 ahead of Homestead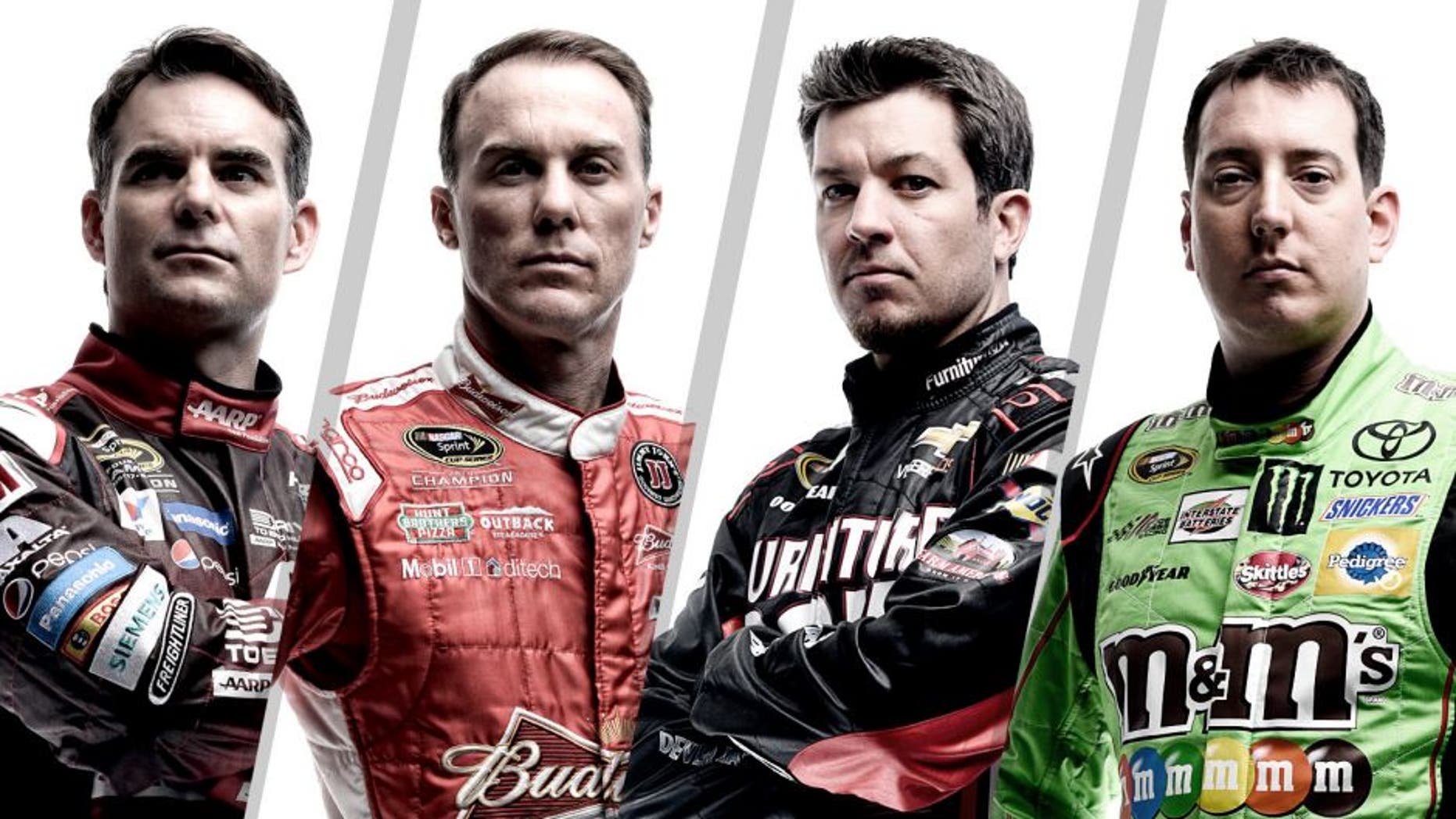 Well, we have waited all year and 35 races later we are finally here. Who will be our 2015 NASCAR Sprint Cup champion? We'll all know Sunday evening as the Final Four was set in a rain-shortened race at Phoenix. Now it's down to Kevin Harvick, Kyle Busch, Jeff Gordon and Martin Truex Jr. to settle it.
I've loved the playoff system and the elimination rounds this year. We've had some twists and turns that none of us saw coming. For instance, you had Joey Logano dominate and win three races in a row, but then you had the feud between him and Matt Kenseth. Matt stuffed Joey in the wall at Martinsville. Matt gets suspended for two races and Joey's championship dreams evaporate. It's really unfortunate that it happened to both of them.
With the wreck at Martinsville, it opened the door for Jeff Gordon to make it to the Championship 4. What a storybook ending to a storybook career if he could win that fifth championship he's been chasing in the final race of his career. You've heard me say this before, but I refer to Jeff as the G.O.A.T. – the Greatest of All Time, and I really mean that.
The man has 93 wins and possibly a fifth championship on Sunday. He's done it all through the years with all the different car designs, rule changes, point system changes, etc. You name it and he's won in it. In the time in our sport when the competition been the greatest it's ever been, you always had Jeff right there at the top.
Please stop and think about 93 wins. It's simply mind-boggling to me as he is now the third-winningest driver in the entire history of NASCAR. Only two men, Richard Petty (200) and David Pearson (105) in an era long, long gone have ever won more races than Jeff Gordon.
I'm also really looking forward to working with Jeff next year on our FOX NASCAR broadcasts. With the announcement that he was going to join Mike Joy and me in the booth next year, we've been hanging out a little more and the chemistry between the three of us is already there. We all feel it. I think it's going to be a dynamic added to the booth that maybe we've been missing of late. It will be a nice mixture of old school and current school in my book. I think how we weave the two together, with Mike Joy keeping us on point, will be fun and fascinating.
The other cool thing about this Final Four is that Jeff is only one of a multitude of storylines in Sunday's race. Think about Kyle Busch who ended up with two broken legs from an XFINITY Series race wreck the afternoon before the Daytona 500. He was out for 11 races. He came back fast and came back hot, winning races, making up the point deficit and meeting the standards that NASCAR had set forth for his opportunity to still make the Chase. So, it would be another Cinderella story for NASCAR if Kyle were to win his first-ever NASCAR Sprint Cup championship.
Probably the underdog of the four has to be Martin Truex Jr. That comes as no surprise to he or the team, as they are normally the underdog every race they enter. Sure, they have an alliance with Richard Childress Racing, but they are a single-car team out of Denver, Colorado. Last year they struggled so mightily both on and off the track, with Martin's girlfriend battling cancer.
This year they were a completely different team at the beginning of the season. They reeled off top 10s that most of the mega-teams couldn't even touch. They got the win at Pocono Raceway, but then things seemed to go a little bit off after that. Their weekly performance and finishes weren't quite as good. I wonder how much the announcement that they were switching from Chevrolets to Toyotas in 2016 played into that dip in performance.
They got it together when it counted and now here's Martin, who has never finished higher than 11th in the points in his entire career, with a chance to win it all. Yet again, what a Cinderella story that would be for that team to pull off what would have to rank as one of NASCAR's biggest upsets of all time, if they could win it all Sunday.
Obviously standing in the way of those other three is our defending series champion, Kevin Harvick. Kevin's had his back to the wall this year but he thrives on that stuff. He had to win at Dover to advance in the Chase and did. Don't forget who the defending winner of the Homestead race is. Yes, it is Kevin Harvick. Once again, his back was to the wall. He literally had to win the race to win the championship last year, and he did just that.
It just seems when you tell him "there's no way," Kevin is the one to say "yes way". I like that about him. He's a fighter, and as we saw last year, we need to add instigator to his resume. He's just a really cool guy and I'm excited to see him and crew chief Rodney Childers going into that race Sunday as the odds-on-favorite to win it all.
Harvick's No. 4 has been the car to beat for the last two years. They are bad-fast no matter where they go. They've gotten three wins, 22 top-five and 27 top-10 finishes in the 35 races this season. I am honestly surprised they don't have more than three wins because believe it or not, they've had 12 second-place finishes this year. That No. 4 car has simply been the dominant car everywhere we go.
Not taking anything away from Dale Jr., but Kevin would have probably won that race Sunday night in Phoenix if the rain had not come. Dale Jr. just happened to be in the right place at the right time. You'll find a lot of times that's what racing is all about, being in the right place at the right time to give yourself a chance to win.
When Dale Jr. qualified third, that gave me a pretty good hint he was going to be good on Sunday. He never seems to qualify all that great but he likes Phoenix and has won there three times. He ran up front in second or third most of the night. They got on and off pit road at the right time, Mother Nature intervened again and the race win was his.
So, congratulations to him. It was his third win of the year. He had not won since Daytona back in July. I loved his post-race interview. He's always so thoughtful and respectful, not just to the competition but what's going on in Paris, France. That was really thoughtful on his part.
So, it's onto Homestead this Sunday. Four guys, one race and only one champion. As I mentioned earlier, the odds-on favorite has to fall to Kevin Harvick. He's been in this situation before and showed what he can do when his back was up against the wall. One thing he can't do is let his guard down though. There are three hungry hounds coming after him and they go by the names of Gordon, Busch and Truex.