The Early Look: Jose Aldo vs. Frankie Edgar II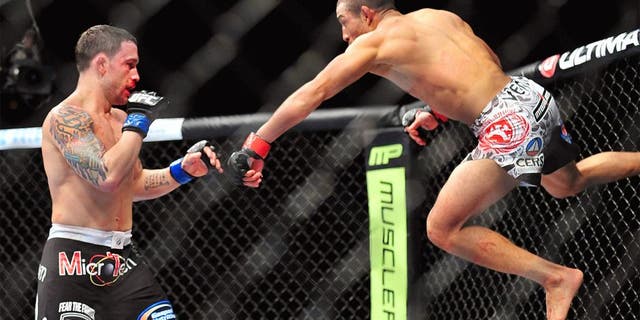 As is the case with Diaz vs. McGregor II, Jose Aldo vs. Frankie Edgar II earlier on July's UFC 200 card is an example of a great matchup happening at a weird time. The time for a rematch between Edgar and Aldo would have been at any point in the past three years after Edgar narrowly lost a decision to Aldo in a featherweight title bout.
Edgar has beaten a who's-who of the division since that defeat, and is currently riding a five-fight win streak. His most recent victory was a decisive KO victory over Chad Mendes in December.
Instead of getting the return featherweight title shot he's long-deserved, however, the hottest fighter at 145 pounds will now have to fight someone coming off a knockout loss. Of course, the two will fight for a meaningless interim champion label as McGregor puts off his first title defense once more, but no serious observers consider an interim champion a real champion unless it has been at least a year since the sitting title-holder has earned or defended their belt.
And, sure, we're told that the winner of this fight will absolutely, 100 percent, no take-backsies get to fight Conor McGregor for the real belt, afterward. Unfortunately, UFC president Dana White's public promises of title shots are about as substantive as the paper they are not written on.
Just ask Miesha Tate. Or Frankie Edgar, who says he was told that he could get anything he wanted after knocking Mendes out, but did not.
So, the timing is off and it is all a bit unfair of a situation for at least Edgar. Still, what we're left with is two future hall of famers going at it on a big stage and at least the prospect of a mega grudge match against the Notorious one.
That's still pretty good.
Tough to score, tough to predict
This fight is as hard to predict as their first one was to score.
I gave Aldo the edge after five rounds back then, but plenty of reasonable people thought that Edgar did enough to deserve the nod. Edgar had the hand speed to match Aldo and interrupt the champion's combos.
The wrestler's footwork also made him a much more difficult target to hit for "Scarface." Still, though he had to work much harder than usual to do it, Aldo did find Edgar quite a bit with kicks and punches.
Whoever has slowed down the most since that first fight, come July, will probably lose. Edgar isn't getting younger and has been in lots of mind-rattling wars, but he's looked more than quick enough against a wide range of elite opponents of late.
Aldo has gone through lots of serious injuries in the past two years and is coming off of a nasty concussion. All of that comes at the tail-end of a legendary career filled with countless rounds of jarring work in both training and competition.
There's no telling who will have the quicker reflexes at this point. Assuming they are at about the same level, there, Aldo should hold the slight advantage over Edgar.
Though he can't likely keep Edgar from taking him down, Aldo's wrestling is good and he's springy enough to get up time and again. This would create scrambles and both men are sublime at throwing and connecting strikes on separation.
Aldo did it perfectly against Mendes in their first fight, earning a KO, and that's also exactly how Edgar finally beat Gray Maynard in their final bout. On the feet, Edgar's hands will be a little quicker, but Aldo's great, well-timed jab can still give him trouble.
I don't think either man will fade down the stretch, either. Ultimately, I think Aldo at his best beats Edgar at his best, barely.
The fresher man wins
Edgar may very well be the fresher fighter at this point in their careers, however. I think his timing will be better, that he'll be less worn and that eventually his accurate volume punching will find Aldo's chin and make things interesting.
Prediction: I truly believe this is too close to call, but I'll give the red-hot Edgar a slight edge based on his activity level and performances in his most recent bouts in comparison to Aldo's health struggles and damage sustained in the past two years.