The Chargers see Myles Jack as a safety, and it's not as crazy as it sounds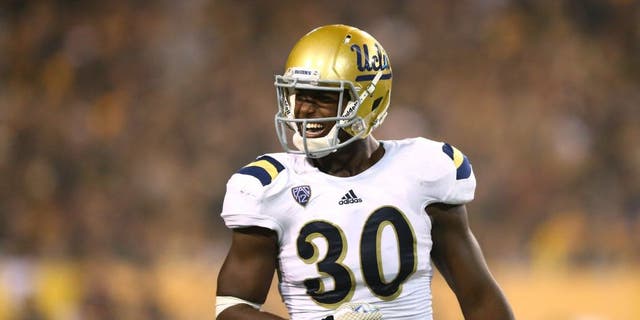 The San Diego Chargers are one of the most interesting teams in the 2016 NFL Draft. They have needs on both the offensive and defensive line, as well as the secondary. Safety is a particularly big need, given the departure of Eric Weddle via free agency.
During his time in San Diego, Weddle was arguably the best free safety in the league. He was also one of the most versatile. He could play single-high coverage over the top, come down and cover receivers in the slot, or line up as a linebacker and stop the run.
It's not easy to find a player with his skill set, but one could very well be available when San Diego goes on the clock with the third overall pick -- and he primarily played linebacker in college.
Injury questions aside, Myles Jack out of UCLA is a top prospect and is a candidate to go in the top-five come April. He's everything a team looks for in an off-the-ball linebacker, but his versatility, like Weddle's, makes him an intriguing player. And for the Chargers, they view him as a Weddle-type safety -- not a linebacker.
"They really envision me as a DB," Jack said in a recent phone interview with the San Diego Union-Tribune. "Even at my pro day, toward the end, they kind of jumped in and had me do DB drills. They really envision me there. ... They feel like I can fill that spot Eric Weddle was at. Obviously, they want me at a lower weight, but with my skill set, they can see me in the slot, covering and running."
Weddle is 5-foot-11, 200 pounds. At the NFL Scouting Combine, Jack checked in at 6-foot-1, 245 pounds. It was about 15 pounds heavier than scouts expected, but given his knee injury and rehabilitation, Jack hasn't been working out at full strength just yet.
Lowering his weight wouldn't be a problem if taken by the Chargers to play safety. And given his skill set, college tape and athleticism, moving from linebacker to safety isn't as crazy as it sounds.
In college, Jack showed the ability to step out of the box and cover smaller, quicker receivers in the slot. He also played outside cornerback, putting his wheels and coverage ability on display. And although he likely won't run the 40-yard dash before the draft, Jack has the speed to run step-for-step with receivers.
In the past two years, Jack has played just about every position on defense except for defensive tackle -- and he's excelled at all of them. Not to mention, he's strong and elusive enough to play running back, which he did on several occasions for the Bruins.
Asking Jack to play safety -- and essentially replace Weddle, nonetheless -- might sound like a tall task, but he's capable of doing so. No one knows if the Chargers will strongly consider Jack at No. 3 given his injury concerns, but he'd be a great addition to that defense.
His coverage ability mixed with his athleticism and size make him one of the most intriguing prospects in this draft. And if he dropped his weight down to 215 or so, he'd become even more dynamic in San Diego's secondary.