The car guys of Ford: Pruett takes Ford executives around Belle Isle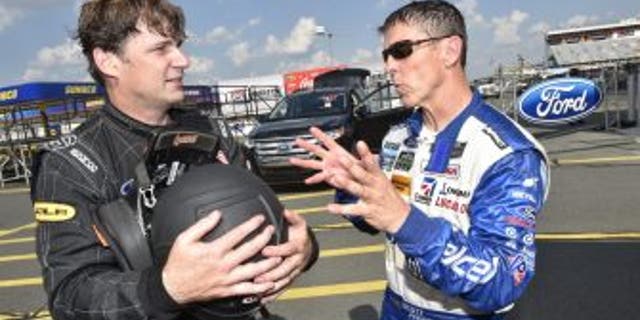 This article is presented by Ford EcoBoost.
While the likes of Scott Pruett and Ozz Negri will tear up the track on Detroit's Belle Isle this weekend in their Ford EcoBoost-powered Prototypes, a group of dedicated racing enthusiasts from the nearby Dearborn, Mich.-based manufacturer will cheer on Ford's factory TUDOR United SportsCar Championship teams.
The program's biggest supporters include a pair of Ford executives who have been instrumental in the revitalization of the automaker's road racing program and have motorsports running deep in their veins, enough so to be racers in their own rights.
For Jim Farley, Ford's executive vice president of Global Marketing, Sales and Service and Lincoln, that racing addiction began early in life as a 10-year-old boy in the 1970s. Farley used to watch NASCAR and open-wheel races on TV, in secret, due to his parents disapproval of the sport.
"They really didn't like me watching racing as my dad was a banker and he couldn't understand why his son was interested in racing," Farley said. "Racing was my secret … For me, racing was fun because the cars on the track could do what the cars on the street [at the time] couldn't do – go fast and make great sounds."
Fast forward more than 30 years and Farley, working for one of the largest car companies in the world, is a racer himself. He tries to spend free time – when he can get it - at the track, driving his 1964 Shelby Cobra, a factory-owned car that had been raced by Ken Miles, among other vintage race cars.
"I found a passion and sport where I could hang out with people like me, car people, and compete in a way that was professional racing," Farley said. "Professional racing is a significant commitment and the historic racing was a great way to get started."
While having competed in roughly 15 races across North America, Farley will be taking his racing efforts to the global stage in July as he will contest the Le Mans Classic with his 1978 Lola T298, driving on the legendary Circuit de la Sarthe.
Raj Nair is another one of Ford's car guys. Nair, who was named Ford Motor Company's group vice president, Global Product Development, in 2012, grew up watching racing idols such as Mario Andretti, Rick Mears and Alain Prost.
"It's strange because there is no background or interest from anyone else in my family and my parents wouldn't let me race until I was in college," Nair said. "I was always messing around with anything with a motor."
Nair, who is responsible for all aspects of Ford's product development system, started off in go-karts before competing in Skip Barber, Formula Ford in England and Formula 2000, while carving his way through school.
While he hasn't raced competitively in 10 years, Nair still gets behind the wheel of a race car when time permits and has joined Farley in his vintage cars on occasion.
"Winning was always fun but even the best racers lose more races than they win," Nair said. "I do recall one SCCA race at Grattan where I was on pole, led the first lap with a good lead, took it easy on the second lap and of course spun, was dead last when I got back on the track, carved my way back through the field and won the race."
For Farley, having the first-hand racing experience has helped forge new relationships, as well as gain a better understanding and appreciation for what some of the challenges modern-day racing heroes, including some of Ford's finest, are faced with.
"It's a rewarding experience all around," he said. "You have to prepare well in advance and spend a lot of time focusing and concentrating. There is some pre-race nervousness and the friendships are unparalleled.
"When you're racing with your friends, it's actually quite interesting because you don't want to be 'that guy' but I've been in a few situations when I have been that guy and you ask yourself 'why are you here?' I don't ever want to lose perspective and racing has taught me a lot about friendships. It's about trust."