The bad news for New York? This guy played out of his mind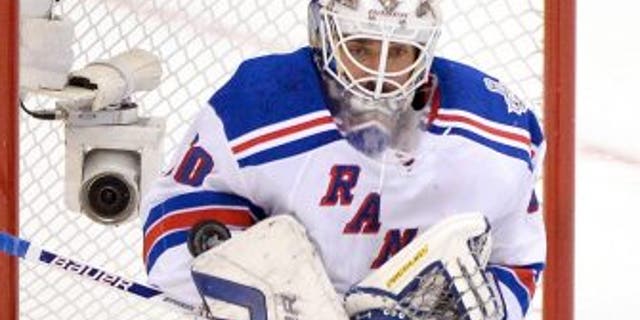 Los Angeles' Western Conference final hangover lasted almost one period. Apparently, the Kings' well of resolve is as deep as their forward lines.
New York defenseman Dan Girardi committed a terrible turnover in overtime, putting the puck on the stick of Mike Richards. Richards dished it to Justin Williams who buried the offering to finish off a 3-2 Kings win in overtime of Game 1 of the Stanley Cup Final on Wednesday at Staples Center — a win that everybody saw coming from the time the third period started.
L.A. outshot New York 22-5 in the third period and overtime. Remember, the Rangers were the team that had enjoyed five days' rest to the Kings' two. The Kings had just completed their third straight seven-game series on Sunday with their third straight Game-7 road win — this one two-thirds of the way across the country in Chicago.
If there were a game the Rangers were going to steal in this series and make it last a while, this sure liked like the prime candidate. The fact that they couldn't hang on to a 2-0 first-period lead — and the manner in which they were thoroughly dominated as the game wore on — doesn't bode well for hopes of a big-market classic.
"I think they had a lot of energy and were fresh," Kings coach Darryl Sutter told the media of the Rangers' first period. "If you look at their playoffs in the first periods, they've had really good first periods every game. You look at it, not I think, I know, that we were not on full tanks."
Kings goalie Jonathan Quick had to make 25 saves, but he didn't face a shot in the third period until 11:43 had elapsed when he turned aside a quality offering from Martin St. Louis.
"It's part of the game," Quick said. "You've had that happen before, so you know how to approach it."
L.A. seems to understand the proper approach to everything in this postseason.
PLAY OF THE GAME
Doughty gets dirty: Los Angeles rallying from a two-goal deficit was the predictable part. The way defenseman Drew Doughty did it wasn't. Taking a cross-ice feed from Williams, Doughty slipped the puck between his skates to evade the Rangers' Derek Dorsett and got himself into shooting position with a quick move to the slot before snapping a puck past goalie Henrik Lundqvist with 6:36 gone in the second period to even up the score.
TURNING POINT
Kyle Clifford's late first-period goal: Not that we ever doubted the Kings would rally for the 100th time in this postseason, but it was kind of a big deal to get that one before the intermission to cut New York's lead in half and stabilize what had been a sloppy, uninspired, Chicago-hangover induced first period.
KEY STAT
Wednesday's game marked the fourth time in seven games Los Angeles has rallied from a multiple-goal deficit. According to the Elias Sports Bureau, the last time any team posted as many comeback wins in one playoff year was in 1987, when the Flyers earned five such victories.
SERIES
Los Angeles leads, 1-0
THREE STARS:
1. Justin Williams, RW, Los Angeles: A backhanded, cross-ice feed on the game-tying goal. A shot off the inside of the post for the game-winning goal. Clearly, somebody told Williams this was Game 7.
2. Henrik Lundqvist, G, New York: We're not talking about overtime without Lundqvist's 40 freaking saves.
3. D Drew Doughty, Los Angeles: The aforementioned goal was ridiculous, but that's how Doughty's been rolling in these playoffs where he has 17 points to top all defensemen and set a new single-postseason Kings record. OK, we admit the latter is a short list. Doughty broke his own record.
UNSUNG HERO
Kyle Clifford, LW, Los Angeles: He had the least amount of ice time of any King (9:03) but he made the most of it with a goal and an assist.
QUOTABLES
"We've done that a few times, obviously. I think it's not something you want to make a habit of." —Quick on yet another Kings rally.
"He was the reason why we went to overtime. I mean, he gave us a chance. When you get to overtime, a lot of times it's a bounce, it's a shot. Tonight they got it." — New York coach Alain Vigneault on Lundqvist
"Everything usually offensively starts in our zone. (Mike) Richards made a great play getting the puck out. We screwed up a three-on-two royally. Fortunately for us, one of their D-men was following, I was sitting in front of the net with the puck, I was able to make a shot." —Williams on his game-winning goal
WHAT WE LEARNED
As we thought at the start of this series, Lundqvist is New York's best chance at an upset. Lundqvist was brilliant and composed on Wednesday, turning aside 40 shots and making a number of them look easy when they were not.
L.A. forward Tyler Toffoli nearly scored when he used his speed to get around the New York defense in the third period, but Lundqvist poked the puck off his stick to keep the game tied at 2-2.
We wondered how well New York's center depth would hold up against the team with the best depth at that position in the NHL. The Rangers centers looked strong through the Eastern Conference final, but they looked increasingly overmatched as this game wore on and L.A. absolutely dominated the possession game late in which they finished No. 1 overall this season.
One game is not enough to judge a series, but the Kings have a habit of getting stronger and stronger as series progress and this game did nothing to dispel the notion of the West's superiority over the East.
New York wing Rick Nash looked slow and unable to find space. If New York is going to have a chance, it's going to need more offense from speedy forwards Chris Kreider and St. Louis as well as Carl Hagelin and Benoit Pouliot, each of whom scored a goal. But against L.A.'s better forward depth, it is hard to imagine the Rangers scoring enough to win, which brings us full circle to Lundqvist's importance.
NEXT GAME
Game 2, Saturday at Los Angeles, 7 p.m. ET
FINAL THOUGHT
Sutter had a funny exchange with a reporter after the game — in that bizarre and humorous way that only Sutter can pull off.
Reporter: "What was it that made you so effective in the third period?
Sutter: "I'm not so sure we did. I think (goalie) Jonathan Quick was our best player tonight."
Reporter: "(New York) only had three shots on goal (in the third)."
Sutter: "Is that a question (laughter)? I know they only had three shots on goal. I agree with you."
Follow Craig Morgan on Twitter