Texas Tech QB Patrick Mahomes' new trick play is a head-turner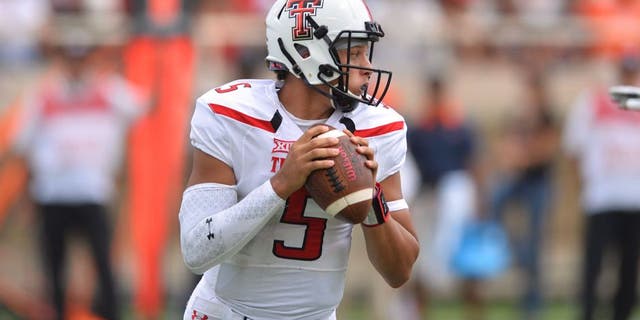 NEWYou can now listen to Fox News articles!
Kliff Kingsbury said he's never seen a quarterback who can throw from as many different arm angles -- roaming to his right and to his left yet still being accurate and having zip on the ball -- the way his latest star protege Patrick Mahomes can. As a sophomore last season, the Texas Tech QB amassed more than 5,000 yards running and throwing, completed 64 percent of his passes to go with a 36-15 TD-INT ratio and also ran for 10 more touchdowns. But this year, Mahomes figures to be an even bigger problem for rival defenses.
A real head-turner in fact.
Kingsbury wasn't shy about unveiling Mahomes' newest way to get defenses on their heels. The Red Raiders coach tweeted out a video on April 7 of his QB doing somewhat of an Aaron Rodgers impression, duping defenders by throwing a few no-look passes.
Mahomes and his backup Nic Shimonek had noted the Green Bay Packers star's ability to make "off-platform' throws, contorting his body to make defenders think the ball -- given the angle of his lower body -- would be thrown to one part of the field only for him to zing it to another. Last fall, the Red Raiders QBs began experimenting while going through their 7-on-7 sessions during practice.
"We started doing it as a joke, but then we saw how it started working, and now it's on its own level," Mahomes told me earlier this summer for a story I wrote on him for Dave Campbell's Texas Football magazine. "I think a lot of is from baseball and how I could sling the ball across the diamond. I played shortstop my whole life. I never had my feet under me. I was always making throws across my body. I always have played a lot of basketball and thrown a lot of 'no-look' passes, and this is me using all the stuff I've grown up doing."
Mahomes said Kingsbury chuckled the first time he noticed his protege making a no-look pass at practice.
"I already knew that he liked it," Mahomes said. "Putting it out on Twitter into the public like that really gives you the thumbs up.
"As long as it's working, I'm sure he'll love it, but as soon as I start throwing incompletions or interceptions, I'm pretty sure I'll cut it out fast."
Mahomes is right about that. Said Kingsbury, "It's one of those deals where I'll be OK with it -- until it doesn't work."