Texans rookie WR Jaelen Strong shines against Saints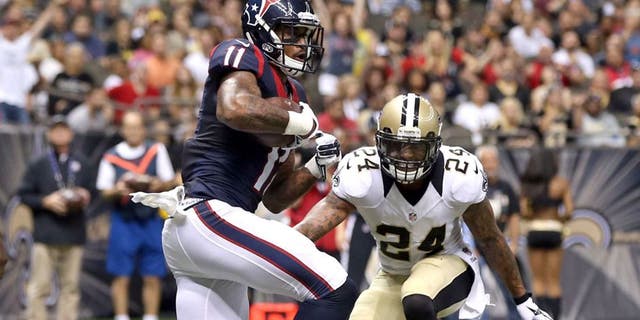 Houston Texans rookie wide receiver Jaelen Strong turned in the most productive performance of his young career in Sunday's preseason win over the New Orleans Saints.
Strong caught five passes for 40 yards in the 27-13 victory, including a six-yard touchdown reception from backup quarterback Ryan Mallett.
"We've been doing that in practice as well," Strong said, per the Houston Chronicle. "We just had a chance to show it. It felt good. Not necessarily a confidence booster. As long as I do my job, we'll make things like that happen."
A third-round pick out of Arizona State, Strong has seven catches for 55 yards and two touchdowns through the first three preseason games.
"Jaelen looked like he made some tough catches, some contested catches, which is what he did in college," Houston head coach Bill O'Brien said. "It was good to see him do that. He's playing faster because he's not thinking as much. That was good.
"It's not an easy offense to come into as a rookie. I think that he has improved. And he has to keep improving. He can't level off."
The 6-foot-2, 211-pound Strong caught 82 passes for 1,165 yards and 10 touchdowns last season for the Sun Devils.
"Jaelen played a good game," Mallett said. "He's got to keep getting better. He's a young guy. He's learning the game, he's doing well."
(h/t Houston Chronicle)