Tennessee Titans' Jurrell Casey says he plans to keep protesting and will 'take my fine' in upcoming NFL season: report
Despite a recently-imposed NFL rule regarding players and personnel behavior during the national anthem, one Tennessee Titans player reportedly says he'll "take a fine this year" and continue to "protest during the flag."
NFL defensive end Jurrell Casey intends to keep holding up his fist in protest following the conclusion of the Star Spangled Banner, like he did during the 2017 season, regardless of the fines that may come his way, he told CNN Sport while attending an event in London on Wednesday.
"I'm going to take my fine," Casey told the outlet. "It is what it is, I ain't going to let them stop me from doing what I want to do. If they want to have these battles between players and organizations, this is the way it's going to be."
NFL ADOPTS POLICY TO FINE TEAMS IF PLAYERS AND PERSONNEL DON'T STAND FOR NATIONAL ANTHEM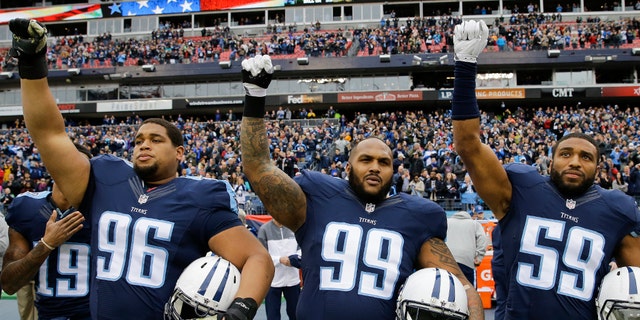 The NFL adopted a policy in May stating that it would penalize teams and league personnel who do not "stand and show respect for the flag and the Anthem" while on the field.
A statement from league Commissioner Roger Goodell said the new policy withdrew the requirement for players to stand on the field during the song and anyone who decided "not to stand for the Anthem" could remain in the locker room until its conclusion.
"A club will be fined by the League if its personnel are on the field and do not stand and show respect for the flag and the Anthem," the statement said. "The Commissioner will impose appropriate discipline on league personnel who do not stand and show respect for the flag and the Anthem."
Earlier this month, the NFL Players Association filed a grievance against the league over the policy, arguing that it infringed on the athletes' rights.
NFL PLAYERS' UNION FILES GRIEVANCE AGAINST LEAGUE'S NATIONAL ANTHEM POLICY
National anthem protests surrounding the NFL initially began during the 2016-2017 season by former San Francisco 49ers quarterback Colin Kaepernick, who started kneeling during the song as part of a protest against police brutality. The hotly contested move, and other protest variations, were later adapted by other players.
Regardless of people's opinions about his decision, Casey told CNN that he would "continue to use my platform to keep on speaking up."
Fox News' Kathleen Joyce and Paulina Dedaj contributed to this report.