Tennessee line can't withstand Cleveland pressure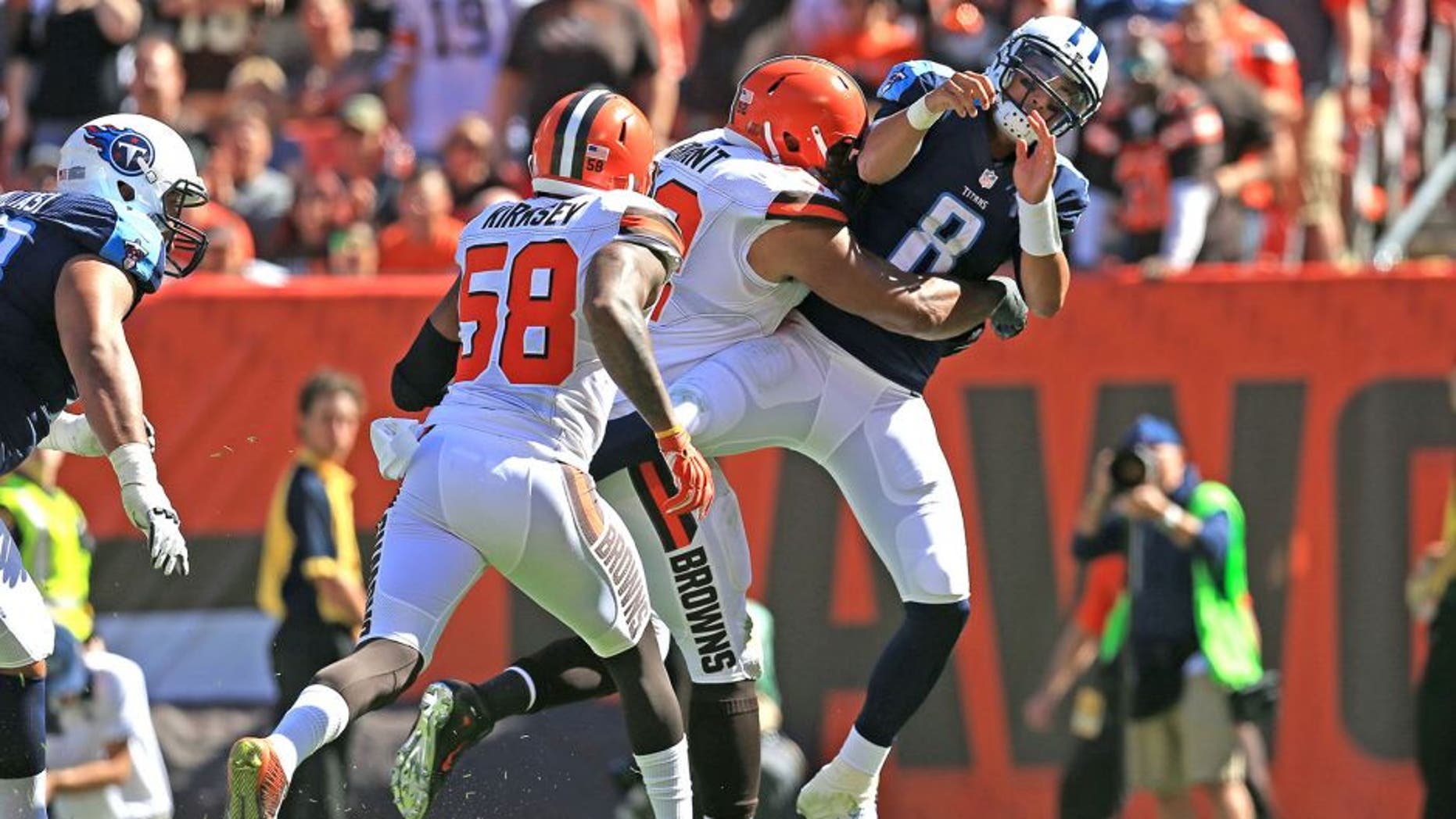 After an solid Week 1 performance that helped allow rookie quarterback Marcus Mariota to throw four touchdowns and post a perfect passer rating, the Tennessee Titans' offensive line struggled in Sunday's 28-14 loss to the Cleveland Browns.
The line allowed seven sacks on the day and Mariota, who was hit 11 times, faced significant pressure from the Cleveland pressure throughout the game.
"That just kills us a lot," rookie right tackle Jeremiah Poutasi said, per the Tennesseean. "Marcus is a tough dude. I give him all kinds of praise and glory. The blame was on us, and I'll take the blame myself."
Among the reasons for the difficulty, the Titans said they took too long getting back to the huddle at times, which in made it difficult to diagnose changes that needed to be made at the line of scrimmage and also resulted in a pair of delay-of-game penalties.
"We just have to do a better job of communicating as an offensive line, getting in the huddle faster, and moving to the line of scrimmage faster," left tackle Taylor Lewan said. "With all that noise, you have to have a little extra time to play, to make calls and know you're on the right page and make sure everyone is on the right page."
Poutasi, who made his second career start at right tackle, acknowledged he struggled individually as well with the Cleveland pass rush.
"I need to work on my pass protection," Poutasi said. "I didn't use my technique. I knew everything they were doing. It was just a matter of me executing and I didn't do a good enough job."
Titans coach Ken Whisenhunt also pointed to the number of third-and-long situations the team faced. As the Tennessean notes, the Titans faced four situations of third-and-11 or longer in the first half.

"Third-and-longs are tough in this league," Whisenhunt said, "especially in that environment. The fans were loud and made it difficult for us. That's home-field advantage."

The Titans were also forced to play much of the game without left guard Chance Warmack, who sprained his MCL in the second quarter and didn't return. Warmack has yet to miss a start in 33 career games, but a timetable for his return is unknown.
(h/t The Tennessean)