Tarmoh concedes Olympic spot in 100 to Felix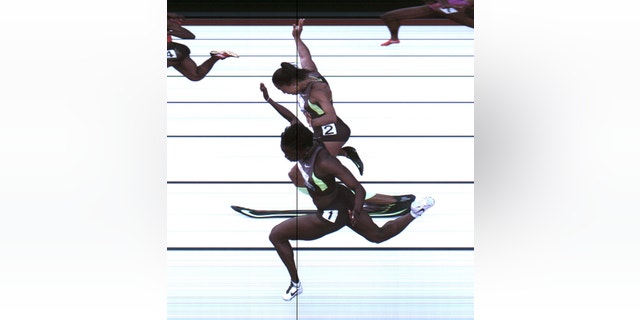 EUGENE, Ore. – Jeneba Tarmoh changed her mind after listening to her heart.
Choosing inner peace over a shot at Olympic glory, the 22-year-old sprinter withdrew from a runoff for the final Olympic spot in the 100 meters, deciding to concede it rather than meet training partner Allyson Felix at the starting line to break a third-place tie.
With that, the U.S. track trials were over. The final spot determined before the highly anticipated race was run.
Tarmoh notified USA Track and Field early in the day of her intention to withdraw from the Monday night race. Her heart, she explained, wasn't into competing again.
Not after already securing what she thought was the third spot in the event at the trials on June 23.
In that race, Tarmoh crossed the finish line and looked up to see her name on the scoreboard in the third spot behind winner Carmelita Jeter and runner-up Tianna Madison. And then came all the rewards of making the Olympic team -- a celebratory lap around the track and a medal.
Understandably, she was caught off guard when she was informed that she hadn't earned the third spot after all. The race was being ruled a dead heat and USATF -- with no tiebreaking procedure in place -- was looking at ways to break the deadlock.
For days, Tarmoh thought about earning a spot and having it yanked away. For days, she wondered what she was going to do, when USATF gave the sprinters an option of a coin flip, runoff or conceding the spot.
On Sunday, they settled on a runoff to be held at Hayward Field the following day. But Tarmoh had trepidation from the start, not wanting to run for a spot she felt she had already attained.
"Running in this (runoff) came down to how I felt internally. Would my heart be at peace running or would I not be at peace? If I was at peace, I would have run," Tarmoh told The Associated Press on Monday night. "My heart was not at peace with running."
The winner-take-all race was scheduled to be shown in prime time on NBC in conjunction with the network's coverage of the swimming trials. It would've been a big hit for track fans and those only marginally interested the sport. They could spare 11 seconds to watch a race with so much riding on it.
Only now, it's turned into another blow for a sport that's taken its lumps lately.
"This could've been something exciting for the sport, something new, something different," said Olympic gold medalist Jackie Joyner-Kersee, whose husband, Bobby, coaches both sprinters. "It would bring people in that don't ordinarily watch. Reality at its best. This is reality. You've got everything -- emotion, drama.
"But you don't have a cast."
And without two willing sprinters, track's moment in the spotlight dissolved.
"It is very frustrating for me, for someone who would like more people watching our sport on a regular basis," NBC sprints analyst Ato Boldon said. "That anytime you hear a track and field story, it's going to have a clumsy, awkward, or cringe-worthy ending."
USATF President Stephanie Hightower said the organization was "disappointed" that Tarmoh had a change of heart.
The controversy in the 100 overshadowed the entire trials because USATF had no protocol in place to deal with a dead heat. And after top officials scrambled to draft a tiebreaking procedure on the fly, the athletes didn't want to talk about it until after the conclusion of the 200 -- nearly a week later.
The tiebreaker also didn't exactly address this particular situation -- an athlete commits to racing and decides not to at the last minute. The matter, however, was resolved once Tarmoh stepped aside.
"I feel very good about my decision. Most people don't understand why. But I'm not here to explain anything," Tarmoh said. "I'm saying I'm at peace."
Despite the drama, Tarmoh said it hasn't affected her relationship with Felix.
"I've told Allyson numerous times, `I have the utmost respect for you. I don't want you to think I'm mad at you or anything negative,"' Tarmoh said. "She's an inspiration to me, helping me on and off the track."
There was no guarantee Felix would've run in the race, either. She said Sunday that she would allow her health to make the final decision. If she warmed up and didn't feel right, that's it, Felix was going to pull out of the competition. She wasn't about to risk anything this close to London.
One of the faces of track, Felix now will race in both the 100 and 200 in London. She is favored to win her signature event, the 200, after winning silver medals in the last two Olympics.
Although Tarmoh didn't qualify in the 200, she's eligible to run in the Olympic 400-meter relay.
"The situation has been difficult for everyone involved," Felix said in a statement. "I had accepted the USATF decision and was prepared to run at 5 p.m. I wanted to earn my spot on this team and not have it conceded to me, so I share in everyone's disappointment that this runoff will not happen. All I can do now is turn my focus to London."
The athletes and their agents met with USATF representatives Sunday, and Felix and Tarmoh chose to settle matters on the track. Tarmoh, however, was clearly unhappy with the choice.
On Sunday, Tarmoh said she felt "like I was kind of robbed."
A day later, she's at peace even if millions of fans were disappointed by the race that never was.
"It's going to be one to remember," Tarmoh said of the trials. "I'm not going to go back with any negativity at all. It's all a big learning process."