Tampa Bay Lightning at Detroit Red Wings Game 3 preview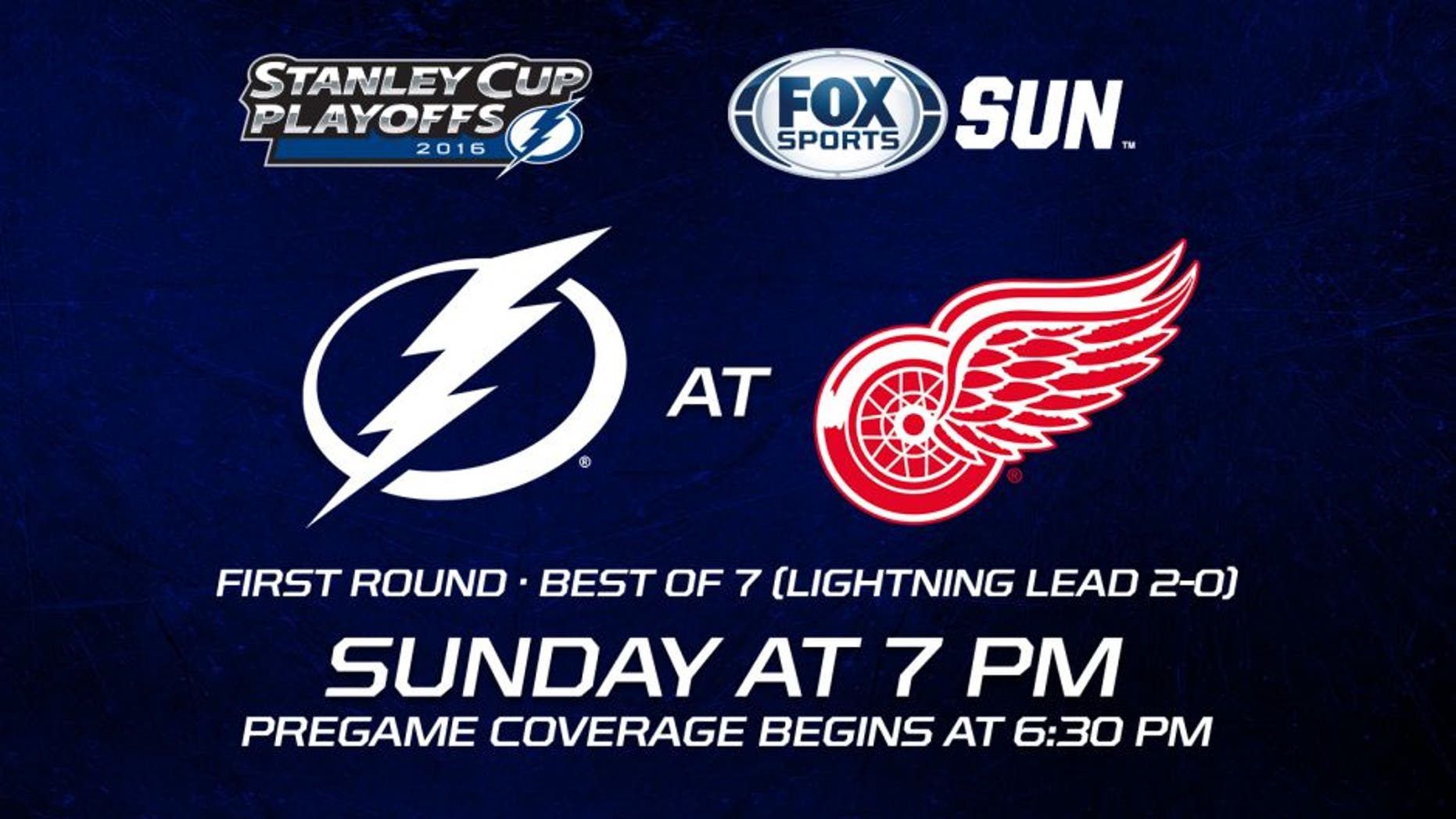 TV: FOX Sports Sun
Time: Pregame coverage begins at 6:30 p.m.
Getting to head home won't make much of a difference for the Detroit Red Wings if they don't get more going against Ben Bishop or slow down Tyler Johnson and his line.
Neither notion has come easy for them in the past two years.
After being pushed to the distance by the Red Wings in last year's first round, the Tampa Bay Lightning can take a big step toward making much quicker work of them Sunday night at Joe Louis Arena.
Bishop led the league with a 2.06 goals-against average and allowed two in each of the first two games of this series as Tampa Bay won both at home. The 6-foot-7 veteran had 34 saves in the series opener before making 30 in Friday's 5-2 victory.
"We threw pucks at (Bishop) and had some chances," Detroit veteran Henrik Zetterberg told his team's official website. "He's a big goalie and you just have to get in front of him."
Zetterberg has scored only once in these teams' 17 games since the beginning of last season, all started by Bishop. He has a 1.88 GAA in that span, surrendering no more than two goals in eight straight going back to last year's opening-round series.
As good as Bishop has been, the Lightning would not have a 2-0 series lead without the efforts of Johnson and the wingers who play alongside him, Nikita Kucherov and Alex Killorn. That trio has accounted for eight assists and all but one of Tampa Bay's eight goals.
"It's two games and that line has been fabulous for us," coach John Cooper told the Lightning's official website.
The second of Johnson's two assists in the series opener led to Killorn's winner in the third period, and the 25-year-old center followed with two goals and two assists Friday.
"He is leading the way right now. It is huge for us," center Brian Boyle said.
It seems if Johnson does well against Detroit, so does his team. He's compiled 10 goals and eight assists in Tampa Bay's 11 victories over the Red Wings since the start of last season. He didn't score and had only one assist in six losses, three of which came in last year's first round.
The Lightning won Games 4 and 6 in Detroit before closing out that series in Tampa, but now they could wrap things up at Joe Louis Arena by winning Sunday and Tuesday. The Red Wings won both meetings there during the regular season, but the last one came in early November.
Detroit is 11-3-1 at Joe Louis since the All-Star break.
"We've got to take care of business at home," said Jimmy Howard, who has an .891 save percentage in the series.
The Red Wings will have trouble doing so unless some key forwards step up. Zetterberg is on a 13-game goal drought, Pavel Datsyuk doesn't have one in 12 straight and neither has a point in this series. The same goes for Gustav Nyquist, who had 21 goals this season but has one in his last 19 games.
"My No. 1 focus is on us playing good hockey," coach Jeff Blashill said. "We've got to make sure that we play with great intensity. We've got to make sure we control our emotions."
Blashill was referencing not only the fact that his club has given up 11 power plays but also a bloody brawl toward the end of Game 2. Fourteen penalties were called, including a game misconduct on Detroit's Justin Abdelkader after a fight with Lightning winger Mike Blunden, who had his face bloodied but downplayed the potential of any ugly carryover.
"It's just a scrum. It's just part of the game. It happens," Blunden said. "Emotions get high and unfortunately my visor came down and split me open. It's part of the game. It's part of the playoffs."