Sun Devils focus on turnovers during bye week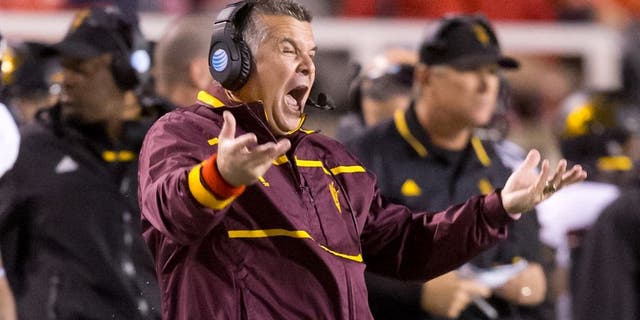 TEMPE, Ariz. -- Arizona State held an 18-14 lead against then-No. 4 Utah heading into the fourth quarter on Saturday before the Utes scored 20 points in the final quarter and won going away.
Arizona State defensive coordinator Keith Patterson said he was concerned by his unit's inability to make a big play when it mattered most.
"(We were) up 18-14, how about go force a turnover? How about we set up better field position? Those are the things that we focus on this week," Patterson said.
Patterson said the defense is not doing a good enough job of forcing turnovers. The Sun Devils rank last in the Pac-12 with only nine takeaways, and Patterson is looking to fix that during the bye week.
"You have to put an emphasis on it. We sometimes say we're putting an emphasis on it, but I mean really holding players accountable to attacking the ball," Patterson said. "Holding kids accountable if they drop an interception in practice – there has to be a consequence. We just have to do a better job as a coaching staff putting an emphasis, and getting the players to understand the importance that that can be the difference in the game."
The Sun Devils did a solid job of containing Utah running back Devontae Booker, except for one play in the closing minutes of the game. He gained 62 of his 118 yards on a late touchdown run. Booker came into the game averaging 133 rushing yards per game.
Patterson said that despite the late touchdown, he was pleased with how his team contained the run.
"I've felt like since (Texas A&M) we've dominated the line of scrimmage," Patterson said. "I've said it and we've put a major emphasis on it last spring. We played a lot of base defense in the spring and I think it's showing off and paying great dividends for us this year. Our kids have great confidence in stopping the run.
The team's hopes of being conference champions are all but dashed, as they are now three games back in the Pac-12 with only five games left in the season. However, quarterback Mike Bercovici said that the Sun Devils aren't giving up hope.
"It's very urgent right now. We've got five games left on our schedule. We're not looking ahead of anybody. We have an opportunity to do something special to finish this season off," Bercovici said. "I look left and I look right and there's playmakers on both sides of the ball."
In Saturday's loss, the Sun Devils did not score a single touchdown on offense. Arizona State offensive coordinator Mike Norvell said he's using the bye week to develop the flow on offense.
"This is a big week in all phases. People talk about bye weeks and getting healthy – we need to continue to improve. We need to continue to get better. We need to continue to focus on the fundamentals," Norvell said. "At the end of the day, the name of the game is to put points on the board, and so we obviously have to do a better job of that."
The Sun Devils will practice Thursday but will have Friday and Saturday off with the coaching staff on the road recruiting. The team will pick things up once again on Sunday to start preparing for Oregon on Oct. 29.