Strahm gets first big-league start in series opener at Angels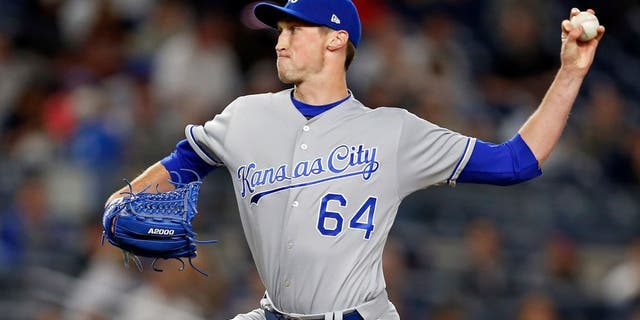 NEWYou can now listen to Fox News articles!
ANAHEIM, Calif. -- It's that time for Matt Strahm.
Strahm will make his first career major league start for the Kansas City Royals on Thursday against the Los Angeles Angels, something that most in the organization believe was only a matter of time.
The left-hander has been solely a reliever since breaking into the big leagues last season, and he has done well in that role. In 21 games last season, he went 2-2 with a 1.23 ERA and 1.09 WHIP, and he struck out 30 batters in 22 innings.
He's 1-3 with a 4.50 ERA in 20 games this year, but Royals manager Ned Yost had to look at the bigger picture. Rookie Eric Skoglund is struggling, so Strahm will take his spot against the Angels.
"(Strahm) was always going to be a starter anyway," Yost told MLB.com. "And we just didn't have that many options that were roster-ready. We can always put him back in the bullpen down the road. But for now, let's look at it and see what we have, and maybe we can have a Duffy situation."
Danny Duffy began the 2016 season in the bullpen -- like Strahm -- and wound up being the ace of the rotation by year's end.
Strahm hasn't started since last July in Double-A. He seems to have settled into his role in the bullpen, but he will do what the team needs.
"I was a little surprised, but I'm excited," Strahm told MLB.com. "I like relieving, but they want me to start and I'll do whatever they want me to do."
The bullpen will need to be ready, though, because Strahm is not stretched out. He'll likely be limited to about 65-70 pitches, with the goal of working his way up.
"After that, we'll get him up to 80-85. And then after that, closer to 100," Yost said. "It's just a build-up process."
Right-hander Ricky Nolasco (2-7, 4.81 ERA) will start for the Angels after losing his last five starts. However, he allowed three runs or fewer in three of those starts. He gave up only two runs in seven innings against Houston in his last start.
"Seven with two? I'll take that all day," Nolasco told the Los Angeles Times.
Eric Young Jr. figures to be in the lineup again for the Angels, having started all 16 games since being called up May 29 to take Mike Trout's place on the roster. The switch-hitting Young, who has played both left and center field, is hitting .333 with three homers, three doubles, 10 RBIs, 14 runs scored, six stolen bases and a .429 on-base percentage.
"Just stay with my same process since spring training," Young said when asked about his approach. "Make sure I get in the cage and do what's been successful. Not every night's going to be great, but if you trust the process, more times than not I can at least put a good bat on the ball."