Steph Curry is seventh-most famous NBA player in new fame ranking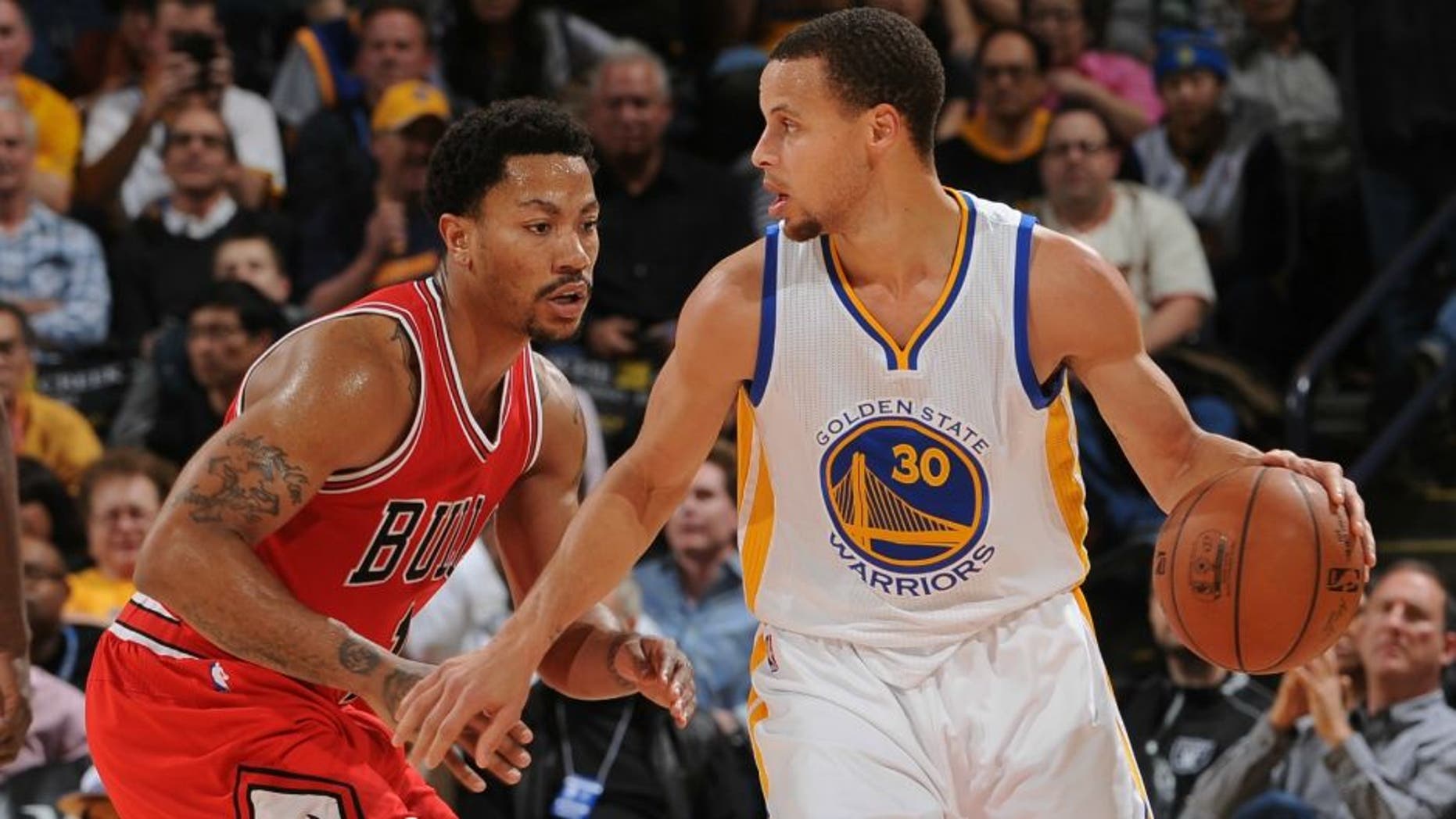 Stephen Curry has been atop the NBA world for two seasons now, from winning a championship last season (and being the heavy favorite again this season), to winning 73 games, to earning back-to-back MVPs, to breaking 3-point record after 3-point record (and on and on).
Besides LeBron James, Curry seems like the most famous NBA player in the world. He has a slew of new endorsement deals, has the most popular jersey in the league, and has turned the Warriors into a national darling. Ask any child under 12 who their favorite basketball player is, and it's probably him.
But despite how far he's come over the past few seasons, he still has a ways to go in terms of fame, as a new ESPN fame ranking points out.
The ranking combines "salary and endorsements with social media following and Google search popularity" to create ESPN's World Fame 100 rankings, which puts Curry as the seventh-most famous NBA player in the world, behind James, Kevin Durant, Kobe Bryant, Carmelo Anthony, Derrick Rose and Dwyane Wade.
Here is the full list of NBA players in order of their overall world ranking:
2. LeBron James
6. Kevin Durant
11. Kobe Bryant
29. Carmelo Anthony
30. Derrick Rose
33. Dwyane Wade
34. Stephen Curry
36. Dwight Howard
39. Chris Paul
43. Blake Griffin
45. Damian Lillard
48. Russell Westbrook
54. James Harden
60. Jeremy Lin
67. Kevin Love
68. Chris Bosh
79. Amar'e Stoudemire
87. Deron Williams
90. Tim Duncan
91. Rudy Gay
There are quite a few surprises here.
First, how did Rudy Gay crack this list? It's one thing for Jeremy Lin, Amar'e Stoudemire and Deron Williams to make it -- they've all been stars to varying degrees over various periods of time. None are top-25 players by any stretch currently, but they've played in the Olympics, made All-Star and All-NBA teams, and/or captivated the most influential city in the country (Jeremy Lin).
But Gay has never made an All-Star or All-NBA team, and isn't a conventional star. Heck, he's only made the playoffs once. It's odd that he's on here (and even craziers that he's ahead of the likes of Albert Pujols, Tim Howard and Ben Roethlisberger). That's a testament to basketball's global popularity, which I'll get to later.
Second, how is Curry so low? His salary and endorsement deals aren't as high as most of the guys ahead of him, but it feels like he should be higher than Anthony and Rose at the very least (and probably Wade, too).
James, Durant and Bryant are Nike's three signature athletes, and are arguably the three best players of the past decade, so it makes sense why they're ahead of him. They've been in the spotlight far longer and have endured more successful careers. But the other three are somewhat head-scratchers (though Anthony and Rose play in top-3 TV markets, and Wade has won three rings).
What's more, Dwight Howard is more popular than most think -- and more popular than teammate James Harden -- and Tim Duncan isn't given his proper due globally, per usual.
Lastly, basketball (20 athletes) has more famous athletes on this list than any other sport -- American football (16), auto racing (8), baseball (8), boxing (4), cricket (2), golf (7), hockey (3), MMA (2), skateboarding (1), snowboarding (1), soccer (17), swimming (1), tennis (9) and track (1) all trail it.
This isn't an exact science, of course, and there is obviously some subjectivity, but basketball clearly has a case for claiming it has the biggest stars in the world.