StaTuesday: How preseason record has impacted Packers under McCarthy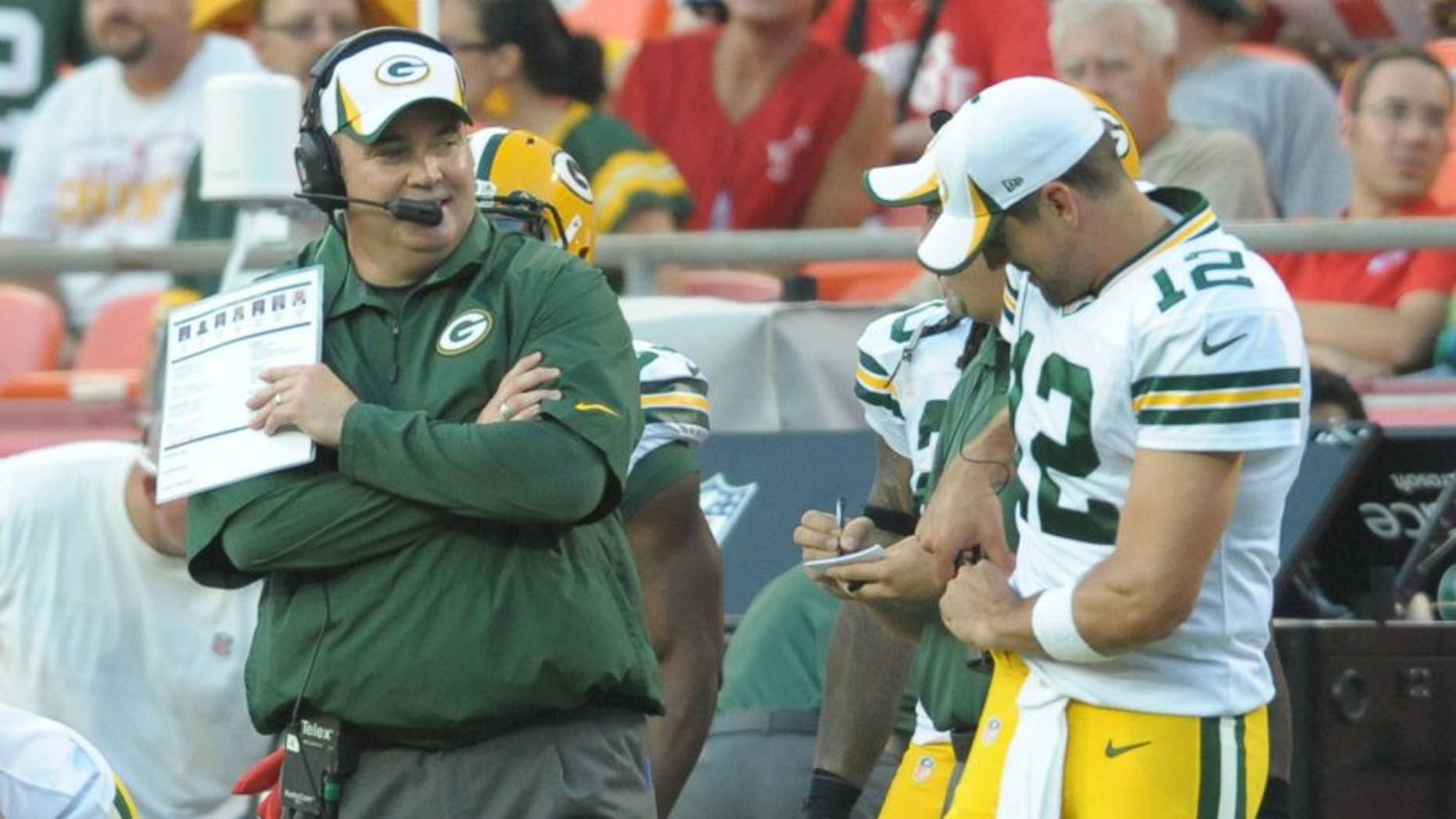 Preseason games don't count, but do they matter?
While Green Bay Packers head coach Mike McCarthy has never been one to outright dismiss the importance of the preseason -- after the final exhibition last year, he said, "I don't know if I have ever felt this good coming out of the preseason as I do tonight" -- winning the games isn't exactly his highest priority, either.
Two-time MVP quarterback Aaron Rodgers hardly plays. Ditto for injury-prone defensive leader Clay Matthews. Most starters see a series, sometimes two, before withdrawing to the sidelines. Avoiding injury is always Green Bay's foremost goal.
As one of the NFL's winningest teams (the Packers and their 2015 preseason-opener opponent New England Patriots are tied for the longest active streak of consecutive playoff appearances with six) that also is frequently one of its youngest (the average age of their roster has been one of the league's six lowest in all but two of the past nine years), the Packers know they're probably going to win at least 11 games and mostly use the preseason to evaluate fledgling and fringe players for depth.
Nevertheless, during McCarthy's tenure, the Packers' preseason record has offered a surprisingly strong indication as to the team's regular-season success.
Bearing in mind important statistical tenets like "correlation does not imply causation," as well as equally insightful football truths such as "preseason is preseason," what can Green Bay's past preseason performances during the McCarthy era tell us about how his team will play in 2015?
Since 2006, McCarthy's first year, the Packers have had losing preseasons in three years and had .500 or winning preseasons six times. In the three losing exhibition campaigns -- '06, '08 and '13 -- Green Bay went on to have a combined regular-season winning percentage of .468. In the six non-losing preseasons -- '07, '09, '10, '11, '12, and '14 -- the Packers' combined winning percentage in the games that really mattered was .750. That's a substantial increase.
In McCarthy's nine fruitful years, Green Bay has had just one losing campaign, 2008, when it went 6-10 in the regular season following a 1-3 preseason. In 2006, the only other regular season in which the team didn't finish above .500, it went 1-3 in exhibitions and then was 8-8. Even in 2013, the year Rodgers missed seven games with a shoulder injury and the Packers would finish just 8-7-1, they were only 1-3 in the preseason -- so perhaps the ill-fated campaign was foretold.
Every year the Packers have been at least .500 in the preseason, they've gone on to win 10 or more games in the regular season. In 2011, they went 3-1 in the summer and then steamrolled their way to a 15-1 record. Last year, they were also 3-1 in the preseason and that team finished 12-4 and a few painful plays short of a Super Bowl appearance.
What does it mean for 2015? Well, Green Bay's preseason opponents this year (the Patriots and Pittsburgh Steelers on the road, then the Philadelphia Eagles and New Orleans Saints at home) went a combined 40-24 last season (.625 winning percentage). That's pretty good.
Will the Packers be up to the challenge of winning at least two of those games in order to continue the apparent relationship between preliminary success and regular-season success? Will they succumb to a formidable exhibition slate but buck the forecasted trend and win when the games count? Does McCarthy care at all about StaTuesday examinations?
We'll find out later if any of it really matters, but the potentially pivotal preseason begins Thursday in New England.
Follow James Carlton on Twitter