Starting with Barnes, K-State is loaded with good running backs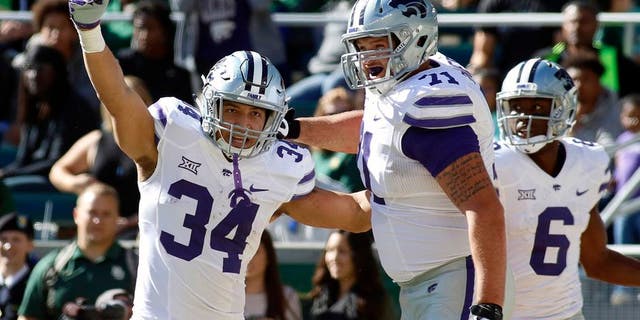 NEWYou can now listen to Fox News articles!
MANHATTAN, Kan. -- There was a point last season when Alex Barnes, already a rarity under Bill Snyder in that he was even on the field as a freshman, began to assert himself as the team's No. 1 running back.
Snyder couldn't have been happier.
In nearly three decades as a head coach, the 77-year-old Snyder has established a preference for just about everything. And in his ideal world, he'd have one running back taking the majority of snaps on any given Saturday, a Darren Sproles-like bell cow who would give the Kansas State offense some consistency.
"You'd like to see someone separate himself, and Alex tended to move in that direction toward the end of the season," Snyder said, "and I've been impressed in the spring. It's been very competitive."
Yet taking the No. 1 job by the horns is a tough proposition in Manhattan these days.
Even though Barnes ran for 100-plus yards in back-to-back weeks against Baylor and Kansas, scoring five touchdowns in those two games, the rising sophomore has several guys nipping at his heels heading into Saturday's annual Purple-White spring game.
There are Justin Silmon and Dalvin Warmack, who shared carries with him last season. There is All-Big 12 fullback Winston Dimel. There are redshirt freshmen Tyler Burns and Mike McCoy, both of whom could get on the field this season. There is even run-first quarterback Alex Delton, who has taken the majority of snaps this spring while No. 1 quarterback Jesse Ertz is sidelined with an injury.
So the big question for one of the deepest position groups in the entire conference could be not whether anyone will earn the No. 1 job, but whether there will be enough carries to go around.
"It's special right now," Barnes said. "We have five guys who are really getting after it and are very talented. We could all play any down. So it's a special thing we have going on."
John Rieger | John Rieger-USA TODAY Sports
The Wildcats, who are coming off a 9-4 season and Texas Bowl triumph, have become in many ways an oddity in the spread-offense, pass-first world of modern college football.
With departed senior Charles Jones also in the mix, Kansas State ran for more than 230 yards a game, the third-best season in school history. The Wildcats also compiled seven 200-yard performances, and three of the best single-game efforts, despite one game getting called at halftime because of weather.
In a game against Florida Atlantic, the Wildcats ran for seven touchdowns.
"It's been very competitive. Everybody is just getting after it," Barnes said. "We had our first scrimmage and it went well -- we were able to run the ball very well. As a running back, that's always my first priority. … We are just looking good as a unit overall."
Barnes is reason alone for optimism that Kansas State will be able to run the ball this season.
The second-year player out of Pittsburg, Kansas, was overlooked coming out of high school, and even early in his freshman season. He carried eight times for 73 yards against FAU, but didn't carry at all in three of the Wildcats' first five games -- and had a single carry in two of the others.
But he started to pick up steam late in the year, running eight times for 72 yards in a close loss to Oklahoma State, and forced the hard-to-please Snyder into giving a freshman crucial carries.
He ran 19 times for 129 yards and four scores the next week at Baylor, then ran 10 times for 103 yards and another score in a win over Kansas, seemingly giving Snyder his go-to running back.
But an undisclosed injury sidelined Barnes forthe regular-season finale at TCU and the Texas Bowl against Texas A&M, leaving him itching to get back on the field this spring.
"For him it was ultra-disappointing, and rightfully so. I wouldn't want it any other way," Snyder said. "He's a guy who truly wants to be on the field and loves to compete. But you have to understand that's part of the game. But he's come back quite well. Has no problems now."
Other than the handful of guys whoare fighting him for carries.