Stallworth's 16 points, O'Neill's 12 lead No. 7 Kentucky women past No. 4 Louisville 69-64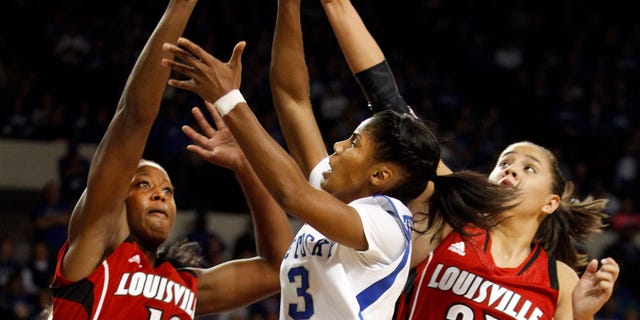 LEXINGTON, Ky. – DeNesha Stallworth scored 15 second-half points and Jennifer O'Neill hit a critical jumper with 40.8 seconds left, rallying No. 7 Kentucky from a 14-point deficit to beat No. 4 Louisville 69-64 on Sunday.
Kentucky (8-0) also erased a big lead last year in a 48-47 win in Louisville. This time, the Wildcats were down 36-27 at halftime but went up 51-45 with 9:42 left behind Stallworth, O'Neill and Bernisha Pinkett, who sank two 3-pointers in the run.
Louisville (7-1) bounced back to tie the game three times and trailed just 64-62 with 2:14 to go. Stallworth made a free throw, then O'Neill's jumper from the top of the key sealed the Wildcats' third straight win over the Cardinals.
Stallworth's 16 points led the Wildcats, who were 8 of 17 on 3-pointers. Janee Thompson added 13.