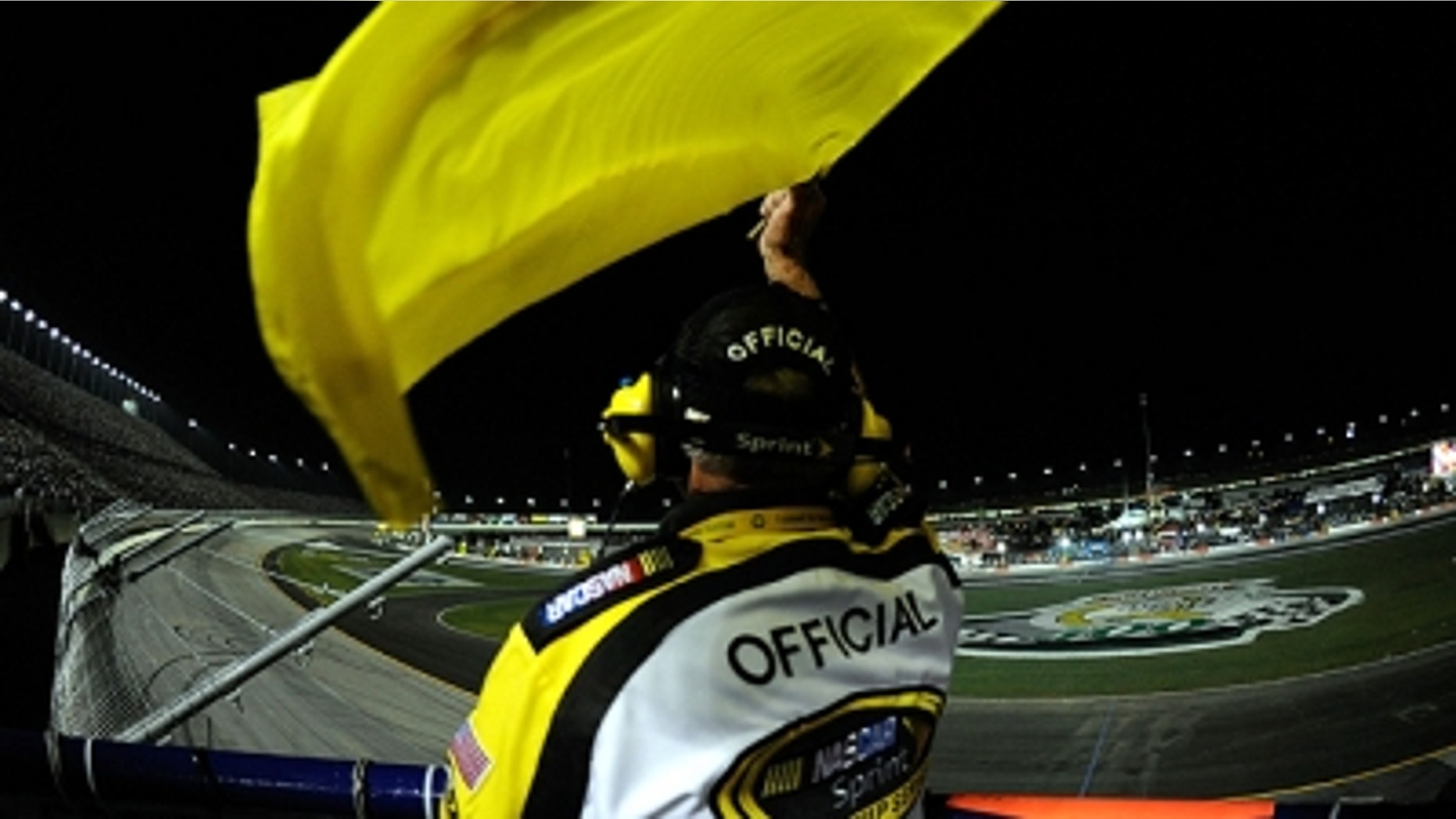 There has been way too much green in NASCAR Sprint Cup Series racing lately, and I'm not talking about the rejected color consider unlucky by drivers, money or even the green initiative.
I'm talking about the green flag, and more specifically, how time it spends displayed at a race before being replaced by the yellow.
Whoever would have expected that Bristol would be green for 451 of 500 laps and 219 consecutive green-flag laps? That's nearly unheard of in this era.
But it's not just Bristol.
Martinsville featured more than 200 consecutive green-flag laps. Texas saw only two cautions – both for debris - for 10 laps and a string of 234 back-to-back green-flag laps.
There hasn't been a caution flag for a multi-car wreck in the last two races at Texas and Kansas. In fact, the average number of cautions per race in the first seven events of 2012 is 5.4 for 31 laps. Keep in mind that Daytona figures into that equation. Over the last 10 seasons, the average has been nine yellow flags for 50 laps.
It sounds like my calculator broke and I'm counting on my fingers, doesn't it? I wish that was the case. Something definitely is broken but it's not my calculator.
I think the points system leading into the Chase is broken and NASCAR needs to fix it. These drivers saw just how important each point is when Tony Stewart beat out Carl Edwards for the championship last year by one measly point, and none of them has forgotten that.
Drivers are so concerned with maintaining good finishes that they're not willing to take a chance on the track in order to finish fifth – they'd rather take seventh or ninth and come out of there with more points than if they wrecked making a bold move. The risk of letting it all hang out and going for another position isn't always worth the reward to them.
So, it's make it worth it. Let's restructure the points in the Race to the Chase by dropping their three or five worst finishes in the first 26 races so DNFs don't weigh so heavily in whether or not they make the Chase. Even better yet, let's take their best 15 or 16 races instead of counting the entire 26. Take the drivers' conservative approach and hesitancy out of the equation. Guys have been missing the Chase because of one, two or three bad races, and that has made every single one of them gun-shy.
Screw consistency. I want to see drivers racing all-out for wins, and if their cars aren't good enough to win, let them duke it out for a top-five without fear of jeopardizing their Chase chances. And if you win even one race, you should be in the Chase.
I don't want to muddy the waters here too much, but if also we restructured how drivers get paid, owners could provide more incentive for their driver to win. They all get a flat, fat salary just to drive the car every week, but they also get a percentage of the purse money their team earns, which in most cases, amounts to 40 or 50-percent of the purse paid for their finishing position.
I think higher-finishing drivers should get an even larger percentage of the purses, while the lower-finishing ones get a smaller percentage. Make the risk worth the reward for them and pull some of them out of the funk of just running laps to collect the guaranteed paycheck each weekend. Give them an incentive like the NASCAR Sprint All-Star Race (live on SPEED May 19 at 7 p.m. ET) gives them. No, we can't offer $1 million and practically nothing to the last-place finisher, as the All-Star Race does, but you get the idea – something to make them get up on the wheel more.
We've seen too many great drivers all but knocked out of Chase probability after just a few races this year. Jeff Gordon has had some engine trouble and other bad luck; Kasey Kahne wrecked and has had assorted issues. If we threw out some of their worst finishes, they could be in the top 10 in points as long as they pick up the pace and get better results going forward.
One more factor to discuss is the tire Goodyear has been bringing to the track. It is so conservative, durable and safe that it's impeding the on-track competition. These tires are so hard that they don't wear out, meaning lap times don't fall off much during the course of a run. As a result, there is less and less passing because it's hard to pass coming off a corner at 170 mph or so without getting into someone. I completely understand Goodyear's position after the tire fiasco at the Brickyard 400 a few years ago. They cannot afford another PR disaster like that one, but I do think they could soften the left-side tires and leave the right sides harder to avoid failure, yet still accomplish the goal of lap times that fall off throughout a run.
Interest in the sport is falling off, but I think if we truly examine these suggestions, we might be able to remedy some of our problems, even in the middle of the season.
Jimmy Spencer calls it like he sees it on NASCAR Race Hub on SPEED. He retired from driving with two NASCAR Sprint Cup, 12 NASCAR Nationwide and one NASCAR Camping World Truck Series victory, putting him in an elite group of drivers who have logged wins in all three of NASCAR's premier divisions. In 478 NASCAR Sprint Cup Series starts, Spencer amassed 28 top-five and 80 top-10 finishes. He won back-to-back NASCAR Whelen Modified Tour championships in 1986 and 1987 on the heels of 15 victories, becoming the first driver ever to earn consecutive titles in the series. He earned the nickname "Mr. Excitement" for his flamboyant and aggressive driving style early in his racing career.