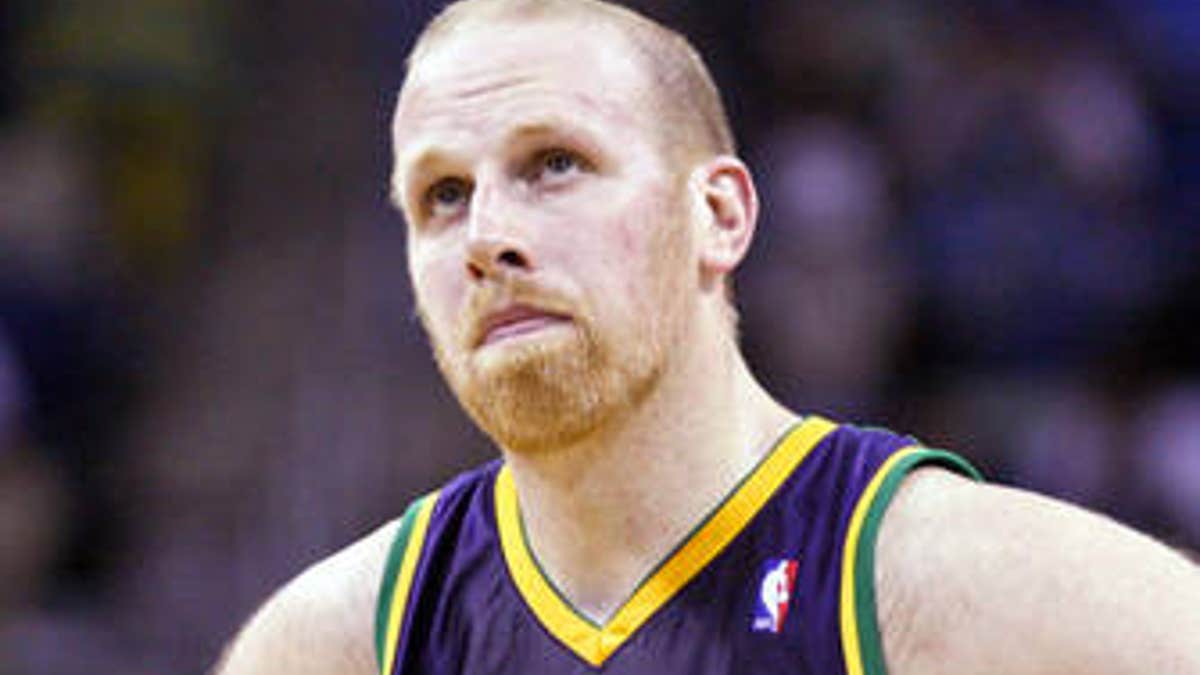 The Miami Heat need a center and Chris Kaman sure would fit the bill.
It won't be easy for that to happen. But the Heat are trying.
Heat officials, including president Pat Riley, have been calling people who know Kaman to ask about him, a source told FOXSports.com on Wednesday.
The thinking is the Heat's best effort to get a center would be to sign Kaman -- if his contract is bought out by New Orleans after the March 15 trade deadline.
The Hornets recently sent Kaman away from the team for seven games in an effort to trade him. When that was unsuccessful, he was brought back.
Now, apparently, the belief is that the 7-foot Kaman, who is making $14 million in the final year of his contract, could be bought out if the Hornets end up failing to get a deal they want for him. Kaman, acquired from the Los Angeles Clippers last December in the trade for Chris Paul, has played in three of the Hornets' past four games. He totaled 27 points and 13 rebounds Monday in an 86-80 win over Utah.
In other news involving NBA big men, a source said Wednesday that Minnesota continues to pursue a possible trade for Lakers forward Pau Gasol, dangling rookie Derrick Williams, who is from the Los Angeles area, and draft choices. The only players considered untouchable by the Timberwolves, who are seeking to add a veteran by the trade deadline, are Kevin Love and Ricky Rubio. The Timberwolves believe it could be enticing for Gasol to play on the same team as fellow Spaniard Rubio.
As recently as two years ago, Kaman had joined Gasol in the NBA All-Star Game. That was during a season in which Kaman averaged a career-high 18.5 points and 9.3 rebounds.
Kaman slipped to 12.4 points and 7.0 rebounds last season while playing just 32 games because of injuries. He's averaging 10.5 and 7.4 in 20 games this season.
But Kaman is said to be just what the Heat, who start undersized Joel Anthony at center, need. The Heat cannot talk directly with Kaman because that would constitute tampering
"If they could get him, that would solidify the championship,'' said the source who spoke about Miami's interest in Kaman. The source believes there is no realistic chance the Heat could trade for Kaman by March 15 because they don't have the right pieces.
In order to carve out a roster spot by getting one under the maximum of 15 players, the Heat on Feb. 7 waived rookie center Mickell Gladness just before contracts were to become guaranteed for the season. But Gladness was brought back on a 10-day contract Sunday, indicating the Heat remain uncertain what they might do with that final roster spot.
The Heat have looked at 7-1 free-agent center Joel Przybilla, who finished last season with Charlotte and has been battling knee injuries for several years. For now, Przybilla has been said to still not be fully healthy, and some teams have backed off. Chicago also has been looking at Przybilla.
Acquiring Kaman on a minimum deal would be the ultimate coup for the Heat. But there are plenty of issues that would have to be worked out.
The Hornets obviously would like to get some pieces for him. Even if he becomes a free agent next summer, the Hornets still could have the option of dealing him in a sign-and-trade to a team under the luxury-tax threshold and getting something in return. And since the Hornets are owned by the NBA, there would be plenty of barking around the league if Kaman were bought out and then joined the Heat.
Of course, it could come down to what a buyout number might be. Guard Mike Bibby gave up a $6.2 million contract for this season last February to be let go by Washington and have the chance to join the Heat.
If Kaman can't be traded, he would have to decide if he's willing to give up his Bird free-agent rights. Those would be lost if he's bought out, and that could cost him some money next summer in free agency.
Of course, the opportunity to win a championship could be more important to Kaman than taking a salary hit. The source also didn't rule out Kaman considering the Heat, even for lesser money, if he doesn't become a free agent until next summer.