Soccer Roundup: Angel Di Maria Helps in Rout, Chicharito Returns for Manchester United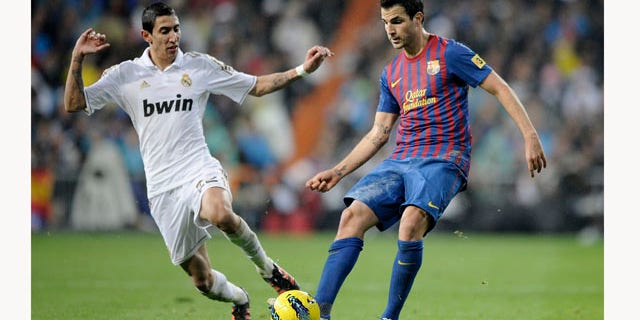 Goal-scorers get the headlines and the big money. Playmakers get the admiration of their teammates.
Argentine midfielder Angel Di Maria certainly had the admiration of his Real Madrid teammates as he created the first two goals and scored one himself, plays that ignited the club to a 6-2 rout of Sevilla in Spain's La Liga on Sunday.
The game culminated a difficult week for Di Maria, who flew home midweek for a family funeral. He returned in time to give a virtuoso performance. Not surprisingly, Real coach José Mourinho praised Di María's play.
Portuguese international Cristian Ronaldo got the headlines as he struck for his fifth hat-trick of the season only a week after his sub-par performance in a 3-1 loss to Barcelona last week. But if it wasn't for Di María, the Portuguese international might not have had an opportunity to perform his scoring heroics.
Di María's through-ball set up Ronaldo's first goal in the 10th minute. He chipped the ball over the defense that Jose Callejon used to make it 2-0 in the 37th minute. Di María got into the act himself by connecting on Real's fourth goal in the 66th minute.
Di María leads La Liga with 11 assists.
The weekend's games included a number of surprises, including Mexican international Javier Hernández performing in his first game since he sprained his ankle and El Tri goalkeeper Guillermo Ochoa registering his first shutout in France.
Spain
Radamel Falcao
It was two early scoring opportunities that the Colombian striker missed, which could have changed the complexion of Atlético Madrid's encounter with Betis. Had he tallied, Atlético might have gone on to win the match. Instead, the team suffered a 2-0 loss, its first home defeat, to 10-man Real Betis. Falcao should have scored on a header in the third minute and volleyed a shot just past the goalpost three minutes later.
Marco Rubén
The Argentine gave Villarreal a 1-0 lead in the 64th minute, but the visitors could not hold the lead en route to a 2-1 defeat to Osasuna.
Andrés Guardado
The Mexican international midfielder converted a penalty kick two minutes into the second half and Deportivo Coruña made sure the goal stood up en route to a 1-0 home victory over Las Palmas in the Second Division.
Guardardo started the sequence that led to the penalty. Diaz Ayoze eventually crossed the ball to Juan Carlos Valeron, who tried to take a six-yard shot from the goalkeepers box, but defender David Garcia fouled him from behind. Referee José Luis Lesma López called a penalty. Guardado took the spot kick that was almost denied by goalkeeper Mariano Barbosa as he recorded his sixth goal of the season.
Guardado was yellow carded in the 85th minute.
The Galaicans will meet Levante in a second leg match of the Copa del Rey on Wednesday. That will be their final match of the year.
England
Silva struck for the lone goal in the 53rd minute to keep Manchester City atop the English Premier League standings and unbeaten at home for the entire year, no small feat. Samir Nasri sent the ball to Mario Balotelli, who beat his man and blasted a shot that the goalkeeper knocked into the air. The ball fell at the feet of Silva, who slotted the ball home for his sixth goal of the season.
Javier Hernández, Antonio Valencia
Chicharito returned to action as a surprise second-half sub for Manchester United. The Mexican international striker did not find the back of the net in United's 2-0 victory over host Queens Park Rangers, but according to reports Javier Hernandez played well. Hernandez, who suffered a sprained ankle two weeks ago and who was expected to be sidelined for as much asfour weeks, replaced Danny Welbeck in the 63rd minute.
According to the ManU website, Chicharito was "a surprise early return for the little Mexican, who looked his usual sharp self with a lively cameo."
While on the bench, Hernández watched Ecuadorian Valencia set up Wayne Rooney for the first goal of the match only 52 seconds in. Rooney headed the ball to Valencia on the right flank. In the penalty area, Valencia sent him a cross that he headed home past goalkeeper Radek Cerny.
Luis Suárez
The Uruguayan did not score in Liverpool's 2-0 home win over Aston Villa, but twice he came tantalizing close as he hit the post and crossbar. When he was replaced by Andy Carroll in the 74th minute he was giving an ovation from the fans. He was merely following a Liverpool tradition this season as the Reds have hit the woodwork 17 times in 16 games.
"We can solve that problem if we can shave a couple of inches off the post," Liverpool coach Kenny Dalglish jokingly said. "We'll keep trying because the harder you try, the luckier you become. Maybe one day we'll hit the bar and it will end up going in."
Bryan Ruiz
Costa Rican international striker Bryan Ruiz was in very fine form for Fulham. He scored his first goal for the EPL club and created another to lift the hosts to a 2-0 victory over Bolton.
Ruiz set up Clint Dempsey with a cross that the U.S. international midfielder-striker headed home in the 32nd minute. It was Dempsey's fifth goal of the season and it raised his EPL total to an American-record 38.
Some 66 seconds later Dempsey turned playmaker as he sent the ball to Ruiz as the Central American standout chipped the ball over goalkeeper Jussi Jaaskelainen for a two-goal bulge.
"I expect him to do what he did today because that is what he did on a weekly basis in Holland," Fulham manager Martin Jol said. "Of course this is a different ball game here but I felt he did well over the last three or four games when he started, especially against Arsenal."
Ruiz transferred from Twente in the Netherlands to Fulham earlier this year. "Last week when I moved him into midfield he was probably one of the best players on the pitch and today he was not perfect but he can set up goals and score them," Jol said. "Like Everton and today, he can score the sort of goals that not many others can."
Fulham, which registered its seventh shutout of the season, hosts Manchester United on Wednesday.
Hugo Rodallega, Jordi Gómez
The Colombian tried to score on a weak shot, but goalkeeper Petr Cech fumbled the ball. Spain's Gomez got the rebound and slotted it home for the equalizing goal in a 1-1 draw for host Wigan against Chelsea. It was Gómez's fourth goal in his past five games.
Maxi López
In what was probably the Argentine's final match for Catania, López converted a penalty kick, an insurance goal, in a 2-0 win past Palermo. López is expected to move to A.C. Milan when the winter transfer window opens next month. In fact, López left the field in tears when he was replaced midway through the second half.
"I got emotional today because it's been a tough week," López was quoted by The Associated Press. "I didn't know if I would play and then it was important for me to score because you don't know what may happen. I left everything to come to this city, for this club and for my teammates."
France
Guillermo Ochoa
The Mexican international goalkeeper Ochoa scored a first in Ajaccio's stunning 1-0 triumph over host Rennes in Ligue 1 by securing his very first shutout in his first season. Ochoa was called on to make only one save. The victory was only Ajaccio's second this season – the club's first was a 3-1 home win over Valenciennes. Rennes (8-5-5, 29 points) is in seventh place. Fousseni Diawara scored the lone goal of the match in the 83rd minute. Ajaccio (2-10-6, 12 points) remained in last and 20th place, but moved within six points of Dijon FCO (5-10-3, 18), which is out of the relegation zone. Ajaccio will close out its 2011 part of the schedule with a game at 16th-place Sochaux (4-8-6, 18) on Wednesday.
Argentine playmaker Javier Pastore endured a frustrating day for Paris Saint-German in its scoreless draw with defending champion Lille. After collecting a through ball from midfielder Mathieu Bodmer, he missed the net from the edge of the penalty area in the 48th minute. Earlier, Pastore overcame three defenders and found Kevin Gameiro some 15 yards out. However, Gameiro fired wide.
Lisandro López
The Argentine striker scored to give fourth-place Olympique Lyon a 1-0 lead in its 1-1 draw with Evian.
"Lisandro was opportunistic," Lyon coach Remi Garde told the Ligue 1 website. "He gives us that cutting edge and is effective in front of goal. He's not at his best physically but remains very important to the team."
Raúl
Former Real Madrid scoring star Raúl connected for a hat-trick of his own to power Schalke to a 5-0 romp past Werder Bremen in the Bundesliga
Juan Arango
The Venezuelan had an active game for Borussia Moenchengladbach in its 1-0 victory over Mainz. He could have given Borussia a 2-0 lead in the 67th minute, but was denied by keeper Christian Wetklo. He also accidentally knocked Mainz defender Zdenek Pospech unconscious after the players knocked heads. Pospech was able to finish the match.
José Paolo Guerrero
The Peruvian equalized for Hamburger SV four minutes after Augsburg grabbed the lead in the 62nd minute in what finished as a 1-1 draw. Since being named Hamburg coach, Thorsten Fink has an eight-match unbeaten streak.
Cristián Rodríguez
The Uruguayan came on as a substitute and struck in the 80th minute in Porto's 2-0 victory over Maritimo, which tallied an own goal. Porto and Benfica, 5-1 winners over Rio Ave, are tied for the league lead, although the former is ahead via goal difference.
Sebastián Leto
Leto, an Argentine, found the back of the net once in each half and created a goal by Jean-Alain Boumsong to spark Panathinaikos to a 3-1 home triumph over visiting Asteras. Spain native Fernando Usero tallied a late goal for Asteras.
David Fuster
The Spanish striker tallied in the first half to help Olympiakos Pireaus extend its Super League lead to four points thanks to a 2-0 home win over PAS Yiannina.
For the first time in 11 years, Olimpia won the Paraguayan league championship. Olimpia defeated Rubio Nu, 2-1, on the final day of the Apuerta. Three nationalities played vital roles in the win. Olimpia, coached by Uruguayan Gerardo Pelusso, had goals from Argentine Maximiliano Biancucchi and Colombian Francisco Najera.
Still, there was plenty of inner turmoil on Olimpia as club president Marcelo Recanate had a blow-up with the team's four Uruguayan players that forced midfielder Sergio Orteman vow he would leave the club. In fact, nine team presidents have asked the Paraguayan Football Association to throw out or suspend Recanate for ridiculing the PFA. Due to violence at a recent Libertad-Cerro Porteno match, thousands of police were at Sunday's game.
Michael Lewis, who has covered international soccer for three decades, can be reached at SoccerWriter516@aol.com.
Follow us on twitter.com/foxnewslatino
Like us at facebook.com/foxnewslatino