Soccer Round-Up: Ouch! Chicharito; Argentine Global Strike Force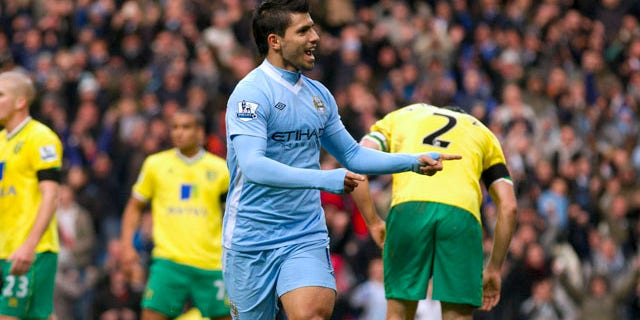 While Brazil has a long-standing reputation of placing stikers in clubs over the world, Argentina is forging a reputation as well:
Over this weekend, no less than five Argentines in four countries celebrated goals. The list included Manchester City's Sergio Aguero (England), Nice's Fabian Monzón and Renato Civelli (France), Real Madrid's Angel Di María (Spain), Napoli's Ezequiel Lavezzi (Italy).

Ironically, on a weekend that seemingly every Latino player from South America and North America scored goals in Europe, it was quite incredible that the most lethal striker from Mexico did not even score. In fact, Chicharito suffered a sprained ankle in Manchester United's 1-0 win over Aston Villa in the English Premier League.

England

Javier Hernández

It has been a difficult second season for Chicharito.

Before the English Premier League season even kicked off, Hernández already was sidelined with a concussion he suffered during training prior to the Major League Soccer all-star game in late July. He missed more than a month.

On Saturday, the Mexican international got some more bad news -- not about his head, but about his ankle. He could be sidelined up to four weeks with torn ligaments, according to Manchester United manager Sir Alex Ferguson. Hernández fell awkwardly in the penalty area.
"I think it's torn ligaments in the ankle, it's looking like he'll be out for three to four weeks," Ferguson told ESPN.

Hernández, who has scored six EPL goals this season, was carried off on a stretcher after 12 minutes at Villa Park after turning his left ankle in what turned into a 1-0 United win over Aston Villa.

The injury certainly won't help United, which lost the 23-year-old Hernández for a UEFA Champions League game in Basel.

ManU needs at least a tie to reach next year's knockout round.

Chicharito had just found his form this season, scoring three times in his last four matches.

Sergio Aguero

The Argentine scored the first goal to ignite Manchester City to a 5-1 rout of Norwich City to keep five points ahead of its rivals, United. Aguero tallied his 11th league goal in the 32nd minute. Micah Richards sent the ball to Aguero at the top of the goalkeepers box. He then twisted and turned before beating four defenders and slotted the ball into the far corner. "It was always going to take a little brilliance in a tight area to open up the game," City manager David Platt told reporters.

France

Fabian Monzón, Renato Civelli

Two Argentines powered Nice to a 2-0 victory over Rennes. Defender Fabian Monzón booted in a penalty kick in the 15th minute after goalkeeper Benoit Costil took known Franck Dja Djedje in the penalty area. Fellow defender Renato Civelli headed home a corner kick for an insurance score in the 35th minute.

Guillermo Ochoa

You can say this about Mexican international Guillermo Ochoa: He is certainly seeing plenty of action at Ajaccio.

Every week he faces a team that sends plenty of shots and crosses at the Mexican international and on Saturday, it was no exception in Ajaccio's 3-2 home loss to Lille.

Lille out shot their hosts, 14-7, placing seven on goal. Ochoa was credited with two saves and blocked three other shots. However, he could not stopy Ludovic Obraniak (12th minute), Marko Basa (16th minute) and Een Hazard (penalty kick in the 80th minute) from scoring. The penalty was set up after Jean-Baptiste Pierazzi tripped Florent Balmont in the area.

Aurélien Chedjou knocked a Christian Kinkela free kick into his own net to give Ajaccio a 1-0 lead in the second minute before the visitors equalized and took the lead for good during a four-minute span. Ilan (37th minute) tallied for Ajaccio to make it 2-2.

Despite surrendering three goals, Ochoa was magnificent, denying Dimitri Payet's half-volley in the opening half. In the second half, Ochoa made a brilliant save on Obraniak.

Ajaccio is at the bottom of the league in 20th place. Unless Ajaccio (1-10-5, eight points) can turn it around in the second half of the season, the team will be relegated to the Second Division.

Spain

Héctor Moreno

The Mexican international connected for scored the equalizer in the 69th minute, but it wasn't enough for visiting Espanyol which dropped a 2-1 decision to Valencia in La Liga. Roberto Soldado spoiled Espanyol's day with a goal in the 80th minute.

Angel Di Maria

Di Maria, an Argentine, scored one goal and set up another in Real Madrid's 3-0 away win over Gijon. The Argentine scored the opening goal in the 34th minute and his through ball set up Cristiano Ronaldo's goal for a two-goal advantage in the 64th minute.
The victory set up a confrontation with Barcelona on Saturday, although Di Maria warned about looking too far ahead because Real has a UEFA Champions League game at Ajax [the Netherlands] this week. "The team is calm. We have a game [at Ajax] in the Champions League before we can start thinking about Barca," he told reporters.

Carlos Vela

Vela, another Mexican international, scored on a spectacular bicycle kick in the 89th minute to help Real Sociedad stage a late rally and register a 3-2 victory over Malaga. He equalized at 2-2 with his bicycle kick before substitute Diego Ifran beat defender Martin Demichelis and beat goalkeeper Willy Caballero in stoppage time. Sociedad grabbed a 1-0 lead in the 10th minute as Imanol Agirretxe's head shot hit the crossbar and bounced off Demichelis into the goal.

Malaga equalized in the 21st minute as striker José Rondón headed home a goal before Sebastian Fernandez stole the ball from defender Mikel González and tallied for a stunning 2-1 advantage in the 59th minute as the side was trying for its fourth victory in five games. It was the second consecutive week that Sociedad recorded a win in injury time as it edged Real Betis, 3-2, on Inigo Martínez's goal.

Alexis Sanchez

The Chilean striker connected for his third goal in two games as Barcelona prepared for this weekend's confrontation with Real in a 5-0 triumph over Levante. Sánchez completed a breakaway that began deep in Barca's own territory in the 61st minute.
"It is good to win by a big scoreline because it gives us confidence heading into such a big game (at Madrid)," Barcelona's Argentine defensive midfielder Javier Mascherano told reporters. "The sensations are positive. It will be a spectacular game and everyone is excited to play it."

Radamel Falcao

The Colombian forward struck once and created another goal to power Atletico Madrid to a 3-1 victory over Rayo Vallecano. Falcao set up Fabi Fernández in the 25th minute before he beat goalkeeper David Cobeno and later added his goal. "Of course for a striker it is good to score," Falcao was quoted by reporters. "But I can also bring other things to the team like my participation in the first goal."

Italy

Mauricio Isla, Diego Milito

The Chilean midfielder struck for the lone goal of the Serie A match to lift Udinese to a 1-0 win at Inter Milan into a temporary league lead with AC Milan. Isla scored on a quick counterattack in the 73rd minute. Argentine Diego Milito almost scored for Inter as his free kick barely sailed over the crossbar in the 29th minute.

Edinson Cavani, Ezequiel Lavezzi

Cavani, a Uruguayan striker, scored twice to power Napoli to a 4-2 triumph over last-place Lecce. Argentine Ezequiel Lavezzi added a goal. Fellow Argentinean Javier Zanetti was red-carded in the waning minutes. Colombian striker Luis Muriel found the back of the net for Lecce in the 54th minute.

Arturo Vidal
The Chilean put a penalty away for Juventus in its 2-0 win over Cesena, a result that lifted Juve back into the lead in Serie A.

Victor Ibarbo

Ibarbo, a Colombian, connected for a spectacular goal to boost Cagliari to a 1-0 win over Catania, which was the winner's first victory in eight matches.

Germany

Jose Paulo Guerrero

Guerrero helped Hamburger SV extend its unbeaten streak to seven games with a controversial goal in a 2-0 victory over Nuremberg. The Peruvian found the back of the net in the 24th minute as he beat Timmy Simons to a long ball sent from goalkeeper Jaroslav Drobny and then lifted a shot over keeper Raphael Schaefer. Several Nuremberg players complained that Guerrero should have been slapped with a foul because he held back Simons. "He's not looking at the ball, he's only looking at me," Simons said. "It shouldn't happen. A foul is a foul. It's obvious." To which Guerrero replied, "It's not a foul."

Argentina

Forward Dario Cvitanich registered a first-half brace as Boca Juniors captured the Argentine league title with two matches remaining, blanking Banfield, 3-0, at the Bombonera. Midfielder Dario Rivero added third goal in the second half. Boca, which earned its 24th Argentine championship, remained undefeated in 27 matches going back to last season. Boca captain Juan Roman Riquelme, who had been sidelined with an injury for more than a month, came on as a second-half substitute.

Mexico

It will be Tigres UANL and Santos Laguna battling for the Apertura championship.

Querétaro defender Manuel Lopez scored an own goal to boost Tigres to a 1-0 victory win in the second leg and earned the team a place in the final of the Mexican Apertura championship against Santos Laguna. Tigres won the aggregate goals series, 1-0. Lopez headed the ball into his own net while he tried to clear a cross from midfielder Damian Alvarez in the 44th minute.

Santos Laguna reached the final with a 3-2 semifinal victory over Morelia at Neuvo Estadio Corona on Saturday. Ecuador forward Cristian Suarez found the back of the net twice for Santos, which is vying for its first title since 2008.Despite finishing with only nine men due to red cards, Morelia staged a furious late rally, trying to overcome a 2-0 deficit as substitute Angel Sepulveda tallied two late goals. Actually, the teams tied in aggregate goals, 4-4 as Morelia won the first leg at home on Wednesday. But Santos was given the nod because it had finished higher in the regular-season standings.

Panama

Add Chorrillo FC of Panama to the list of club teams that will play in next year's CONCACAF Champions League. Chorrillo captured its first Panamanian league title, defeating 10-man Plaza Amador, 4-1, in Panama City to earn the Apertura title and a CCL berth. Chorrillo secured at least a place in the preliminary round. The club became the fifth team to join the 24-team field along with the four U.S. teams: the LA Galaxy, Seattle Sounders, Houston Dynamo and Real Salt Lake. Rolando Blackburn scored in the 25th and 62nd minutes and Alfredo Phillips added another in the 77th minute. Renan Addles closed out the scoring in the 90th minute.

Michael Lewis, who written about international soccer for more than three decades, can be reached at SoccerWriter516@aol.com.