Soccer Round Up: Messi Scores 4 In One Game, Raul Scores His 400th Career Goal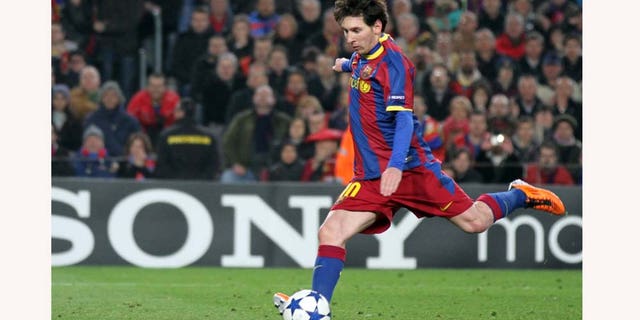 Two soccer stars -- one in the prime of his career and the other nearing the end of his -- made some major international headlines this past weekend.
Celebrating his 200th game with Barcelona, Lionel Messi struck for a rare four-goal performance as he moved past 40 goals for the third consecutive season in a 5-1 rout of Valencia in Spain's La Liga.
Former Real Madrid and Spanish international striker Raul connected for his 400th career goal for Schalke 04 in a 4-0 win over VfL Wolfsburg in the Bundesliga in Germany.
Raul, 34, sparked Schalke with the first goal of the match in the 10th minute. Peruvian Jefferson Farfan's corner kick was headed by near post by Joel Matip as an unmarked Raul put the ball home.
"I didn't know it was my 400th goal but I'm happy," Raul told Sky Sports. "It's nice to reach this milestone. The best thing was that we won today."
For the record, Raul has tallied 323 goals for Real, and 44 for Spain and another 33 for the German club.
Messi, 24, certainly has a ways to go before he approaches Raul's numbers, but he has cast his own impressive shadow. The Argentine international scored four goals for only the second time in his career (the other occasion was his four goals vs. Arsenal in the UEFA Champions League in 2010). His best goal of the match was when he chipped goalkeeper Diego Alves for a 4-1 lead in the 75th minute. He also found the back of the net in the 21st, 26th and 84th minutes.
He has 27 league goals, 42 in all competitions and 146 in his career.
"The team played an incredible game," Messi told the media. "Some days you play well and some days you play poorly but what important is the team wins."
Barca remained 10 points behind Real, which registered a 4-0 triumph over 10-man Racing Club. Karim Benzema led the way with two goals and Cristiano Ronaldo and Ángel Di María chipped in one apiece.
Spain
Angel DiMaria
The good news for Real Madrid was that the Argentine international played his first game since December as he came off the bench and scored 10 minutes after entering the match in the 4-0 rout of Racing Santander on Saturday. Some 24 hours later, he was left off Real's team for Tuesday's UEFA Champions League encounter at CSKA Moscow after apparently aggravating a leg muscle injury. Di Maria went down near the end of the game.
Andres Guardado, Jonathan dos Santos
Perhaps it was frustration that he hit the crossbar not once, but twice. Or maybe it was because Barcelona B lost to Deportivo de la Coruna in a Second Division match. Whatever the reason, Jonathan dos Santos was given his marching orders in the 85th minute for fouling, now get this, his Mexican compatriot, Deportivo midfielder Andres Guardado.
Dos Santos' second yellow card meant the visitors played the final five minutes of the match with 10 men. Before he saw yellow and then red, dos Santos did his best in trying to boost Barcelona over Deportivo. He hit the woodwork — the crossbar — once in each half.
It was however, Guardado and his teammates who prevailed. Not surprisingly, Guardado helped Coruna to it first goal in the 51st minute. He was part of the scoring sequence along with Juan Dominguez and Valeron. Laure sent a perfect pass from the right flank of the penalty area that Bruno Gama put home for a 1-0 lead. Guardado, who was replaced by Pablo Alvarez in the 88th minute, had a few chances to score. In the 41st minute, he came close to collecting a Gama cross, but a defender cleared it. In the last scoring opportunity of the half, Guardado fired a shot from the edge of the area that goalkeeper Olazábal Oier stopped.
Ever Banega
The Valencia midfielder will be sidelined for as much as six months, breaking his ankle after his car ran over his foot at a gas station. The Argentine international did not set the handbrake and the car rolled back and trapped his foot after a practice session. Banega, 23, was expected to undergo surgery on Monday.
England
Javier Hernandez
Chicharito struck for his third goal in as many goals — the insurance tally in Manchester United's 2-0 win over Ajax — in the first leg of a Europa Cup match at Amsterdam ArenA. The Mexican striker found the back of the net in the 85th minute after Ashley Young had given the visitors a vital 2-0 lead in away goals. The second leg will be played at Old Trafford next week as United played outside of the Champions League for the first time in 17 years.
Hernandez scored against Stoke City and Chelsea in English Premier League competition before he did not get off the bench in the league victory over Liverpool on Feb. 11.
"I always say I don't care if I score or not," he was quoted on the United website. "The most important thing [about my goal against Ajax] is that we have two away goals instead of just one. That will help us a lot. We can't say we are already through, however, as there are still another 90 minutes to play. We have to go and finish this at home."
Chicharito's Excellent Adventure
Luis Suarez
Suarez tallied in the 85th minute for the final goal of Liverpool's 6-1 trouncing of Brighton in the F.A. Cup. Before Suarez scored, Brighton incredibly had scored three own goals.
Juan Mata, Fernando Torres
Tough times for two Spaniards on Chelsea, which played Birmingham to a disappointing 1-1 tie with Birmingham in the English F.A. Cup. Mata had his penalty kick saved by goalkeeper Colin Doyle, which denied the Blues a victory and forced a replay.
How bad are things for the underachieving Torres? Well, British bookmakers William Hill is offering 5-1 odds that the striker will not start the Blues' next four matches after he was taken out at halftime. "It was a real indignity that Torres - apparently fit, if not firing on all cylinders again - should have been taken off at half time," Hill spokesman Graham Sharpe said. "It could suggest that he will no longer be first choice up front now that [Didier] Drogba is back in town."
France
Guillermo Ochoa
The Mexican international goalkeeper saved his most important save for the end. He parried Ben Basat's shot in stoppage time to preserve AC Ajaccio's scoreless draw with Brest to earn his first clean sheet of the new year in Ligue 1. Ajaccio could have walked out of Stade Brestois with three points instead of one as Brest goalkeeper Steve Elana stopped a penalty kick by Eduardo in the 81st minute after Benoit Lesoimier was called for a hand ball in the penalty area.
Javier Pastore
The Argentine midfielder came off the bench in the 75th minute and almost scored in Paris Saint-German's 2-2 draw with Montpellier. Only two minutes after coming on for Mohamed Sissoko, he chipped a Guillaume Hoarau pass wide from eight yards.
Italy
Edinson Cavani, Ezequiel Lavezzi
Cavani, a Uruguayan striker, struck twice for Napoli in its 3-0 win over Fiorentina. Lavezzi, an Argentine who created the first goal, put an exclamation point on the victory by scoring in stoppage time. Cavani scored in the third and 55th minutes.
Diego Forlan
The Uruguayan standout and his Inter Milan teammates were booed off the San Siro field after a 3-0 home loss to struggling Bologna. Inter has not won in five of its last six matches. Before Inter fell apart, Forlan had a great opportunity to put the hosts ahead in the first half, but goalkeeper Jean-Francois Gillet blocked his shot.
Pablo Barrientos
The Argentine tallied the first goal of the match for Catania, which needed more en route to a 3-1 defeat to Juventus. Barrientos scored in the fourth minute, but Andrea Pirlo equalized in the 22nd minute.
Fernando Gago
The Argentine defensive midfielder set up Roma's lone goal in a 1-0 win over Roma, which had its five-game unbeaten run snapped. Gago found Fabio Borini in the penalty area and the Italian scored in the 26th minute.
Germany
Juan Arango
The Venezuelan and Borussia Moenchengladbach captain scored early in a 2-1 victory at Kaiserslautern, the visitors' first win there since 1995.
Here's a cautionary tale for all National Team players that don't want to play in international matches for their country: Midfielder Christian Bolanos won't be playing any of the CONCACAF World Cup semifinal round qualifying matches for Costa Rica, according to CONCACAF.com. He refused to play in two friendlies for the Ticos in November. The Costa Rican Football Federation suspended Bolanos. He turned down requests to play for the Central American side at Panama on Nov. 11 and vs. Spain in San Jose, Costa Rica four days later.
Australia
Carlos Hernandez
The Costa Rican sent a volley that hit the crossbar late in the game as the Melbourne Victory dropped a 3-2 decision to Brisbane, its seventh defeat of the season. The loss dropped Victory three points out of the top six teams, which make the playoffs.
United States
Blas Perez
The Panama international struck twice in the first half of FC Dallas' 5-1 pre-season win over the University of Tulsa. Perez equalized at 1-1 in the 25th minute and gave Dallas the lead for good by converting a penalty kick in the 44th minute.
Michael Lewis, who has covered international soccer for more than three decades, can be reached at SoccerWriter516@aol.com.
Follow us on twitter.com/foxnewslatino
Like us at facebook.com/foxnewslatino