Soccer Round Up: ManU Rocks, Real Madrid Rolls & Panama's Olympic Quest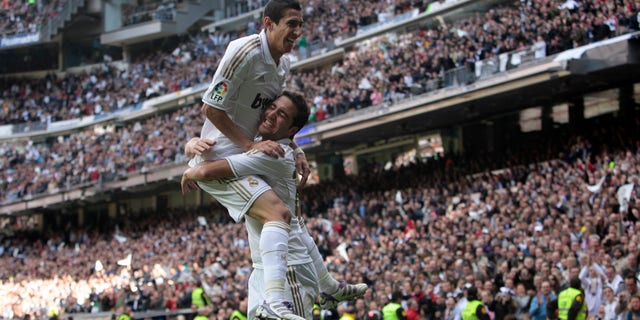 During a 28-minute rollercoaster span in Real Madrid's 7-1 thrashing of Osasuna, Argentine midfielder Angel di Maria experienced the ecstasy and the agony of a professional soccer player on Sunday.

He set up Real's opening three goals before he was forced from the game with a torn hamstring muscle in the 50th minute.

Di Maria started Real's onslaught by sending a pass to Cristiano Ronaldo, who headed it home for a 1-0 advantage in the 22nd minute.

After the visitors equalized in the 30th minute, di Maria helped break open the game by sending in a cross to Pepe, who also tallied off a header for a 2-1 lead three minutes later. The Argentine then completed a unique hat-trick of assists as he set up countryman Gonzalo Higuaín for a 3-1 bulge in the 40th minute.

Di Maria never got an opportunity to add to his total as he was forced to leave Bernabeu Stadium field on a stretch after he tore his left hamstring muscle. he was replaced by Karim Benzema in the 50th minute. Benzema added two goals in the second half.

Real said he will undergo more tests, although coach Jose Mourinho realized his midfielder will miss some action.

"Di Maria has a muscle injury and we'll have to wait for further tests to see how serious it is, but experience tells me he'll miss a little time," he said. "We'll have to respond with the squad we've got. My team responded today despite the injuries we already sustain. We expect Kaká and Marcelo to return in a fortnight. That's the way seasons go: you lose a player but gain another."

Coached by Argentine Marcelo Bielsa, Osasuna had eight starters sidelined due to injury or suspension.

England

Javier Hernández

Chicharito did not score in Manchester United's 1-0 English Premier League win over Sunderland but the Mexican international's defensive play stood out. Man U captain Nemanja Vidic felt Chicharito's defending helped the team in the win.
"I think we have improved defensively," Vidic told MUTV. "We defend as a team, all 11 players. Even Chicha and [Danny] Welbeck up front - they play for the team and helped us to defend well and that's a big reason for us getting three points."

Hernández did not see much of the ball. In the first half, he was knocked to the ground by Sebastian Larrsson in the Sunderland penalty area after Darren Fletcher's pass had sent him through. Hernández placed another shot on goal later on, but former United player Kieran Richardson cleared it off the line.

United's website gave Hernández a five out of 10. "Javier Hernández Worked hard up front but was given little service for the majority of the game," the website said. "Unlucky to see a close-range header cleared off the line."
Former United defender Wes Brown gifted his team an own goal in the 25th minute.
The game celebrated Sir Alex Ferguson's 25th anniversary as Red Devils' coach at Old Trafford.

Germany

Claudio Pizarro

The Peruvian recorded a second-half hat-trick as Werder Bremen rallied from a two-goal deficit to register a 3-2 victory over Cologne in the Bundesliga. After Christian Clemens and Lukas Podolski gave Cologne a 2-0 halftime lead, the 33-year-old Pizarro took center stage. He scored in a goalmouth scramble in the 49th minute, converted a penalty kick in the 54th minute and scored the game-winner in the 86th minute.

"It's amazing to see again and again that Claudio Pizarro is clearly getting better with age," Werder coach Thomas Schaaf said.

Jefferson Farfan

The Peruvian created the equalizing goal for Schalke 04 in its 2-2 draw with Hannover. He set up Finnish international Teemu Pukki with a pass in the 73rd minute.

Greece

Sebastian Leto

The Argentine forward struck twice in the first half to help stake Panathinakos to a three-goal lead as it held off AEK Athens, 3-2, to reclaim the top spot in the Greek Super League. Lego lifted Panathinakos to a 1-0 lead as he ran onto Greek international midfielder Kostas Katsouranis' pass. He made it 2-0 before Katsouranis tallied.

France

Guillermo Ochoa

Despite making seven saves, the Mexican international goalkeeper could not halt Lorient, which handed his AC Ajaccio team a 2-0 away defeat in French Ligue 1. Yann Jouffre (63rd minute) and Gilles Sunu (82nd minute) scored for the winners.

United States

Carlo Costly

The Honduran international striker came on in the second half and scored off a breakaway past goalkeeper Jim Nielsen in the 87th minute to give the Houston Dynamo some breathing room in a 2-0 win at Sporting Kansas City to win the Eastern Conference final and book a spot in MLS Cup on Nov. 20. The Dynamo will play the LA Galaxy in the final.

Alvaro Saborio

The Costa Rican striker scored for RSL, but it wasn't enough as it dropped a 3-1 decision to the Galaxy in Carson, Calif. Saborio tallied in the 23rd minute for the equalizer before the hosts broke the deadlock with a pair of second-half goals.

Panama Olympic qualifying

Panama took a giant step toward qualifying for the 2012 London Olympics by reaching the CONCACAF Under-23 qualifying finals. The visitors clinched Central America's last spot in next year's CONCACAF Olympic qualifiers after a 1-1 draw with Costa Rica in Alajuela to win their two-leg playoff 3-2 on aggregate. It will be the Panamanians' fourth consecutive trip to the finals. Rolando Blackburn, 20, who tallied in Panama's 2-1 first-leg win on Oct. 26, scored again in the 72nd minute for his third qualifying goal. Costa Rica equalized through Oscar Duarte's penalty kick with four minutes remaining after second-half sub John Ruiz was taken down in the penalty area. Panama joined automatic North American qualifiers Canada, Mexico and the U.S., Central American sides El Salvador and Honduras and two Caribbean teams in next year's eight-team finals in the U.S.

Michael Lewis, who has covered international soccer for three decades, can be reached at SoccerWriter516@aol.com.
Follow us on twitter.com/foxnewslatino
Like us at facebook.com/foxnewslatino