Selena Gomez Hosts MTV EMAs; Bieber Wins & Talks Paternity Rumors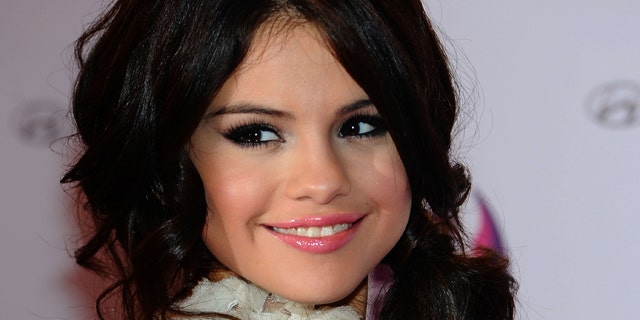 As Selena Gomez hosted the MTV Europe Music Awards, she also stood by her man, Justin Bieber, despite the swirling paternity rumors, as he and Lady Gaga won top prizes, including "Best Male" and "Best Female Act."
Bieber also took home the award for "Best Pop Act" and had the crowd at his finger tips with his new single "Mistletoe" from the latest album "Under the Mistletoe." He also treated his Bieliebers to one of his most popular jams, "Never Say Never."
A casually dressed Bieber said modestly that he had voted for competitor Kanye West and thanked his fans and family for his first award.
"Never say never, right?" Bieber said, waving his trophy in the air.
After winning his second award, for "Best Pop Act," he praised his fans for staying with him despite "a lot of crap on the Internet," an apparent reference to unsupported allegations that he had fathered a child after a brief liaison.
Bieber, and his relationship with superstar girlfriend Selena Gomez, have been under a microscope after California native Mariah Yeater filed a paternity lawsuit against Bieber, claiming he is the father of her her three-month-old son.
The news, first reported by Star Magazine, came just as Gomez was offered a new role, "Spring Breakers" starring actors James Franco, Emma Roberts and Vanessa Hudgens.
Nevertheless, Gomez is standing with Bieber. She and Bieber were seen hand-in-hand as they arrived in Belfast, Ireland Saturday evening.
Gomez not only hosted but also performed Sunday night. She looked looked stunning in a bedazzling purple jump-suit which showed off her legs as she performed "Hit The Lights."
Following the lead of last year's EMA host, Eva Longoria, Gomez changed her outfit a whopping nine times throughout the ceremony.
Besides SelGo and Bieber, Gaga also made head turns with her striking outfits at the evening.
The superstar also won awards for "Best Song" and "Best Video" for her "Born This Way."
"Thank you so much, I love you so much. I'm so grateful. I'm really smiling right now, but I know you can't tell," said Gaga, wearing a bizarre silver dress with an oversize tilted hat that completely covered her face except for tiny holes that allowed her to see. She joked that she had had a lot of Botox treatment.
She thanked her "little monsters" for their support and said she regarded "Born This Way" as her most important work to date. She also won an award for having the best fan base.
Gaga, who has enjoyed a year of spectacular commercial success, beat out a strong field that included a resurgent Jennifer Lopez, Adele, Katy Perry and Beyonce.
Other awards went to Puerto Rican heartthrob Bruno Mars, in the "Best Push" and "Best New Artist" categories.
Bruno, 26, also rocked the crowd by performing "Mary You."
The band Queen received the "Global Icon" award, in effect a lifetime achievement award to the now-graying rockers, who closed the show with a spirited set of their classics, including "WeWill Rock You" and "We Are the Champions."
The show also included a video tribute to the late Amy Winehouse, who died earlier this year in London.
Pop star Katy Perry — dressed in a mostly pink jacket and miniskirt — won the "Best Live Act" award, and the American Band Thirty Seconds to Mars won "Best Alternative Act and "Best World Stage."
Eminem was named "Best Hip Hop" act and Linkin Park took the prize for "Best Rock Band."
You can reach Alexandra Gratereaux at: Alexandra.Gratereaux@foxnewslatino.com or via Twitter: @GalexLatino
The Associated Press Contributed to this Report.
Follow us on twitter.com/foxnewslatino
Like us at facebook.com/foxnewslatino