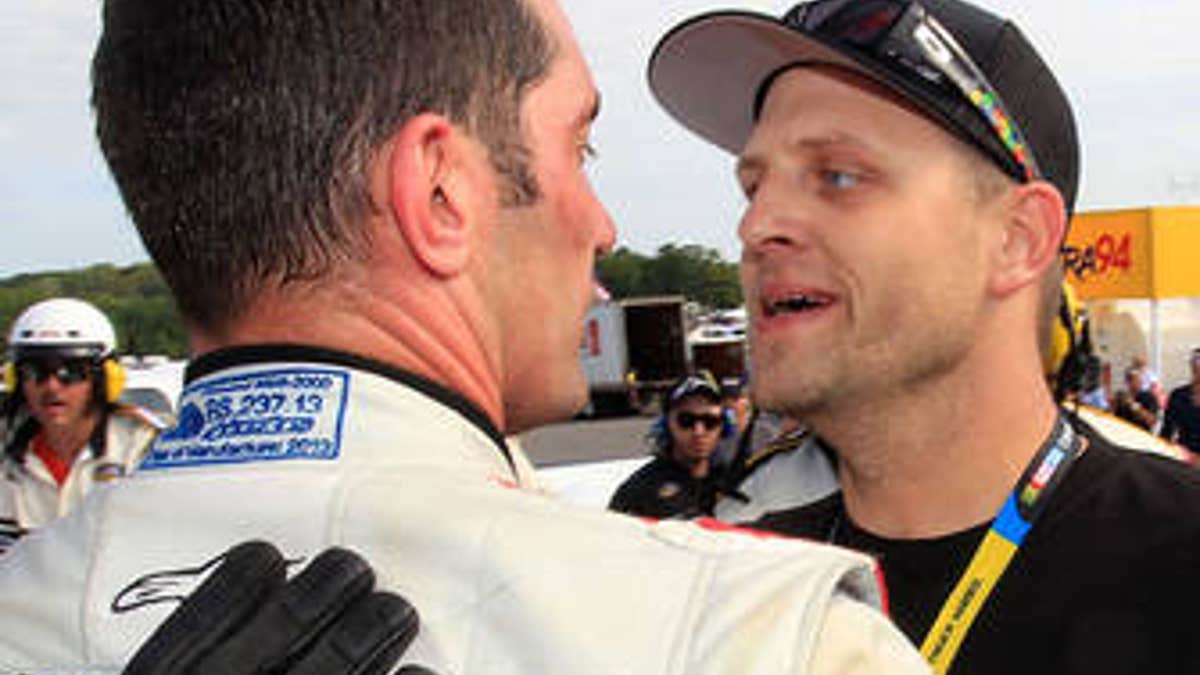 HAMPTON, Ga. – Max Papis felt he was ambushed twice on Sunday.
First, during the closing laps of the inaugural Camping World Truck Series as he battled Mike Skeen for third place at Canadian Tire Motorsports Park, and second when he was "assaulted" by some of the crew from the No. 6 Hawk Performance team owned by Eddie Sharp, including Skeen's girlfriend Kelly Heaphy.
The latter - which occurred in front of Papis' wife Tatis - included a slap by Heaphy so violent that it "dislocated my jaw," according to Papis.
Papis took up the issue with the sanctioning body following the race and hasn't ruled out legal action.
"I got out of the truck and got assaulted by some of the mechanics of the 6 truck," Papis said. "That was really poor as well. I just didn't want to create extra problems. I got out of the truck and went to talk to this kid - but he didn't want to stand up for his own issues. I got out and this lady came running up to me and she started screaming and hit me so hard that she dislocated my jaw. But I'm not hitting anyone - especially a lady.
"This was a wife or, whatever, a girlfriend of that kid. I thank my wife for being cool about this stuff. That was between me and that guy right there -- I don't even know his name -- the 6 driver. It was not between the crew. It was not between me and his girlfriend, wife, whatever she was. I've got to think about what I want to do here. I talked to NASCAR about it, and I'm not very happy about what happened there. I don't know. I might consider something about pressing charges -- it's not good. What she did is not good. I didn't like that at all. I went to NASCAR and talked to them."
Skeen said he didn't witness Heaphy slapping Papis. However, he was "surprised" when he heard the news.
"It's not something that I would have encouraged," Skeen said. "But it happened. I figure her temper got the best of her. He was saying some pretty nasty stuff on TV and she felt it was unjustified."
Skeen told FOXSports.com that he was not called to the NASCAR hauler following the incident.
Skeen also said it was "pretty unprofessional" for Papis to "barge into the team's transporter" and allegedly "pull" Heaphy down the stairs after the race.
"All I saw was Max trying to pull her down the stairs so he could go up into the driver's lounge," Skeen added.
Papis, 43, is a veteran road racer. In 59 Grand-Am Rolex starts, he has seven wins and 23 podium finishes. Papis spent a year in Formula One prior to eight seasons in Champ Car, where he posted three victories. Papis, who works as a driver coach for Richard Childress Racing and subbed for Tony Stewart at Watkins Glen, made his 45th start in the truck series on Sunday prior to finishing sixth. He has 36 starts in Sprint Cup and 14 Nationwide Series starts.
While Papis acknowledged it was go-time in the closing laps, he felt Skeen, who was making his NASCAR truck debut on Sunday, lacked respect for the veteran.
"I raced pretty hard the last 10 laps, raced fair past the (No.) 6 truck, I think it was three to go and he kept hitting me in the bumper," Papis said. "We arrived into the last corner of the last lap and the guy just made an amateur move. He didn't even brake. He went straight on and missed the corner, hit me and bounced off the wall. When you do something like that, you're trying to get noticed but in NASCAR you're not going to go very far cause that's not the way to get noticed - especially with somebody like me.
"It was just an amateur move - done on purpose. The thing I didn't like about it is the guy didn't even have the courage to follow up his actions. He went to slam me after the race while I was driving side-by-side waiting for him. It was just poor, poor behavior. The guy that should be upset is me, not him."
Skeen, who has nine Rolex starts and one in the K&N Pro West tour, admits his experience at this level is limited. But after restarting third with five laps remaining, Skeen's focus was on the win.
"Obviously, I haven't raced as much as him," Skeen said. "But everyone I've spoken to afterwards said, 'Max does this all the time. It's nothing new.' I'm not trying to make a name for myself in one move, one pass. We ran great all day. I think we showed how great the team was - the truck and myself.
"I think it was a good run on the whole. It was an aggressive move to get one more spot, but he was doing the same thing."
The incident overshadowed the achievement of Chase Elliott, 17, who became the youngest race winner in series history. The son of former Sprint Cup champion Bill Elliott wrecked Ty Dillon on the final turn in order to get the win.
It was not the first slapping incident for Papis this season. After a run-in with Billy Johnson at Road America in June, it was Papis doing the slapping. Johnson was lucky, however - he was still wearing his helmet.