Six Points: Ravens at Bengals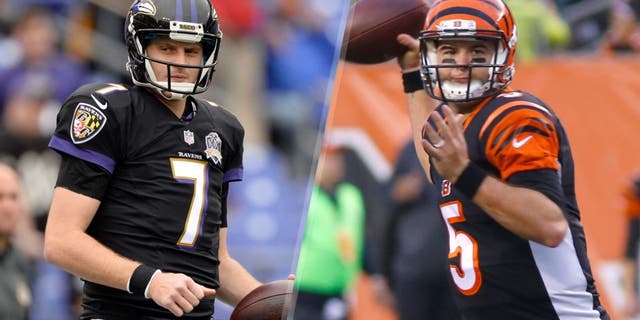 One week after severely damaging the playoff hopes of the Pittsburgh Steelers, the Baltimore Ravens will hope to do the same to the Cincinnati Bengals.
The Bengals (11-4) are already assured of making the postseason, but a loss to Baltimore would diminish their chances of succeeding once they get there. If the Bengals fall, a first-round date with the Jets or Steelers looms, while a win combined with a Denver loss would allow them to bypass the opening round altogether. The first-round bye would give Andy Dalton's broken right thumb an extra week to heal. Without it, Cincinnati instead may have to go with AJ McCarron, who has been solid in two starts since Dalton's injury.
Ryan Mallett and Baltimore (5-10) came out of nowhere to upset the Steelers 20-17 last Sunday. The newest Ravens quarterback was sharp in his first start despite having less than two weeks to get acquainted with offensive coordinator Marc Trestman's system. The defense also did well to disrupt Ben Roethlisberger and the vaunted Steelers' passing game by playing two deep safeties to prevent getting beaten by big plays, something that has plagued them all season.
Here are three keys to the game for both the Ravens and Bengals:
Can you beat the Crowd's Line? Submit your final score prediction below. Good luck!
RAVENS
1. Stick with what works on offense
All but three of Mallett's 41 passes last Sunday were of the short variety, and he completed 70 percent of them. The Bengals' corners are better in coverage than Pittsburgh's so crisp route running will be at a premium for Kamar Aiken and company. Look for a lot of shallow crosses to help the Ravens receivers gain separation.
2. Double cover Green all day
A.J. Green humiliated the Ravens to the tune of 227 yards and two touchdowns on 10 catches in Cincinnati's 28-24 win in Week 3. Defensive coordinator Dean Pees must give safety help to cornerback Jimmy Smith, who should be shadowing Green on virtually every play.
3. Run away from Geno
The last thing a running back wants to see is Bengals Pro Bowl defensive tackle in his path. Baltimore should try to get Javorius Allen and Terrance West to the edges with stretch handoffs and tosses.
BENGALS
1. Move Green around the field
Offensive coordinator Hue Jackson should motion Green across the formation as much as possible in order to prevent the Ravens from getting a jam on him. The Bengals should also put him in the slot on occasion and look for a mismatch just as they did in Week 3 when Green toasted safety Kendrick Lewis for an 80-yard touchdown. And if Green isn't open, McCarron should look the way of Tyler Eifert, who is expected back after missing two games with a concussion.
2. Get Hill downhill
If the Ravens look to force the Bengals to run the ball with two deep safeties as they did to the Steelers last week, Jackson should happily oblige. Jeremy Hill should be able to do the same kind of damage that DeAngelo Williams last week, when he carried 17 times for 100 yards and two touchdowns. Half of that yardage came running behind the right guard, according to Pro Football Reference, meaning Kevin Zeitler should be called upon to clear some holes for Hill.
3. Head on a swivel
With the Ravens receivers constantly running short routes, Cincinnati's linebackers should be looking to unload as they cross the middle. A few big hits will get the receivers thinking twice about going over the middle, not to mention the fumbles that could come along as well.