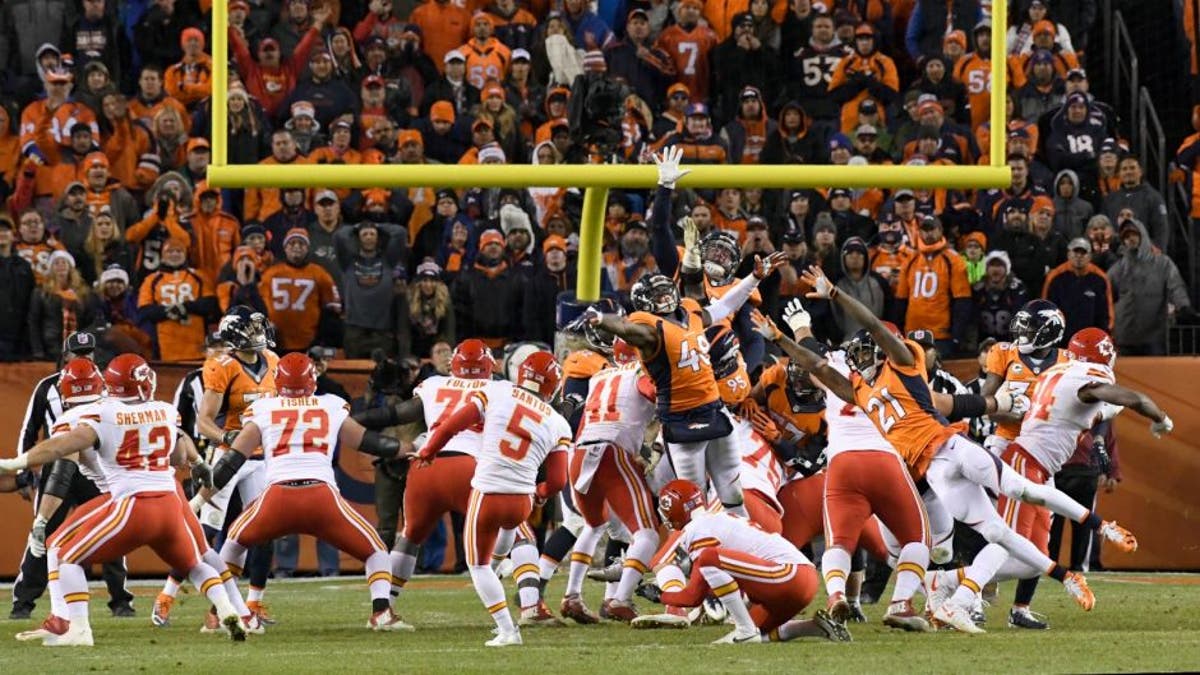 It's a fascinating decision to face, one that every talk-show host in America will discuss for the next few days. Analytic equations will be proffered. A former player on ESPN will adamantly say Denver coach Gary Kubiak made the right call as the clock ticked past midnight on the East Coast. A former player on ESPN will adamantly say Kubiak made the wrong call. Kubiak will be a dunce, or he will be a Seal Team 6 sergeant.
Sunday night, Kansas City at Denver. Overtime, 68 seconds to play, Bronco ball, fourth-and-10, KC 44-yard line. The game is already 3 hours, 46 minutes old. Players are dragging. America's on the edge of its seat. If it's not the game of the year, this AFC West duel to the end is its first cousin.
Kubiak, the Denver coach, has one timeout left. He uses it. He needs to think.
* * *
There's plenty to write about today, but there's one thing to write about today: Kubiak's call. Across the field, Andy Reid talked to his coaches about it.
"I said to our guys, 'Gary's got a big decision to make,'" Reid said from the Chiefs locker room early this morning. "If they punt, they'll punt it out of bounds so [dangerous Tyreek Hill] can't return it. If he goes for it and doesn't make it, he's got a problem with field position. If he goes for the field goal, it's a long kick, and they risk giving us the ball in good field position. Then he kept his offensive line out there, so I'm thinking, 'What is he going to do?'"
Timeout. I didn't talk to Kubiak, but in cases like this, he always asks his trusted special-teams coach, Joe DeCamillis, if kicker Brandon McManus has the range for a kick this far. Kubiak and DeCamillis certainly would know McManus hadn't attempted a 62-yard field goal in his pro career. His long: 57, which he made last year. They would also know 62 yards is within his range; he'd made a 70-yard kick when he was competing for the job in training camp in 2015; but kicking in temperate Denver is different than kicking the harder football in 38-degree Denver, which is what Sunday evening was. Kubiak and DeCamillis knew that too.
The other issue, frankly, was Denver's position in this weird AFC West pennant race. As he pondered the decision, Oakland (9-2) was 1.5 games up on Denver and Kansas City (both 7-3), and the Broncos had the worst tiebreaker situation at just 1-2 in the division. Among the three teams, a tie would help Oakland the most and hurt Denver the most. A loss, obviously, would hurt more than a tie.
Denver could go for it, but it seemed a long shot to make 10 yards against this ferocious pass rush, though the Broncos had much better luck moving the ball after halftime. Making the field goal seemed more likely than making 10 yards, Kubiak thought. Punting the ball would increase the odds for a tie, but it would guarantee nothing. It'd put the ball, perhaps, around the Kansas City 15-yard line. Kansas City would have one timeout and maybe 62 seconds to drive 50 yards for a potential winning field goal by Cairo Santos.
McManus bombed balls in practice and before games, even in cold weather. "Brandon played with my son at Temple," said Reid, whose son Britt was on the Temple staff in 2012. "He's got a huge leg. No question in my mind he'd be capable of a kick that long."
Reid thought for a minute. "Tough call," he said. "There really is no right answer."
Easy to say: Play it safe. What, exactly, would "safe" be? Punting, with a 70 percent chance (just a guess by me) for a tie? Going for it? Attempting the field goal, knowing a miss sets up a short field for Santos?
Kubiak sent McManus on the field. The snap was good. The hold was good. It looked like McManus, in trying to get a little extra on the kick, hit the ground first, and the resulting line drive hooked left, long enough but nowhere near splitting the uprights.
As McManus told reporters after the game: "I kicked the ground. From that distance, if you kick the ground you probably have a five percent chance to make it."
In the locker room, when Kubiak gathered his team, he said, "That's my decision. I'm always going to coach aggressively with this team. I've got faith in this team. We're always gonna try to win."
Von Miller told reporters after the game: "What are we playing [for]? Are we going to play for a tie or are we trying to win the game? I'm 100-percent behind Kube right there. We have one of the best defenses in the National Football League. I wouldn't just play for the tie, either. If we had to do it all over again, I would do it again."
It's not a crazy decision -- at all. A tie would have left Denver 1-2-1 in the division with a Christmas night game at Kansas City and a Week 17 home game with Oakland remaining -- and two wins to make up if the Broncos were to have a shot to win the division. A tie, likely, would make Denver's best playoff chance a sixth and final seed in the AFC -- though it's silly to project so far into the future; so many things can happen in December. If a tie was close to a lock, that's one thing ... but it wasn't. Kansas City had driven 41 and 60 yards on its previous two possessions. The risk was trusting a kicker in cold weather who hadn't attempted one of these kicks, and it was a big risk. But as Reid said, there was no right answer here -- just some options that weren't as dangerous as others.
* * *
Great game. The Chiefs led 9-0. The Broncos led 10-9. The Chiefs led 16-10. The Broncos led 17-16. The Broncos led 24-16, with 15 seconds left in the fourth quarter, and Kansas City had the ball at the Denver three with no timeouts left, knowing this might be the last play of the game. Reid called the best two-point-conversion play on his call sheet -- a short in-cut from the left to rookie wideout Tyreek Hill -- and Alex Smith fired a low strike that Hill caught. But the line judge ruled him down just shy of the goal line, and the clock ticked down toward zero. On NBC, Mike Tirico said what America was thinking: "They're not gonna get a play off and Denver is gonna get the win!" But with a second left, referee Peter Morelli announced the play was under review. As Tirico deftly pointed out, it appeared Hill was bobbling the ball as he fell into the end zone, and if he didn't have complete control and if the ball never hit the ground, then it was to his advantage to not have control till he hit the ground in the end zone -- and that's exactly what Morelli ruled. The two-point conversion sent it to overtime. McManus field goal, Santos field goal; 27-all. And then the drama with Kubiak's decision, and then the drama with Chiefs driving to try to win.
With two seconds left and the ball on the Denver 16, Santos trotted onto the field.
How ironic. An extra point.
Not really, but Santos' job would be to make the kind of kick almost every kicker has been struggling with all season. Placekickers missed 12 of the PATs in Week 11, a kick that in effect was a 33-yard field goal. This would be from 34. That's it. Santos is 21 of 22 in the PAT business this season. But they were hardly gimmes. Bengals kicker Mike Nugent extended his streak of PAT misses to three straight on Sunday in Baltimore.
On the phone from the locker room afterward, Santos said, "I was probably too juiced up."
Uh-oh. The ball was spotted at the 16, on the left hash. Snapper James Winchester (amazing this man is playing, two weeks after his father was murdered in Oklahoma) fired a perfect spiral to holder Dustin Colquitt, who made a perfect spot and hold.
"I hit the ball so clean off my foot, just right," Santos said. "So I was shocked with what happened."
The kick hooked and hooked and it was going straight for the left upright, and …
DOINK!
"My heart stopped a little bit," Santos said.
"I wasn't watching the kick," said Reid. "I always watch the kicker. And I'm watching, and listening, and I think, 'Something crazy just happened.' I thought he missed. He missed."
To the TV.
"OFF THE UPRIGHT! AND IN! AND IN! UNBELIEVABLE GAME-WINNER, KANSAS CITY!" Tirico pronounced. "You gotta be kidding me!"
NBC color analyst Cris Collinsworth: "The only way the game could end. Holy smokes! … That thing hit that post hard! How did it go through?!"
Fairly inconceivable, even in slo-mo. The ball caromed hard off the front inside of the left upright and shot to the right on a line, so quickly that you couldn't tell right away whether it actually went behind the right upright. But a second camera view saw it go barely behind the right upright.
The only player in NFL born in Brazil knew the perfect way to put this strike of great good fortune.
"Where I come from," said Cairo Fernandes Santos, "those are the prettiest goals."
Santos was an exchange student in a Florida high school and knew nothing about American football eight years ago. But he started kicking a football and got good at it. He played soccer too. "I had a goal like this kick tonight," Santos said. "In high school, I had a free kick that bent to the left and kept bending, and it hit the left post and just bounced in -- like this kick. Those are the prettiest ones, like I said." Then he went to Tulane on scholarship and landed with the Chiefs, undrafted, in 2014. He made the team.
Back to this kick. "I didn't see it go through," he said. "I was looking at the refs, and I didn't see a signal. I knew it went in when the guys started saying to me, 'You made it! You made it!'"
"Luck of the Irish," said Reid. "Even though I'm Scottish, I'll take it."
Kansas City, 8-3, welcomes 9-2 Oakland to Arrowhead, on a short-week Thursday, in 10 days. The Chiefs have 7-4 Denver on Christmas night at Arrowhead. You make your own luck in this game and on Sunday night and this season, the Chiefs are making a lot of it.