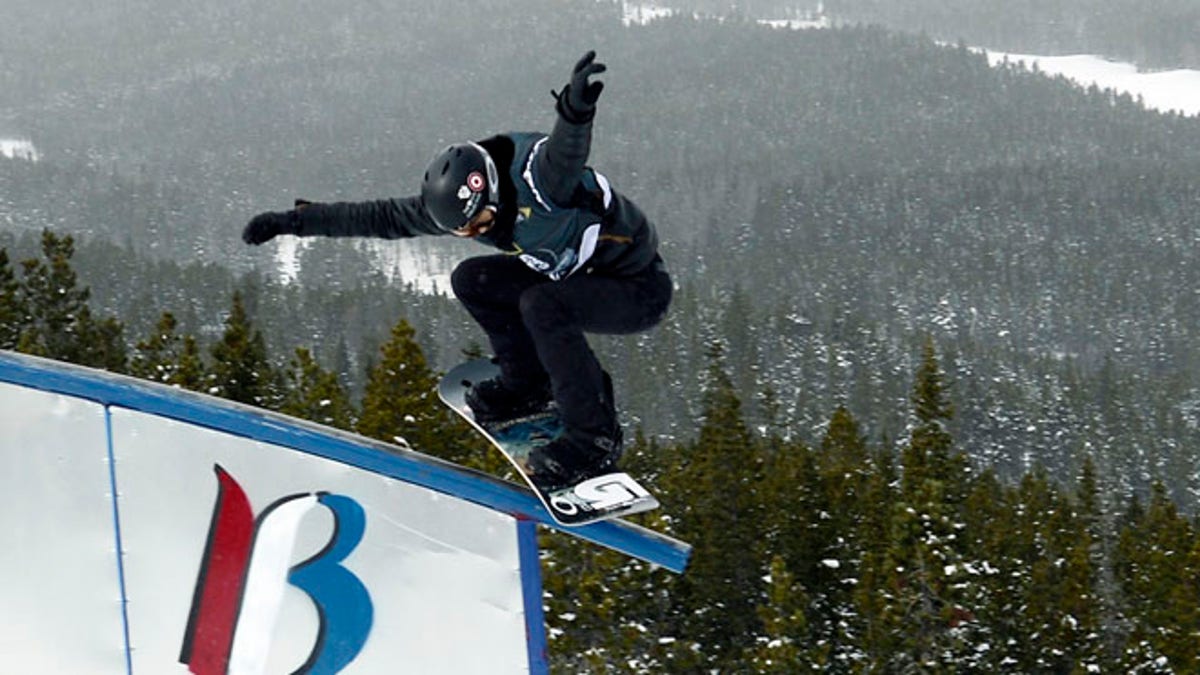 Shaun White is soaring to Sochi.
The two-time Olympic gold medalist in the halfpipe will get a chance at a rare three-peat — and then some — when the Winter Games begin next month in Russia.
White was named to the U.S. Olympic team in his signature event, earning one of the three automatic spots on the men's team by winning Sunday's final qualifier. White posted a score of 96.6 to edge a resurgent Danny Davis for his second victory in three days to cap a busy week.
The 27-year-old overcame an ugly crash during a slopestyle event Thursday to bounce back and clinch a spot on the inaugural slopestyle team. He was nearly flawless during the last two halfpipe events. As he did Friday, White nailed a frontside double-cork 1440 on Sunday, the hardest trick currently being done in competition.
Now it's on to Sochi with a chance for White to double his career medal count, an ambitious decision and a coup of sorts for NBC, which will have two opportunities to showcase White during an Olympics searching for American star power now that alpine skier Lindsey Vonn is sidelined with a knee injury.
"This has been the craziest journey to get here from doing slope and pipe and just like the process I'm going through," White said. "It's a tough thing. I love that about this time around, it's not the same. It stays exciting. If it was just halfpipe, maybe I would have procrastinated (in preparation)."
White will be joined by 2010 Olympian Greg Bretz and newcomers Davis and Taylor Gold. Davis was poised to head to Vancouver four years ago and even beat White in a pre-Olympic event only to have his pelvis crushed in an all-terrain vehicle accident a few weeks before the Games.
Barring a setback, Davis may be White's toughest competition in Sochi. The 25-year-old won a qualifying event that White sat out early Friday and put together an ambitious run Sunday, falling just 1.6 points short of catching White's spectacular set.
Gold will have a familiar face to hang with in his Olympic debut. Gold's younger sister, Arielle, was named to the women's halfpipe team.
Olympic halfpipe champions Kelly Clark and Hannah Teter are also heading to Russia, as is Kaitlyn Farrington, who ended Clark's four-event winning streak by edging the 2002 gold medalist in Sunday's finale.
Clark, who earned bronze in Vancouver, remains steady at age 30. She locked down an Olympic berth early and is a threat to earn a third medal in Sochi, where she will try to catch reigning Olympic champion Torah Bright.
Sage Kotsenburg and Chas Guldemond also made the slopestyle team, as did Jamie Anderson and Ty Walker, all of whom could contend for a medal as the sport makes its Olympic debut.
Yet the conversation begins, just like halfpipe, with White. The greatest snowboarder of all-time is eager to become the first U.S. male to earn gold in three straight Games. Though he's not the overwhelming favorite in slopestyle that he is in halfpipe, his ability to deliver when it counts makes him an early favorite.
White credits the addition of slopestyle to keeping him sharp.
"It's really made me push the limits," he said.
Limits that no other snowboarder on the planet can reach when White is on. Two days after nailing his new trick — which packs four twists and two flips during one frantic jump — during what amounted to a victory lap on Friday, he did it again on Sunday.
If he can do it in Russia next month, White will head back home with history in hand.
"It's just really demanding to switch gears and do both," he said. "But I won slopestyle and won here, (I'll) just try to keep it going."