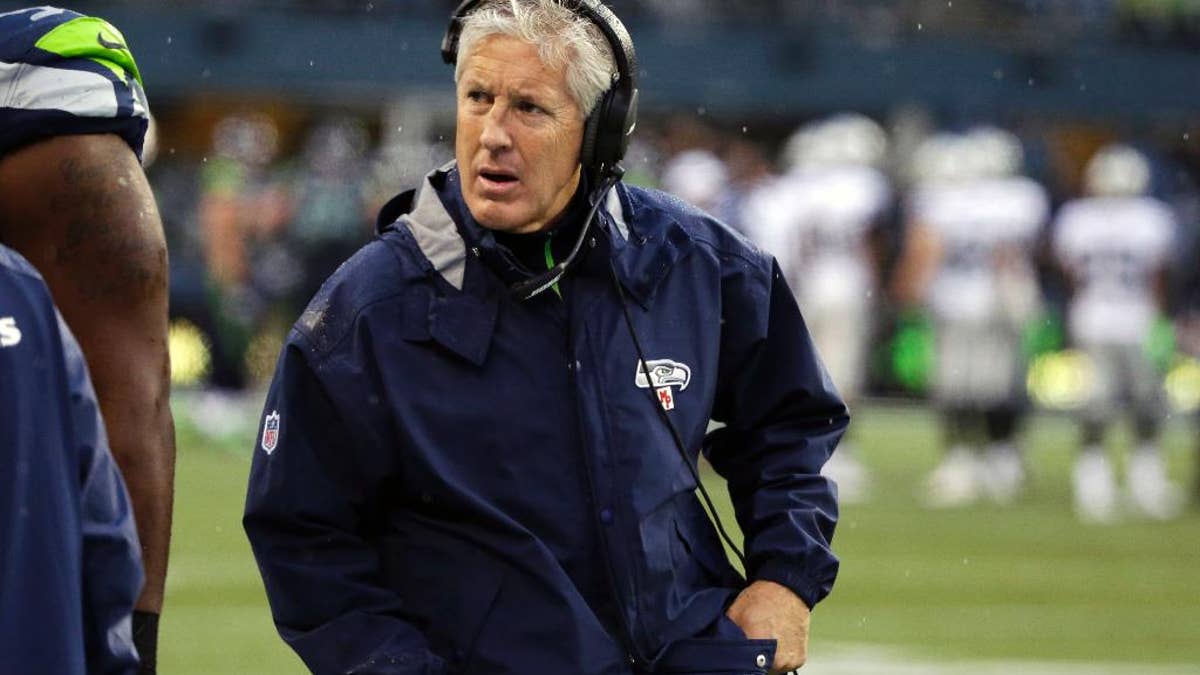 RENTON, Wash. – Patrick Lewis never started a game at center.
Garry Gilliam never took a snap at any level of football as a guard.
DeShawn Shead was a converted cornerback and was in on every defensive play for the Seattle Seahawks at strong safety.
Injuries left the Seahawks depleted and scrambling to try and fill spots during Sunday's 30-24 win over Oakland. There were makeshift roles being created to make up for the starters that were relegated to the role of spectators.
But here's the upshot for Pete Carroll: The Seahawks (5-3) withstood the absences and came away with a needed victory. And there is optimism that those injured starters will be back on the field sooner than later.
"Under the circumstances of this game where so many guys played that hadn't played before I take even more out of it because of that," Carroll said on Monday. " ... The kind of effort we need to be a good football team was there and that's a good sign for us and a couple weeks in a row of feeling that."
Lewis, Gilliam and Shead were just three of the backups being thrust into key roles against the Raiders. Alvin Bailey was a late replacement at left tackle after Russell Okung suffered a calf strain during practice last week.
Shead only got his chance because Kam Chancellor's backup Jeron Johnson was out with a concussion. Undrafted rookie Brock Coyle started at middle linebacker with K.J. Wright moving back to weakside linebacker due to an injury suffered by Malcolm Smith.
Not everything was clean, as to be expected. Shead was in for all 60 defensive plays, but missed some tackles and got fooled in coverage. The offensive line shuffling was extremely challenging in protecting Russell Wilson even before left guard James Carpenter when down with a sprained ankle in the second half.
But the Seahawks held on and it appears they're about to get healthy.
"It's incredibly valuable for them personally but for the team. They gain so much out of the play time. You can only gain so much out of watching," Carroll said. "For a guy like Patrick Lewis to play all those snaps and get through it and it just makes in his mind and in ours as well we know that he can play. And so right across the board with all of those guys, everybody that stepped up did a nice job."
Carroll expects at least four to six players back for Sunday's game against the New York Giants as long as they make it through the week.
Center Max Unger (foot) was the closest to playing this past week. Unger dressed for the win against Oakland, but was only going to be used in an emergency situation. Chancellor (groin) and Okung (calf) both suffered muscle strains in practice last week. Carroll said both players feel they're ready to go.
Johnson (concussion) and defensive tackle Jordan Hill (ankle) are both likely to be cleared and cornerback Jeremy Lane should be activated off short-term injured reserve after being out since the season opener with a groin injury. Lane could move back into a starting role as Seattle's nickel cornerback even with how well Marcus Burley has played.
"It's a big turn," Carroll said. "It depends on how much good fortune we have. We'll have four guys back that weren't ready for us this week and we could have eight. It's amazing that it could be like that, but we're on the verge of getting some guys back."
That wasn't the end of the uplifting injury news for Seattle. Linebacker Bobby Wagner (toe) is recovering quicker than expected and while he's not likely to be ready for the Giants, he could be back in the next couple of weeks. Tight end Zach Miller (ankle) is not as far along as Wagner, and has yet to run on flat ground but is progressing also.
"This is just day to day. They have to come back from the work load," Carroll said. "That's always what the case is; he works hard today, can he go tomorrow without stepping backward? We'll see what happens."
___
AP NFL websites: http://www.pro32.ap.org and http://www.twitter.com/AP_NFL