Sampaoli says he wants to leave Sevilla to manage Argentina, but there's one problem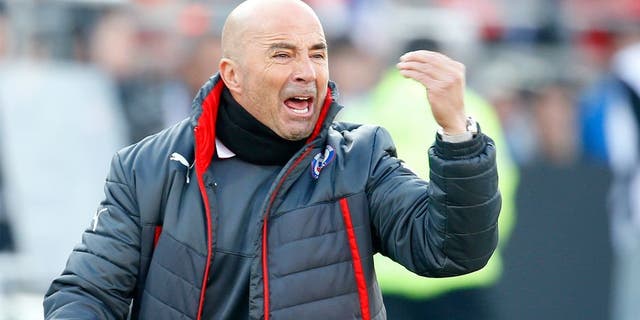 Jorge Sampaoli wants to be Argentina's next manager, and it's pretty clear that Argentina want him to be their manager too. But the deal for Sampaoli to leave Sevilla and take over his country is not done yet. The two sides still need to sort out a 1.5 million buyout in his Sevilla contract.
That said, it's clear what Sampaoli wants.
"My country wants me as national team coach and I've had that dream since I was a boy," the Argentine said at a Friday press conference.
"Last summer, I couldn't leave because I had already committed myself to Sevilla and built the squad alongside [former sporting director] Monchi. This time, it is different. The opportunity to guide the national team has come along again and, as an Argentinian, I cannot turn it down.
"Even if this means that I may not have the opportunity to coach again European clubs, I feel I have to do this."
Sampaoli has only been at Sevilla for one season, but he praised the club and said his desire to manage Argentina had nothing to do with what has happened at Sevilla, saying "I don't want any friction with Sevilla, whom I am grateful to." It's entirely a matter of the dream of managing his country.
The problem is the Argentina FA (AFA) has very little money. They have been horribly run and it reached the point that Lionel Messi was paying team security last season. Meanwhile, Sevilla president Pepe Castro said not only will they insist on the 1.5 million buyout for Sampaoli, but he wants it in full upfront. Can Argentina find that money?
Sampaoli isn't going to get involved in the buyout negotiations.
"There is a contract that the AFA and Sevilla have to resolve, and it's not in my hands," he said.
But it's abundantly clear what he wants. Argentina is his dream job. But that dream can only come true if the AFA finds some cash, or Sevilla acquiesce. In the meantime, Sampaoli has Sevilla's final match of the season to manage, and it could be his final match on the Sevilla bench.
MORE FROM FOX SOCCER