Sacramento Kings, Boston Celtics players honor unarmed black man killed by police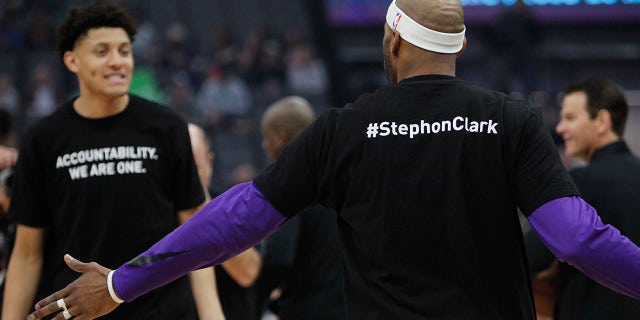 Sacramento Kings and Boston Celtics players donned black T-shirts prior to their game Sunday night to honor an unarmed black man who was recently shot and killed by police.
"Accountability. We are one," was printed in white letters on the front, with #StephonClark, the unarmed man's name, printed on the back.
"All we can do is try to make a voice," Celtics player Terry Rozier said. "It just shows how much power we have and how much we care. That's part of the NBA. That's good for everybody else to see that's outside of the NBA."
Clark, 22, was killed last week in the backyard of his family's home after police responded to a call of someone breaking car windows. Though officials said cops opened fire only because they believed they saw Clark holding a gun, Clark was found with just a cell phone.
The shooting set off a series of protests throughout the city. Protesters blocked the entrance to the Kings' arena prior to their game against the Atlanta Hawks on Thursday. The game was delayed 20 minutes because fans couldn't get into the stadium.
"All we can do is try to make a voice."
Kings owner Vivek Ranadive gave his condolences after the game and called the shooting a "horrific tragedy," according to Sports Illustrated.
The Associated Press contributed to this report.